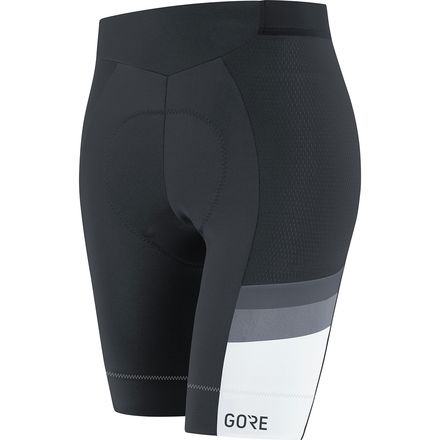 Power to the podium.
You've trained hard, and racing season is just around the corner, so it's time to make sure your kit is just as ready as you are, starting with the Gore Wear Women's C7 CC Short Tights+. Designed alongside Gore's top pro athletes and most serious women cyclists, these shorts are ready to push to the front of the peloton while you go for the breakaway with the podium in sight, even when the temperatures soar or the wind picks up.
The C7 CC, short for climate control, means these shorts are designed to help you regulate body temperature in varied conditions. Their blend of polyester and elastane lets sweat escape and increases breathability, while Gore Windstopper Cup technology panels across your thighs to both boost aerodynamics, and keep you a little warmer when you're pedaling through frosty spring mornings. The waist band stays secure, free of elastic that pinches in after a few miles, and a small side pocket gives you a stash spot for your car key while you're on the ride.
Supporting you from beneath Gore employs the Women's Expert Road chamois to take away the sting from long, chattery roads. It is crafted from multi-density foam that cushions where it's needed most, and omits padding where it would get in the way, or even increase pressure. The padding features wicking properties that work to pull any moisture or sweat generated during the ride away from your skin and outside, where it can dry quickly, leaving you feeling as fresh as a daisy when the ride is over. Soft top fabric on the chamois works hard to reduce chaffing when you're going full gas, minimizing saddle sores so you can get back on the bike the next day in comfort.
Pro-level shorts for earning the podium
Windproof front panels slice through the breeze
Climate-control technology helps regulate your temp
Ride in comfort with elastic-free waistband
Highly breathable fabric pulls away sweat and dries
Snug fit supports your muscles through the ride
Expert Road chamois designed for women cushions and supports