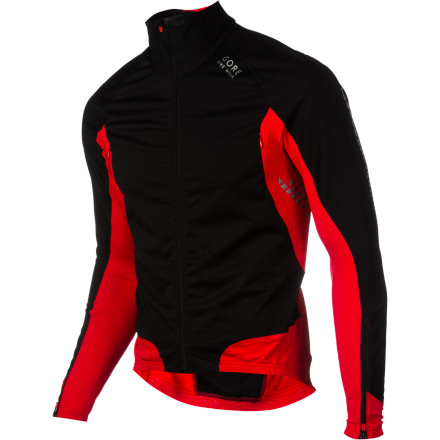 Slim-fitting, but heavy on protection.
Insulating yourself against the bite of chilly morning air doesn't have to mean bulking up with multiple layers when you have the option of the GORE BIKE WEAR Xenon SO Long-Sleeve Jersey. This slim-fitting, top-of-the-line alternative to a jacket is popular among professional cyclists as well as commuters.
WindStopper membrane completely blocks the wind while still breathing for comfort

Stretch inserts maximize you mobility and comfort

Side and forearm mesh-lined zips provide extra ventilation and make for easier on-off

Full-length semi-locking zipper can be managed easily with one hand thanks to the snap insert in the ergonomically shaped collar

Long back features three patch pockets with slightly slanted tops for easier access

Concealed back zip pocket keeps valuables secure

Elastic gripper on back hem holds the jersey in place

Reflective print and logos on front, sides, and back ensure that you don't blend into the background in low light

Awesome all around jersey
Familiarity:

I've used it several times
I love this jersey, it looks super cool, fits really well but most importantly it's protection against the weather.
I've used this in temperatures below freezing and really feel like it took the bite out of the cold. As it's been getting warmer it still works great. I haven't needed to yet but as I approach summer I'm sure I'll be using the vents on the arms and chest.
The 4 pockets on the back are great for storing things out of the way without impeding mobility.
Devin Peterson
Great Light Jacket
Fit:

True to size

Size Bought:

Medium
Medium fits perfectly. The mesh-lined zips on the sleeves are great once you've warmed up. The neck is really high--especially in the front, which I like, and the back is nice and long and doesn't creep. Deep rear pockets good for large phones like iPhone Pluses.
Randy W
Height:
5'10"
Weight:
155lbs
Love this Jersey, but it has a niche
Familiarity:

I've put it through the wringer

Fit:

True to size

Size Bought:

Medium
I love this jersey. Pair it with a wool baselayer, icebreaker 200 for 50 degree+ days or 45-50 with an icebreaker 260 (so long as it is not raining. I only wear it when it is warmer out, and when it is 58+ I stuff it in a jersey pocket to wear back home once the sun starts to go down, and I have to descend back into town. It is a great piece. It is not as warm as the Gabba jersey, but it is a nice 50 degree piece. OR you can wear it when it is cooler, and bring along Gore Oxygen rain jacket.
Tyler S.
Height:
5'10"
Park se wan
Best cold weather jersey ever!
Familiarity:

I've put it through the wringer

Fit:

True to size
I can't say enough about this jersey. It's light, great fitting, feature rich, superbly made, and damn good looking! It's so good that this cold weather wimp wears it only on days when it's below 40 degrees. Keep in mind I'm from North Carolina so cold tolerance should temper how you read this.
Martin J.
Awesome!
Familiarity:

I've used it several times

Fit:

True to size

Size Bought:

Large
Exceeds expectations. More than a jersey. Use as a jersey or shell/jacket. Temp - 44-62 degrees
Kevin P.
Height:
5'11"
Weight:
168lbs
Excellent Fall Outer Layer
Familiarity:

I've used it several times

Fit:

True to size
I love this piece. I live around Milwaukee, WI next to the lake and this piece has been excellent for the cool fall weather. I started wearing it as a stand alone piece at 58 degrees & have worn it down to 50 degrees so far. I own a similar type of windproof jersey from LG that I purchased last year but it doesn't touch the Xenon 2.0 Jersey. You can zip back the sleeves to help vent yourself & the vents on the chest work great to cool off as well. The fabric feels great next to the skin. The more I wear clothing from Gore the more i tend to gravitate away from brands like Pearl & LG. Gore really puts a lot of thought into these pieces. The Xenon 2.0 Jersey is well worth the money for Fall riding.
Eben S.
Height:
5'7"
Weight:
161lbs
Put the jacket away and grab the jersey
Familiarity:

I've used it several times
I love this thing. I no longer use my jacket the majority of the time. This works in upper 40's to upper 50's and packs well in your back pocket when the decent gets cold. I would buy it anytime.
Put the jacket away and grab the jersey
Familiarity:

I've used it several times
I love this thing. I no longer use my jacket the majority of the time. This works in upper 40's to upper 50's and packs well in your back pocket when the decent gets cold. I would buy it anytime.
The Gabba killer? My first 5 star review
Familiarity:

I've used it once or twice and have initial impressions
Is the Gore Bike Wear Xenon 2.0 SO long sleeve jersey the Castelli Gabba 2 jersey 'slayer'? Probably not. After all, the Peleton can't be wrong. And when it's cold, windy and rainy I'll reach for my Gabba every time. But what if the rain holds off, the temperature plunges and the wind's still no joke? The choice is not so simple then.

On this cool, windy March day in Ohio the temperature was 49 degrees, clear skies with winds 10-12 mph. By the time I completed the ride 41 miles later the sun was near gone and it was 45 degrees but the wind had subsided. My kit included the Gore Bike Wear Xenon 2.0 SO LS jersey, the Castelli Audace long sleeve thermal jersey mid layer and the Craft Active Extreme thermal base layer. I wore the LG Mondo Evo thermal bib tights and the Castelli Estremo shoe covers to complete my gear.

The Xenon LS jersey includes Gore Windstopper material on the front of chest area and sleeves. In my previous reviews I've raved about the wind blocking and warmth of the Light Wind Pro material found in the Mondo Evo. The LG thermal bib tights had been fantastic at keeping the lower half warm and today was no different. Would the Xenon 2.0 SO hold it's own? Yes. Quite well, in fact.

The Gore Windstopper material kept my arms and core at a nice, even and comfortable temperature during the entire ride. The level of warmth and comfort perfectly complimented that of the LG thermal bib tights. In other words, together the Xenon 2.0 SO jersey and the LG Mondo Evo tights worked as one piece, even though they're from different materials and designers. So, with you, your kit and your ride all working in concert like that it's almost impossible not to go farther, faster.

By contrast, on a previous outing, the Gabba 2 jersey along with similar layering and the same lower half kit didn't seem near as smooth at the transitions. A great feel, no doubt, but maybe I should've paired it with a different bib set, e.g. the Sorpasso Wind?

Let's talk about the gadgets on the Xenon 2.0. I did not have a chance to use the pit zips - overheating was not an issue during this ride. But the sleeve zippers worked fine. On my jersey the red accents of the open zippers in the black and white sleeves perfectly complimented the red, black and white Castelli Estremo shoe covers. Functionally unzipping the sleeves didn't seem to make any difference. So I left the red exposed to taper into my black PI lobster gloves. I liked the look.

So, I'm leaning towards the Xenon 2.0 SO jersey as my go to piece over the Gabba 2 jersey under these conditions. But Gore Bike Wear's contender was clearly not settling for a split decision. So here's the knockout punch: the rear pockets. Both jerseys have 3 pockets in back. But the ease of reaching for stuff stored there with the Xenon is tenfold over the Gabba. Granted the pockets aren't as deep as those on the Gabba but they'll hold your stuff. And being able to access stuff without being a contortionist is a big help when you're focused on maximizing speed.

One comment on the fit: I am 6ft approximately 200lbs with 34in waist, 42in chest and a muscular frame. The Xenon 2.0 SO Long Sleeve jersey in size 2XL fit me perfectly. It did not bunch up while in the drops. Access to zippers and pockets felt natural. I really like this jersey. Five stars

A Lad in Ohio
Versatile jersey in cool weather
Familiarity:

I've used it several times
I'm 6'1' and about 200 lbs. I bought XL for the length, but the jersey is a little loose. I wear this with a light base-layer and have found this jersey to be perfect for the 40-60 degree range. The pit and sleeve zippers let you fine-tune the temperature. When hill-climbing and I start to overheat, I just open the zippers and I cool off in no time. On the downhill, I just close up the zippers and I'm snug and warm.
David C.
Excellent cooler- windy weather jersey!
Familiarity:

I've used it once or twice and have initial impressions
I've used this jersey twice, in weather with temps between 40-55 degrees F and once in winds of 20-25 mphs with temps in low 40s. First off, the windstopper material worked as advertised and breath-ability of the other material also worked well together. I only wore a cotton base layer, but can see wearing this jersey in mid to high 30s with a wool base layer. The zips are an added bonus and although not really used to their full extent they appear to glide well and not stick. The collar, wrist and waist band held nicely against the body. Some claim the jersey fits a bit long but it appeared proper in length. I'm 5'8", 160 Lbs, 31" waist and 39" chest and the medium fit just right. The high-vis I purchased went well with my Gore High-vis leg warmers.
Jorge P
great!!
Familiarity:

I've put it through the wringer
Good for 45-60. Needs a base from low-50's to 45ish. Below 50 & my arms start to get cold (the windstopper is the black stuff, so it the leading edge of your arms are half-covered. My Castelli Motorolo jacket and my Giordana Light weight jacket have the fleece panels on the arm pointing backwards so they are out of the wind.)



Zips on sleeves and pit zips seem worthless although sleeve zips make it really easy to get on. Pit zips don't seem to make to make it any cooler, but they are VERY hard to get down (not a cam-zip pull like on main zip and sleeves) with long-finger gloves, and IMPOSSIBLE to get back up (for the downhill) even if you stop and take your long-finger gloves off. Note that I have never had to overheat in the jersey i.e. over 60 e.g. those morning rides where the temps really warm up towards the end; maybe if I had to wear it above 60, the arm/pit vents may help.



Its cut REALLY long...I'm 6'3", old-man belly, 44 chest in a 2xl & am considering an xl next time...don't know...

Conclusion: an absolute must have. Classic. Only reason I came back to site was to consider buying a second.



Btw, and fwiw, pairs really well with Girodana light weight FRC jacket. Actually the same identical weight material--both the wind proof stuff and the jersey/fleece stuff, but the wind proof stuff wraps around further on the Giordana so its better (w/base) for 50-40 . Windtex is a lot stretchier than gore (I also have Windtex in my Capo Padrone knickers & its sweet. I also own a pair of the old PI PRO tights (that were expensive) & I think its windtex but turned inside out. Again, its nice.). Haven't ridden the FRC yet, but Im gonna do a quick review as a heads-up.
DanL
XENON 2.0 WINDSTOPPER? SO Jersey by GBW
Ready to go: Jacket and jersey in one. Wind chill protection in a tight ergonomic fit that feels great next to the skin. An ideal early morning or springtime piece.
Andy L.
Just like it says
Familiarity:

I've used it several times
The product description is very accurate. This is a nice alternative to a jacket. I have the thicker Castelli Expresso Due that I will break out on cold days, but this is perfect for those mornings where I want a little more than arm warmers. I like the extra ventilation from the mesh lined zippers.



The only negative is that I find this jersey to be sized a little too long.
John K.
Great for a Geek, Not for a Minimalist
Familiarity:

I've put it through the wringer
This excellent long sleeve jersey has features galore, and while they're well done, if you prefer to avoid pit zippers than can catch and arm zippers that can pull, keep looking. However if you want maximum versatility in a relatively affordable jersey (that happens to come in safety yellow) then you will be delighted by the quality, durability and feature of this vest. I give it 5 starts but if you don't like do-dads you should move on.
Seth C O.
Perfect for late fall/early spring
Familiarity:

I've used it several times
Was looking for something between a vest with arm warmers and a full winter jacket. This is perfect for me between 45 and 55 F, along with a Craft long sleeve base layer (I have comfortably worn down to 40 F on a calm day). Wind front works well to keep warm without the bulky insulation of a jacket. Seems to breathe well and the zippered vents in the sleeves and the sides are a nice feature as the temp warms up. I had an early version of Xenon short sleeve jersey and found the fit too loose, but this Medium jersey fits very well - snug but not tight (I am not built like a racer - about 5' 7" and 155 lbs.). Even the slanted pockets work very well. Overall very happy with this jersey.
Jonathan S.
Not sure whether you need to pack a vest, or a jacket, or carry a short sleeve jersey? Using slick zippered vents and windstopper membranes, this jersey fits all these niches so you can leave the gear at home.