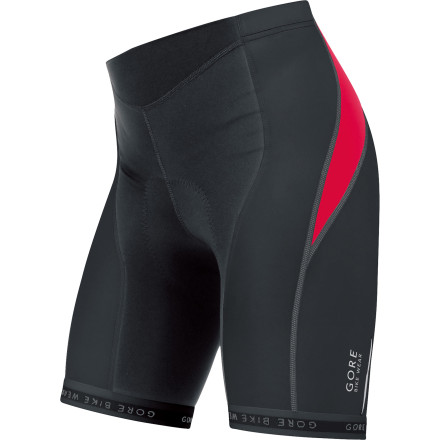 Breathe life into your daily ride.
Reinvigorate your ride with the ultra-comfortable, supportive feel of the Gore Bike Wear Women's Oxygen Tight Short. Forgoing bibs for an oversized waistband, the Women's Oxygen Tight Short remains comfortable and supportive, eliminating the high degree of Lycra along the front waistline to prevent the dreaded skin-pinching effect. The short's high-gauge nylon and Lycra supports key muscle groups when you're riding for long distances. Its elastic gripper at the bottom hem prevents them from riding up when you're sprinting and climbing out of the saddle. Moreover, a mesh side pocket conveniently holds a small media player.
The integrated Women's Oxygen chamois soaks up road vibration with its high-density, open cell mesh. Its soft microfiber lining won't chafe or irritate your skin, drying quickly to prevent the clammy, uncomfortable feel that plagues cyclists on hot summer rides. Another cool feature you'll find with this chamois is its "Pelvic Tract" design, which accommodates the pelvic rotation of cyclists to minimize chafing and irritation.
High-gauge nylon, Lycra
Abrasion-resistant fabric at inner leg
Elastic gripper at bottom hem
Side mesh pocket
Oxygen Women chamois
I'm really surprised by all of the positive reviews. I ride a lot and have owned a lot of shorts. I never have trouble with chafing. I also have never had bike shorts that didn't have inner flat seams . The extra material in the seams is very uncomfortable. I bought these hoping to take them on a week long bikepacking trip. I wore them once and now they're going to languish in the bottom of my bike drawer. Wasted $100. These would definitely not be suitable for a ride of any duration. At this price point, this is a terrible design flaw.
Jody M.
Best shorts!
Familiarity:

I've put it through the wringer

Fit:

True to size

Size Bought:

Small
This is my second pair of these shorts. I bought a pair last season a little too large and I lost a lot of weight so I had to get a new pair this season. Found the prefect fit and I'm going to be buying another pair. They are by far the best shorts I have ever had. The chamois is perfect. Great fit, no bunching, really super comfortable. Great even for long rides (70+ mi). They are snug at the legs but not as snug as my compression shorts. The beed kept them from sliding around and was super comfortable. I've recommended them to several friends who are also extremely happy with them. Fit feels pretty true to size maybe a little large. I used the sizing chart on the gore bike wear website and went with a S even though my bum would make me a M, always had a bit of a bum on me, and the S fit perfectly.
Mary Estes
Height:
5'4"
Weight:
120lbs
Best shorts ever
Familiarity:

I've used it once or twice and have initial impressions

Fit:

Runs large

Size Bought:

XXL
Just received these yesterday. I tested these shorts today the way I test all bike shorts - with a serious ride. Sounds risky, but I always roll up a spare pair of tried-and-true shorts and stuff them in my jersey pocket in case they don't work out. Happy to say my spares stayed in the pocket. Did 30 miles of monster hills with a few flat stretches. I was supremely comfortable the whole time, on both climbs and sprints. Nice compression, which absolutely helped. The chamois is brilliant - not too thick, and the chamois edge blends perfectly into the surrounding fabric, so no friction around the edges. This is a problem for me with other shorts. The leg grippers were 100% unnoticed - very nice. I am a hefty rider - 5'4" and 200 lbs. I'm also 55 years old. So ladies, know that I'm not a flyweight elite athlete or anything. What I'm trying to say is that if they work for me, they should work for most people. I do think they run a bit large however. I ordered a XXL based on the sizing, and I think I could have gone down to an XL and enjoyed a bit more compression. I have a 200 miler coming up in a few weeks, and will probably order another pair. No regrets spending this kind of $$ on shorts this good - especially if they hold up well.
Ali
Height:
5'4"
Weight:
200lbs
Comfort for Miles
Familiarity:

I've used it several times

Fit:

True to size

Size Bought:

Medium
I bought these shorts primarily for road biking. I wanted shorts wit sufficient padding that wouldn't ride up on my thighs or fold down around my waist while I ride. These shorts have exceeded my expectations. I road 16 miles to my local ski resort on a trip home recently and they were comfortable the entire time. The elastic is just tight enough but not too tight to cut off circulation. The material is very light weight and breathes well during sweaty rides. A grippey liner lines the inside of the legs at the base of the leg holes as well as around the waist. This ensures that the short stays in place as the body moves freely. This short is great!
Amanda J
Height:
5'6"
Weight:
125lbs
Worth the money!
Familiarity:

I've used it several times

Fit:

True to size
These shorts quite possibly might be the best bike purchase I've ever made. After purchasing the Gore Power Lady 2.0 shorts, I noticed I wanted a pair of shorts with a sturdier chamois for longer rides. These shorts definitely delivered. Another feature I love is the dotted grips on the leg cuffs. My Power Lady 2.0's have a thin, line grip, which is great, but I think I like this dotted style in the Oxygen short is better for longer rides, are there is more "grip" to keep you comfy. They keep the legs of the shorts in place so they don't ride up, and I love that. And, of course, like any girl, I love the Jazzy Pink/Black combo colors. I'll definitely be buying another pair of these in the future!
Alexandra
Technology for technology's sake?
Familiarity:

I've put it through the wringer

Fit:

True to size
This is my second pair of bike shorts, and they constitute a serious step up in craftsmanship from my last pair. I have to say though that some of the technological additions to these shorts seem like downsides rather than advantages. The rubber grips on the inside of the bottom hem gave me rashes on my legs. I could prevent this by using baby powder underneath, but Gore could also prevent this by getting rid of the grips! I've never had a problem with a well-fitting pair of workout shorts riding up the leg, so I'd much rather live without them.



Additionally, the multiple panel construction actually caused the shorts to stick out and bend in weird places. The shorts do their job, and certainly keep me from getting saddle sore, so I don't want to take away too many stars, but for the money, I would have hoped for better.
Julia S.
Just finished a 65 mile bike ride with my new shorts. I was a little reluctant to try a new pair of shorts on such a long ride, but decided to live on the edge. I love these shorts! I replied the BUTT"r at 33 miles, and wish I had done it again the last 10 miles.

When I first tried them on, I noticed some seams up the my backside that were not flat seams.

Of course I was concerned, but it never bothered me. I think Gore should consider flat seams

everywhere though. I am 5'4" and 104 lbs. and wear an extra small.

I would recommend this product and plan on purchasing another pair.


Linda B.
Substantial bike short for >25 mile ride
Familiarity:

I've put it through the wringer
The Oxygen shorts match my body build better than Sugoi or Specialized RBX/Comp (where the chamois is too far back behind my seat bones.) I have a pair of the lower distance Gores. These brands I use for rides less than 25 miles. I have 2 pair of the Gore Oxygen with white stripe that I use for my longer rides. I average under 100 miles per week, and my longest ride is 68 miles. 5'7" 127 lbs, 31" inseam. Also, the Gores protected my hip from more severe road rash from an accident (14 stitches in forearm) in June, that may have resulted in worse scrapes if the shorts had ripped. This made me decide not to use shorties for a better look/tan vs accident protection. Good fit, protection and like the white stripe. Use the mesh side pocket for partial Bonk Breakers, between bites.
Pamela Yeamans
Gore Oxygen shorts
Familiarity:

I've used it several times
I've tried three pairs of these shorts and six to eight months later the stitching around the chamois starts coming out.

I like the way they fit, but they don't last very long for the price.
Mary H.
Favorite short for long distance rides
Familiarity:

I've used it several times
I love this short! Don't judge the chamois while just walking around...you need to ride in these shorts to appreciate how comfortable it is. It's one of the few shorts I own ( I have Giordana, Sugoi, Pearl Izumi and Assos) that doesn't cause any chafing. The fabric is reasonably compressive, grippers are effective and comfortable (no sausage leg look) and the waistband is supportive without binding. The inseam length is about 8" which is perfect for me. I'm 5'1" and around 107 lb. and the XS is just right. I just ordered another pair!
Mary P.
Favorite Shorts
Familiarity:

I've put it through the wringer
I have tried a few. None have fit as well as these. I am a former triathlete turned roadie. I never trained with shorts that had a lot of padding, so I was initially shocked at how big some of the chamoises were. I think the chamois in these short is perfect. Also, they don't make my legs look like sausages like others do. I bought 3 pair I liked them so much.
Tracy V.
These are awesome!!!
Familiarity:

I've used it several times

Fit:

True to size
I'm new to biking and I was unsure which shorts to spend money on. These are comfy and protect my butt while riding!!! They wash well and though they feel a bit weird while walking around, riding they are great!
Janelle A.
Anyone who likes their Assos shorts will love these! They are VERY similar in fit, fabric, and chamois. They are not as flattering as some of my other shorts (Castelli, LG), but this is also true with my Assos. However, after 60+ miles, I am not as concerned with flattery as I am comfort and these sure fit the comfort bill. Standing, these shorts bunch in the back, but in the riding position they fit great. The chamois is a little thicker than most so you need to like a thick chamois to like these shorts. The bulk doesn't bother me as I don't walk around much when I ride. They are a little on the long side at around 8 or 8.5 inches, but I am short. The leg grippers keep the legs from riding up and the waist band does not bind. I am 5'3" and 148 lbs and the medium fits great so size down if you are unsure or between sizes. The best part of these shorts is how the chamois comes down a little lower on the thigh than most. This is where I need the protection - not necessarily in the middle of the chamois. I wish more manufactureres would put more padding on the outsides of the chamois than in the middle, but that could just be me. Again, these are almost identical to my Assos which I love. I just wish they would make them a little more flattering/stylish!
Kelli Moyer
The pad is huge. Feels like wearing a diaper
Brett B.