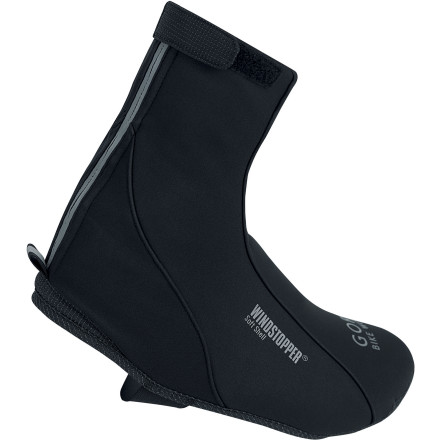 Colors
Extend your riding season.
No matter how thick your socks are when you're out riding in chilly weather, they still don't keep the windchill out. Windproof shoe covers like the Gore Bike Wear Road SO Overshoes are the real ticket to keeping your feet warm.
The Road SO Overshoes feature WindStopper soft shell fabric that blocks chilling winds like a linebacker. But your feet won't drown in their own perspiration. The shell may block wind, but it still allows moisture to escape.
Along the sole, reinforcements and abrasion-resistant materials are added at the cut-outs to avoid premature failure. At the ankle, an elastic cuff and hook-and-loop strap ensures the weather is locked out of the OverShoe. Reflective piping adds safety in low-light, and a rear entry zip make these a breeze to pull on over shoes.
The Gore Bike Wear Road SO OverShoes come in five sizes, and two colors; Black or Neon Yellow.
Toasty Warm All Winter
Familiarity:

I've put it through the wringer
Used these all winter long after moving to SLC in October. Granted our winter wasn't nearly as cold as we had hoped for, my toes would have froze during my winter commute otherwise.
These over boots do an AMAZING job of keeping your feet warm, without overheating. They 100% block the wind due to the Gore Windstopper fabric, as well as shed mud, snow, ice, and rain. I wear a size 8 shoe, and the 6.6-8.0 fit true to size. I can't stress these enough if you commute in the winter. Also, was wearing these for a few 60 plus mile rides and my feet never over heated. Even with all that fleece lined fabric. The build quality is quite impressive. The only drawback, the kevlar undersole fabric tends to shred if you have big toe lugs like on a mountain bike shoe. Don't skid in them, or be weary when coming to a stop. I solved this problem with adding some extra PU liquid to the inside toe cap.
Joshua J Mountain
Do their job
Familiarity:

I've used it several times

Fit:

True to size
Fit well, stop the wind, feet never feel cold. only used in 30+ temps but they have done well so far
Jeffrey H.
Sized too small indeed.
Fit:

Runs small

Size Bought:

Large
The product is of fabulous quality, fits snug, looks great. Unfortunately they are sized wrong, I believe. I wear a 41 and the medium did not fit, exchange for a large that should fit 42-44 and it's very snug, but does fit. Order up!
Carla D.
Height:
5'9"
Weight:
150lbs
Unanswered Question
Do these fit mountain bike shoes/cleats?
Casey L.
Initial impression is solid
Familiarity:

I've used it once or twice and have initial impressions

Fit:

True to size

Size Bought:

9-10.5 (I wear size 43 Giro Empire)
What makes a good bootie:
- Durable. They are front and center in the elements, they must be tough. Also, they are moving more than anything else on your body, they get put through the paces.
- Blocking. They must block wind, sand and water.
- Closure. Whatever the closure type is it must be good. A zipper on the back is the most common method, so if you go this route be sure it's heavy duty and can resist the road grime, salt and whatever else will spin up the back. The bigger the zipper the better, and the more the pull says "YKK" the better.
- Style. Not that important if your feet are cold and you're getting dropped.
- Sole. Not soul, but everything in life needs soul too. I mean you should be able to walk in an get your mid-ride Americano without busting your tail feather.

I have only initial impressions on these, but so far they tick off all marks. I really like that the bottom is open and also reinforced well. In the past I've seen way to many booties blow out the toe or edges, I don't think that will be the case here.
Noah Singer
Height:
6'0"
Weight:
155lbs
Gore overshoes
Fit:

Runs small

Size Bought:

Medium
I have used these over a dozen times and am totally sold. They keep my feet warm and I have ridden in them in temps down to near freezing. They run a little small so are hard for me to put on and remove. Because they're tight is probably why they work so well. I really recommend these if your prone to cold feet like me.
Richard P.
Height:
5'7"
Weight:
140lbs
Very satisfied
Familiarity:

I've put it through the wringer
I purchased these overshoes at the end of last summer for use this winter. I have logged just under 500 miles in them in temperatures ranging from 30 - 45 degrees Fahrenheit. I wear a sized 44.5 specialized road shoe and my size large are a tight, but comfortable fit. While the boots are snug, and it takes some pressure to zip them close, it is not extreme and leads to a tight, supportive fit.

I have, for the most part, avoided very wet conditions. That is not to say I have not worn them on welt pavement (think melting snow, or post rain storm), but I have not worn them in a sustained downpour. They have been adequately waterproof for my purposes in these conditions, but I can see them not being an ideal solution for a "rain" booty.

I have found that they do a very good job blocking the wind and keeping my feet warm. I typically ride with a pair of medium weight merino wool socks underneath them, and have not suffered from cold feet / toes in any conditions. I tend to get cold in my fingers and toes quite easily, so I believe that most users would find these more than adequate for the conditions I have used them as well as a bit below.

I live in an apartment building, keep my bike in the basement, and typically stop finish my ride at the local coffee shop so I can bring home coffee for my wife, walking my bike 1/2 of a city block. The bottom of the booties have held up well, although they do show some signs of wear as a result. I suspect that they have at least one or two more full seasons in them before wearing through.

I hope this is helpful.
Andrew G.
Happy so far
Familiarity:

I've used it several times
i picked these up as I started riding earlier and earlier over the summer and into this fall. These go on quickly over my 44.50 size road and cross shoes. They are very good at wind blocking but can become waterlogged on rainy rides (I'm open to a solution if someone has one here). They are durable on the bottom, not that they have been walked on much, but they don't show any real wear having been kicked into pedals a lot and I generally walk around the drive a bit after each ride.



They are a bit narrow up top which doesn't allow me to zip them all the way up, but they have the Velcro closure that covers the gap.



As I ride into winter, I'll continue to post, overall very happy so far.
MBWilson
A-
Familiarity:

I've used it several times
I bought these shoe covers Fall 2013. They are best for cold, dry conditions. For cold, wet conditions--I had to duct tape over the 3 vents in my Specialized Ember Road shoes because these shoe covers don't cover quite enough of the front bottom of the shoe. The covers only have a strap that goes underneath the shoe behind the clip or cleat. The covers are in good shape, still, after a year. I bought a second pair in Fall 2014 in neon yellow--I'd get the Gore Universal City overshoes that cover the shoe bottom but I don't like the way they look (and the duct tape works fine). I'd say the SO Overshoes are good for 35+ degrees Fahrenheit in the wind as long as one wears wool socks.



Comparing the two pairs of the same overshoes that I have, I've noticed the older pair is warmer with a thicker fleece lining.
Larissa G.
When will you get 11-13 back in stock?
When will you get 11-13 back in stock?
MaxDilthey
Best Answer
We have the 11-13 available in both color options right now
Travis Tzioumis
My toes are warmer
Familiarity:

I've used it several times

Fit:

Runs small
As I am trying to keep my biking going later into the year I keep running into Mother Nature. Late fall/early winter, November timeline, we were experiencing 15 degrees above with wind chills into single digits, 8 or 9 degrees. Before the overshoes my toes were cold, numb and were beginning to get painfully cold on my 10 mile commute to work. I am still using my cycling shoes and the matching pedals so larger/warmer shoes are not yet an option. Now, I have the overshoes and have ventured again into the cold again, now closer to zero and with wet slush. I was warm and dry! They do as they say they will do! I was hoping for dry and still cool but to my surprise and gratification warm. Having said that I do have some concerns, other reviews have talked about the zipper, it is less robust that I would have liked to see as well so time will tell. Also, I am not your average lean bicyclist, may calves are not the same size as my ankle so I do have to pull the uppers down around my ankles in order to get the zipper all the way up it takes a bit to get used to. This monkeying around cold cause additional stress on the zipper so more for time to tell. All in all though I am glad I made the purchase.
Derek F.
I am a size 44 Shimano, what size is...
I am a size 44 Shimano, what size is recommended?
Rick
Best Answer
I purchased the 13.5-15.0. I wear Shimano 45.
Derek F.
Not Warm
Familiarity:

I've used it once or twice and have initial impressions

Fit:

True to size
Quality is good, but my feet froze in 30 degree (F) about 0 (C), dry weather. I have returned them and purchased the Thermo version of these. I hope they turn out to protect against the cold better.
David R
Just what I needed
Familiarity:

I've used it several times
My feet were getting cold now that the temps have dropped into the low 40's. These overshoes added just the right amount of warmth to be comfy into the mid 30's to the mid 40's.
FuelForThought
I am 42.5 Sidi, what size should I...
I am 42.5 Sidi, what size should I order?
Lizi L.
Best Answer
The 9.0-10.5 fits perfect on my Sidi Genius 6 in 42.5 wide
FuelForThought
Zipper will break after one season.
Familiarity:

I've put it through the wringer

Fit:

True to size
Perhaps it's because of the salty winter roads here in New England. They'll keep you warm but the zipper will break before long
William W.
Unanswered Question
What is the temp range?
Jimmy
I ride 10k to work everyday in South East Germany, and haven't seen the sun in months. Despite that fact, I have yet to have cold toes on my ride since I purchased these. I wear them with Pearl Izumi X-Alp Drift II shoes which are mostly mesh and have a larger profile than a normal road shoe so I went up one size from the recommendation and it worked perfectly.



To maximize the lifetime of these try not to let your foot slide as you come to a stop. Pretty common sense, but it took me a few days to learn that.
matty
The real deal! After trying multiple brands of overshoes,I FINALLY decided to give GORE a whirl. As i look back now,it should have been my FIRST choice! The QUALITY is SECOND to NONE! The ease of on/off is a breeze. And the warmth? As TOASTY as can be!
Greg C.