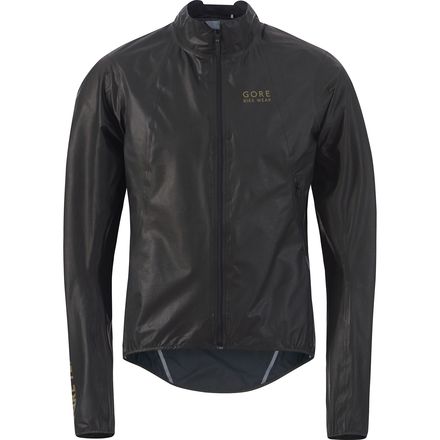 Impervious to it all.
Gore brings its expertise in windproof, waterproof fabrics to a fall rain jacket this year, and the results are as we've come to expect from the dominant brand. After making the name Gore-Tex synonymous with waterproof in colloquial language, the brand set its sights on crafting tailored road and mountain kit, and its One GTX Active Bike Jacket demonstrates an expert combination of effective construction and highly functional fabric. Cut with a slim silhouette and Gore-Tex Active with Shakedry Product Technology, the jacket is ideal for rainy, gusty fall days when you need a layer that will block water and wind without over-insulating.
As its name suggests, the Shakedry membrane continuously forces water off the surface of the jacket, allowing Gore to skip the step of adding face fabric that could potentially soak through and instead create a jacket capable of remaining completely dry throughout your ride. While you try to keep cadence through a cold drizzle, a well-shaped collar blocks out water without adding too much bulk, and reflective accents help increase your visibility in the dim light of a rainy day. In the event that the clouds miraculously clear mid-ride, the entire jacket stuffs into its own front zippered pocket, so you can stuff it in your jersey pocket or saddle pack and get on with your ride.
Lightweight cycling jacket for rainy days in the saddle
Water- and windproof membrane won't soak through mid-ride
Slim fit moves with you without restricting
Packs entirely into its own front pocket
Dropped hem shields against wheel spray
Bodo Knudsen
Colour
Familiarity:

I've put it through the wringer

Fit:

True to size

Size Bought:

Medium
Showers pass but cars run over black. Very poor visibility. Wear this range if u want to be a road statistic
James
Height:
5'8"
Weight:
180lbs
Some amazing features, but needs work.
Familiarity:

I've put it through the wringer

Fit:

True to size

Size Bought:

Large
The GoreTex fabric works exactly as advertised. It sheds water extremely well, is breathable, and is super light. The cut is also great. Even in the drops, the arms and back are plenty long. For those reasons, I like this jacket overall. It has kept me dry and warm on some cold and extremely wet rides this winter.

The downside: There are some problems that make me regret paying $300 for it.
Fragile: I haven't owned it long enough yet to know how well the waterproofing will hold up over time, but it feels fragile. When I take it off, I'm always super careful not to stretch or pull things too much, which is hard because like any good bike jacket, it's cut very small to minimize wind resistance. The waterproofing has an almost rubberized feel, and I suspect it might be prone to little micro tears.
Cheap Zippers: Not only are the zippers not waterproof, they're flimsy and cheap. When I zip it on and off, I have to be meticulous about aligning things perfectly, and then zipping it carefully. Also, the flap behind the zipper tends to get in the way, and I have to tuck a finger inside the jacket, holding that flap down so that it doesn't get stuck and jam the zipper. For $300, this zipper should be super robust and waterproof!
Not Designed to Be Stuffable: Ironically, the jacket *can* actually be stuffed into the breast pocket, which is big enough. The problem is that the breast pocket zipper doesn't have a pull tab on the inside, so you have to zip it closed by pinching the zipper (one finger inside, one finger outside the pocket) and pulling it closed. Obviously, the last bit is hard because you have to take your finger out and push the back of the zipper with a fingernail, to close it all the way. It's as if the Gore team never actually used the jacket while they were designing it!? Any cyclist knows that a jacket like this needs to stuff neatly into a jersey pocket, so why didn't they go that %2 extra, and design this correctly?

Conclusion: This fabric is fantastic at keeping out the elements, but for $300, it should have durable zippers, a stuffable pocket, and should be tough enough to last. Would I buy this jacket again? Maybe. The weather protection is great, but its fragility is frustrating. If the waterproofing and zipper hold up for a few years, I'll happily give it a thumbs up. I hope that if I treat it with care, it will last. We'll see.
Tim H.
Height:
6'3"
Weight:
180lbs
A NEW EXPERIENCE
Familiarity:

I've used it several times

Fit:

Runs small

Size Bought:

L
This is what makes it outstanding:
- doesn´t soak up rain & water - shakedry material
- super thin material -- > lightweight
- breathable
- easy & small to pack -- > can take it anytime in the jersey pocket
- looks stunning in black
- visibility through reflex
- very tight fitting / very Italian cut

Patric Goerdes
Height:
6'1"
Weight:
172lbs
Lovely jacket but a big heads up
Familiarity:

I've used it several times

Fit:

True to size

Size Bought:

Medium
The outer beading treatment can be abraded off so you cannot wear a hydration pack or backpack. Otherwise incredibly light weight and well made. So little rain I cannot honestly rate as to effectiveness, but was a dynamite ultra lite wind jacket
Eric H.
Height:
5'6"
Weight:
138lbs