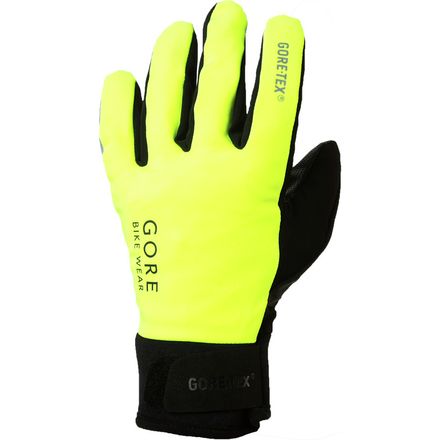 Colors

Detail Images
Prepare for Countdown.
Older Gore-Tex gloves got a bad rap, not entirely undeserved, for not allowing sufficient dexterity for the user. The Gore Bike Wear Countdown glove will put that criticism to rest. The Countdown is the thinnest Gore-Tex glove ever made.

The glove itself is a wind and water proof shell, yet still allows vapor to escape, leaving your hand warm without being soaked, from the inside or out. The reason you should take confidence in the water-proofedness is that every glove that has the Gore-Tex label attached to it has been flexed for 25 hours straight in a bucket of water. And then washed for 85 hours and then dried and dried again. All this testing earns you a lifetime warranty that the glove won't leak.
The palm has synthetic leather stitched to the outside for good gription. The fingers are coated with silicone stripes to further the gripping. The wrist is short, coming just past your wrist, but with stretch Gore-Tex and Velcro to have a nice, firm, adjustable seal. The color of the glove is Black. Sizes for the Gore Bike Wear Countdown glove run from Small to XXXL.
Great gloves. Run small
Familiarity:

I've put it through the wringer

Fit:

Runs small

Size Bought:

Large
My hand is size 8 so I normally wear a medium. Based on the reviews I ordered a large. The large fit my hand but was too small after riding for 2 plus hours. I didn't take into account my hands swell a little during a long ride. I reordered an XL and the fit was spot on. The gloves are warm and waterprooof. I rode two days in rainy conditions with the temperature right at 33-35 F degrees. The gloves were literally finger savers. Great glove just order a bigger size ( or two sizes) than normal.
Tony N.
Height:
5'6"
Weight:
165lbs
Small but warm
Familiarity:

I've used it once or twice and have initial impressions
Nice for crisp rides, including a 30 degree, 45 minute commute and longer ride home. I'll put these into my 30-40 F arsenal, maybe a few degrees colder if it's going to warm up some.



Sizing is small; XXL fits the girth of my XL hand, but digits aren't long enough. Thumbs got cold on longer ride starting at the tip where they were jammed into the short glove thumb, and started losing heat after half an hour or so.
Patrick L.
Warm, Durable, WaterProof, Uncomfortable
Familiarity:

I've put it through the wringer
The seems put pressure on my hands when I am holding the handlebar. They make better ski gloves than bike gloves. It feels like the sizing and finish work isn't quite right.
Cameron
Good thus far
Familiarity:

I've used it several times

Fit:

True to size
Have done a reasonable job at keeping the hands warm. I generally get pretty cold fingers and toes easily though. Wish the palm had a little more grip and I sort of feel like Mario or something while wearing them mnt. biking. 3 stars as a result.
Jacob Dudek
great for 3-4years
Familiarity:

I've put it through the wringer
For 3 seasons these were awesome. Mostly used for road cycling in 30-45 degree 1-2 hour rides. My hands never got cold, or felt clamy.

They have started to kind of fall apart after some heavy use.

I will likely replace them with the same brand.

4 stars only for the lack of durability
Le crow
Gore-tex Countdown Gloves
Great Gloves, completely water proof and wind proof. Great for mountain biking, I tried them on a 20 degrees Fahrenheit (-7 Celsius) ride, kept my hands warm and dry for the entire 3 hour ride. I would not recommend them on temperatures above 50 degrees Fahrenheit (10 Celsius).



In general, very good and comfortable winter gloves.


Simon
Unanswered Question
Hi, I measure a Medium in the mens Gore...
Hi, I measure a Medium in the mens Gore bikewear countdown glove, but medium not available. When would it be available? Also, is the womens glove identical to the mens (as medium is available in the womens).

Thanks,

Peter.
Peter S.
Close to great, but just close
I like these gloves much more than the Gore Cross gloves - see my review of those - but they still have some issues:
Finger length - same as the Cross, but not as bad. If you put your hands in the hoods, the gloves seem to restrict the extension of the ring finger as you reach for the levers. So, either there should be more room or a deeper cut between the pointer and the thumb, or there should be longer ring and middle fingers.
Bulk - pretty good, but still a bit tricky to reach into your rear pockets while riding. Can't imagine having to try to work a barrel adjuster with the gloves on.
Gauntlet length - would like it to be a little longer. The gauntlet is short enough that it's not clear if it's intended to reach over my jacket/jersey cuff. See the comparison to some old PI Gavias that are just a little bit longer.
Gauntlet closure - the PI Gavia zipper and Gore Cross glove pull string seem to be easier adjustments than the Countdown velcro closure.
As for warmth, not sure why people would expect these to work well below freezing, except that the Gore website says they are good for comfort on "any ride." Then again, the Gore web site says these are mountain-specific/intended gloves and not road gloves. ???
I'm 5' 10" with average to small sized hands and fingers and I needed an XL / EU 9.
Jeff M.
im a little nervous about the tightness of these gloves. i got the size i usually wear a large but notice the finger length is long enough but the diameter around hand is tight... question are bike gloves suppose to fit snug? also ordered a pair for my wife and am worried they will fit the same. had to return two other pairs that didn't fit. i remain hopefull
Jon T.
RC - returning the gloves and have yet to find a full fingered glove that works below freezing I now think that layering is the only way and the added layer has to be on top of the warmer glove so as not to restrict circulation works for me anyway this glove did not fit my hand in the thumb/forefinger area and was not warm on a mile walk at 25 degrees if anyone has a single glove other than the lobster/mitten type that works for longer subfreezing rides I would like to hear about it thanks for the assistance from realcyclist ed
Ed Shaw
I have to second what several other reviewers wrote: Only order these if your thumbs are PARTICULARLY short, relative to the length of your fingers. With a 5 in. thumb length (wrist to tip), I first ordered L, then XL, and the gloves still cut painfully into my thumbs when riding on the brake hoods. I felt that XXL would have been too wide overall, so I had to send these back. I liked the product quality, fabric, and overall design, but the sizing was not for me.
WoB
Unanswered Question
What is the suitable temp range for this...
What is the suitable temp range for this glove?I want use it in Tibet, i am afraid it's too warm at noon
Ocean Liu
Do all the Gore gloves have the absorbent...
Do all the Gore gloves have the absorbent fabric on the thumb/forefinger for wiping sweat? I've read it as a feature on only a couple of the products. I need VERY warm hands, and I would like to have the absorbent material as well, but can't figure out which gloves will work best.
horton
All of our gloves have an absorbent fabric on the thumb/forefinger area although the material may vary from glove to glove. Dave - GORE BIKE WEAR(tm)
Dave Kolosek
Good fit, but downhill from there...
I found the Countdown gloves to fit true to size (actually, I love the fit), but beyond that I would not recommend this glove. Even at just barely over freezing, my hands were still quite cold (actually hurting) by the end of my six mile ride. Generally speaking, quite a let down, especially considering the money (which, though not the most expensive glove, certainly isn't cheap either).
Peter Skwiot Smith
Warm Glove - Thumbs Small
Didn't think I could find a single pair of gloves that would allow me to bike in temps below 32 degrees. Tried 3 pair of gloves...and was unhappy...until I discoverd the Countdowns. They are very warm...warmest I have used. I typically wear a medium glove...however, I needed to size up to a large with the Countdown. The inner waterproof Gore-Tex membrane causes the Thumb slots to be very 'short'. Ideal glove...for me...would be Medium Countdown fingers with Large Countdown thumbs. The wrist openings are also very 'tight'...the small wrist opening on the Medium gloves made it difficult to put on the 'second' glove. Great glove for warmth...would recommend that you size up.
mike.hogan2295476