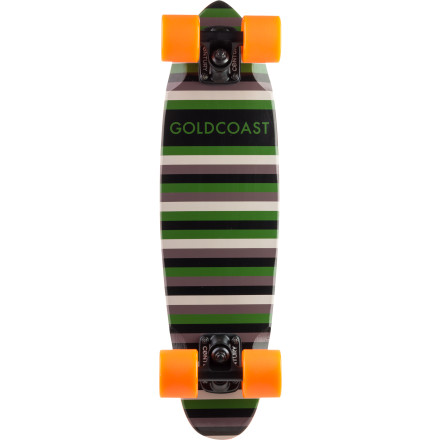 Colors

Detail Images
There is no conflict; there is only peace.
Like you, we're torn between our work and chill schedules (gotta work late ... gotta get the f#@% out of the office). Who doesn't look forward to trading the tie for shades and the desk for a sidewalk? As self-proclaimed psychiatrists, we prescribe the GoldCoast Conflict Longboard (and maybe a few libations) as a remedy to your strife.
The Perfect Cruiser
Familiarity:

I've used it several times
I bought this board to replace my Penny board and all I can say is I have fallen completely in love with it! The issues with my current board are the lack of concavity, griptape, and small wheels that make it hard to ride on bumpy roads. This board fixes those issues - it is simply made to be the perfect board for general cruising!

I have owned similar sized boards in the past (Globe Bantam 23" and Penny 22") and the Conflict 24" blows those plastic/vinyl boards out of the water (or off the road). This board's strong points can be summarized in functionality and style.

Functionality:
The 24" board makes it a perfect sized cruiser to ride around campus or around the office. The deck itself is a 7-ply Canadian Maple, making it much stiffer when compared to its plastic competitors. It doesn't have much flex, but then again I am pretty light. It has a nice concave and the griptape keeps you rooted in place during the downhill cruises. The kick tail has a small incline, but overall the board appears pretty level. The wheels are a nice 65mm, getting close to what would be on a full-sized longboard, making it easier to get over those bumpy roads. Finally, its standard ABEC7 bearings ensure a smooth ride. I've taken this board out on a few small hills; it handles very well for a cruiser and takes on turns incredibly. Cruising wise, it is very stable and has everything you would want for relaxing rides.

Style:
The board is designed with style in mind. I ended up purchasing the Mod one - it is painted white with black stripes on the bottom and light-blue wheels to complement the color scheme. The griptape is black on the top half and white/clear on the bottom. In general the board is very colorful and it is evident that its design is just as important as its specs. I will definitely be picking up dates with this stylish board!

Verdict:
This board is great for all skill levels and heights (although I would recommend it for those under 6'). When compared to similar-sized/more popular boards in the market, this board wins out in: larger wheels, better deck, and great style.

tldr:
Board is very colorful with big wheels, great deck, and rides smoothly.
Brandon
The Board itself was probably beautiful before it was shipped. The problem was in the packaging the board came in. The box was huge and inside were only a few plasitc bags full of air that didnt stop the board from sliding around. When the box was dropped off my board was sticking out of it! The nose and tail are all dinged up and there is a big chip in the bottom of the deck. Im just fixing it myself and never ordering from dogfunk again.
Kari Nordine
I cant explain this board in words
Familiarity:

I've put it through the wringer
Check the specs it's all there. I prefer this over any vinyl / plastic board, any day. The board has a very slight concave with a nice little kick tale and super deep wheel wells. Its got super squishy wheels and bearings that rolls for days. I just fell in love with this board; a perfect little board for just about anything. Get it!!
lucius
I want to know if I will have to push a...
I want to know if I will have to push a lot. I don't care about speed just care about cruising time. so will I have to push a lot while im riding.
lucius
This is a very good board i have now had it for quiet i while and it is a sharp turner and long cruisor....portable to :D
luciusbok