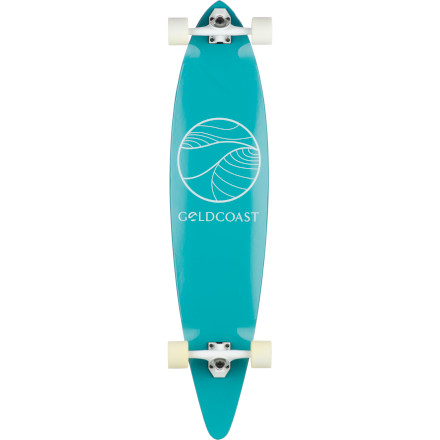 Colors
The working world is green with envy—float on brother.
Turn that baseball cap backwards and crouch low on the Gold Coast Classic Floater Longboard when you light up the blacktop. As you sink deep into a comfortably numb barefoot euphoria, the arch concave of this 7-ply maple/birch street surfer sinks even deeper. When hills steepen and speeds reach dangerous levels, drop your weight, press hard, and feel how just the right flex transfers power right into the high-density wheels. You can count on these soft, urethane rollers to stick to the road and glide smooth over cracks and small pebbles.
Wheel colors on completes may vary, but the deck graphic will be as pictured.
Classic floater
Familiarity:

I've used it several times
I love the board carves and flows very good. The only problem was that it came pre knocked on nose from poor packaging. The board was in a plastic bag in a box with no foam to protect tail or nose. I didn't return but seems like this shouldn't happen. Again really impressed with the board.
Wesley Y.
?Wheel colors on completes may vary, but...
?Wheel colors on completes may vary, but the deck graphic will be as pictured



- What does this mean?

- Wheel color photo may be delivered differently?

- Bamboo was an order by color wheel color?


Chan Mi P.
the color of the wheels may change, they could be black, blue, white, or orange. The color of the base of the deck is as pictured. If you order the bamboo you will get the bamboo board but it could come with any of those wheel colors.
Travis Tzioumis
I have had great service so far with dogfunk and this board did not change that for the most part. I am canadian so i received this board and sadly it had a crack running down the truck. I got a new one from dogfunk in maybe two weeks from contacting them about it which is awesome. But since im canadian i have to pay for shipping which has now equaled up to about 100 dollars. Not even worth buying it online anymore as i had to pay a decent amount of money for a mistake that wasnt mine. Pretty sad about this as I loved dogfunk but I think I will just buy locally from now on because of these outrageous shipping costs
Robert H.
Received this complete tonight and immediately compared it to a sector 9 complete that was on sale for almost $40 cheaper. One for me one for my gf. I spun each wheel and three out of four sounded like they've been through sand and water. Trucks were crooked so only three wheels touched the ground. Took them apart and reassembled. A lil better. Went to parking structure and switched off boards a few times. Its not a bad ride but the bearings were noticeable loud. Came home and attempted to lube the bearings. Sound went away so we hit a mellow hill near by. Even though it was much quieter, the wheel/bearing combo just doesn't roll smoothly. Nice deck...that's about it. Would not buy again.
Jordan K.
Biggest smile on Cristmas morning!
Managed to surprise my 15 year old son with this board. It's not always easy bridging the generation gap and giving something they love bit don't know they're getting. Apparently I got this one right. Thanks for the memory of a happy teenager on Chriatmas morning.
Andrea K.
first long board ive ever owned, rides smooth and easy with the turns. its more than i expected. i love it.
ruben
Is this a complete set with wheels and...
Is this a complete set with wheels and trucks?
Charity Slawter
Cha
Unanswered Question
Is this a complete kit?
Cindy
Unanswered Question
My bfs bday is coming up he wants to a...
My bfs bday is coming up he wants to a cruiser board( hardware , angled risers , n 1 1/2 inch nuts n blots, wood color ) the only problem is I HAVE NO CLUE WHAT THAT IS!! HELP PLEASE! Is this it?
stephanie
I'm shopping for my first long board and i was wandering if this board would be a good start. I like the fact that its bamboo but ive heard that some bamboo ones have too much flex. ive looked at the classic bamboo to. i would really appreciate it if people woul help me out.
charles
Like how it rides. Turns pretty smooth and has a good feel to it. Doesn't dip under my weight (140) and Is sturdy. Bearing and wheel upgrades are a must. But overall an very nice pintail.
wheelerLongboard
is the clear one made of bamboo?
is the clear one made of bamboo?
ulrik from norway
Artur D.
Unanswered Question
I'm looking for a longboard for when I...
I'm looking for a longboard for when I head off to college this semester. I've compared different boards and I am really impressed with this board. My only concern is the trucks on it... What trucks should I change it to for it to turn ect, easier? The trucks that this comes with says that they are 7in trucks. Would bigger trucks still fit? If I were to get 9" or 10" trucks?
KatiFray
The description says the wheels are 52mm,...
The description says the wheels are 52mm, is this true? and if I order the bamboo complete, will the wheels be yellowish like it shows on the picture?
xxxxx
I checked theyr web site, the wheels is actualy 70 or 72 mm
ulrik from norway
I haven't owned this for too long, so I can't speak to the long term durability of the set up at the moment, but I will come back and update when I've had it for longer.

That being said, it's pretty nice. The graphics are clean and minimalist. The bamboo is gorgeous and Gold Coast makes sure it shines. The clear grip tape on the top lets the natural wood show through and still has enough grit to make you feel secure.

In regards to flex, this board is pretty stiff in comparison to most other longboards I've checked out (Sector 9, Arbor, Never Summer). It does have some flex to it, and seems to be breaking in nicely the more I ride it. The set up is also heavier than the more flexible set ups from other companies. I'm not sure what the flex difference is between the bamboo model and the maple ones.

The trucks are Century 7" Reverse Pivot Trucks, and I haven't changed them out. I'm not sure why other people are having issues with them, or if something has changed with the trucks recently, but mine turn super smoothly. Despite the length/size of the board, the trucks make it extremely maneuverable. Even relatively tight turns are no problem, and I haven't had to adjust them at all.

The wheels and bearings seem to ride pretty smoothly as well. On flat concrete, a couple of pushes will leave you rolling for quite a while. I got white wheels with mine, and they look awesome with the board, but obviously get dirty super quick.

Overall it's a fun board to ride. It turns easily and rolls smoothly. It's more stable feeling than the flex decks, but definitely heavier, so if you're looking for something to flip around a lot, this may not be the right choice. You can do manuals and nose manuals on it, so that's fun. I'm sure there's a lot you can do with it, but I haven't had it long enough to test it's limits just yet. I'm mostly using it for cruising around and small hills.
DeZZ
Is this a good beginner board? sidewalk...
Is this a good beginner board? sidewalk cruiser/campus cruising?
amyyyy
Best Answer
Hey Amy,

Yeah it would be great for that. I personally prefer the shorter boards for campus cruising as they are easier to maneuver but this would do just fine.
Josh Chapman