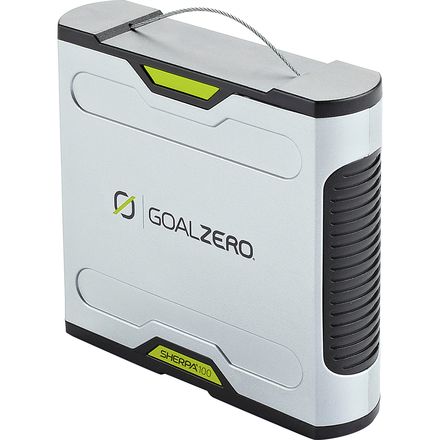 Colors

Detail Images
Plug in and power up anywhere.
A go-anywhere, versatile source of power that charges all of your devices, the Goal Zero Sherpa 100+ Inverter is an essential power bundle that keeps your laptop, DSLR, and smartphone fully juiced when you're roaming through Appalachia or navigating the Bob Marshall Wilderness.
The Sherpa 100 is a quick and easy way to store power and can be charged from either a wall outlet, car, or any Goal Zero Nomad solar panel. The Inverter attaches to the side of the Sherpa 100 and functions as a outlet where standard AC plugs can be attached to keep your electronic devices powered up. Its intelligent USB identifies what's plugged in and delivers the fastest, most efficient charge possible without overheating or overcharging, while the the sleek and slender design makes for easy packing of power without the bulk.
Stay charged up anywhere with this power pack and inverter
Sherpa 100 can be charged from solar, car, or wall outlets
Dual USB ports for charging multiple devices at once
Intelligent USB recognizes devices and charges appropriately
Adapters connect Sherpa to laptops or older Goal Zero devices
Battery monitor lets you see how much power is left
Included inverter converts Sherpa into wall plug for versatile use
A Nice Burst of Power!
Familiarity:

I've put it through the wringer
This is a pretty nifty item for those that need to make sure they've got the ability to power some electronics when they don't have a wall to always plug into.

I've designed & built an electrical system for a van and it gets pretty complicated designing and building out a system that can power devices and charge from a solar panel. This little Sherpa 100 is small but has some pretty awesome features that I think we tend to take for granted. Plus the form factor on this thing is actually pretty small for what you get out of it.

Inverter:
I don't have the inverter yet but plan on picking it up. (Item # GZR000J ) But this thing is super small and an awesome feature to have in the event you've got a 110v plug (standard wall plug).

Charging:
This thing charges pretty quickly and easily. It's basically the same level of effort as charging ones phone. Pretty much just plug it in and check the indicator on the center of the interface and see how much the % of battery level is left.

Light:
The interface has a nice little LED light on it that you can press on to give you a little bit of light to see other parts of the interface if you're in your tent during the middle of the night.

Cable:
This has a nice metal cable at one end that you can use to hang the power pack from if you're in a tent in case your tent floor is wet, etc.

Use:
I personally really like this power pack a lot for how little it weighs (under 2 lbs) for the ability to charge anything you might have. I've used this for charging smart phones and cameras. I think this would be the perfect item for someone that is into photography and wants the ability to power your battery packs for your camera, lights or any other electronics you might have.

I've mainly used this on backpacking trips and to protect the power back, I put it into a waterproof stuff sack while its stored in my backpack or while not in use at the camp site. And then pulled it out once we got to our camping spot to charge up any devices being used.

But I plan on keeping this in my car as part of my emergency kit in the event my vehicle & phone goes dead, or just as a nice-to-have type of item for long road trips.

If you have any questions on this item, feel free to drop me a line and I'd be happy to answer any questions for ya.

Jared Downs
Unanswered Question
How long would the Sherpa 100+ take to charge with Nomad 20 solar panels? In the description it only states the Nomad 13 time to recharge.

Also, can I connect my Nomad 7 with Nomad 20 and charge Sherpa 100 faster?? If so, how much faster would it be with Nomad 7?
mitz klsus
For Night Climbing
Familiarity:

I've used it once or twice and have initial impressions
So I bought this to power some light a Life lights for camping as well as bouldering at night. The battery is very small and lightweight. I used it all weekend and the battery capacity is amazing. I ran lights for three nights in a row and only used about 20% of the battery, this thing holds a serious charge. I am real pleased so far.
Collin Wogenstahl