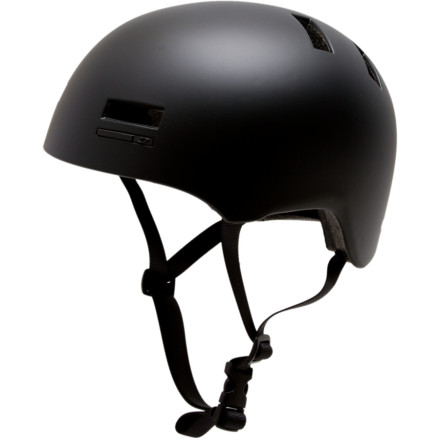 Colors

Detail Images

Videos
Good looks and brains.
If you're going to ride in town, doing your daily commute, why not abandon the roadie influenced helmet and get one that is more subdued and less threatening to the natives in your area. The Giro Section helmet could be an integral part of your high-performance civilian styled bike wear.
Though the Section looks like a muted version of a standard skate helmet, it is a bit different. It has an expanded polystyrene liner like their other road and mountain helmets and uses an in-molded polycarbonate shell to add toughness and abrasion resistance without adding significant weight. The limited number of vents, it has eight, lends strength so it is a great helmet even if your urban riding is geared more towards seeking out the best wallrides and stair gaps on your way to the dirt jumps just outside of town. For all-mountain riders, the Section works great for all-day adventures, because it's lighter than a standard ABS-shelled helmet of this style. It's designed to be used with Giro's line of goggles so you'll know that they'll always fit great in dusty conditions.
The Giro Section helmet comes in small, medium, and large and is available in three colors -- Matte Black, Matte Gold Transparent, and White/Gold.
In-mold construction allows Giro to make the helmet lighter and less expensive with more ventilation options
Wind tunnel ventilation combines active outer vents with internal channels to promote airflow around the head and cooling areas that aren't reached using normal venting systems
8 vents help cool your dome on the uphill
Super Fit technology draws on over 20 years of helmet-making to create helmets that fit most heads

DJ Helmet
Familiarity:

I've used it several times
Great DJ and skatepark helmet. Super lightweight and fits great.
Chad Cordell
Backcountry Video
HI THERE I WAS WONDERING IF THIS A HELMET...
HI THERE I WAS WONDERING IF THIS A HELMET FOR WOMEN?


Manbugira
Best Answer
This helmet is not gender specific. Your best bet is to get a good measurement of your head and give us a call at 800.409.4502 and we can help you through sizing.
Wayne Christoffersen
Bought one for myself and one for my daughter, This helmet is cool and comfy at the right price, Backcountry customer service ppl rock and they were fast getting the helmets to us as well, def would and have sent ppl this way for awesome products and superb customer service ! Go Backcountry ! Thanks.
Lori M.
Love this helmet. Super lightweight, I don't even realize I have it on. Super breathable. Use this helmet for road and mountain biking.
Maggie
Giro sections
Familiarity:

I've put it through the wringer
I use this helmet for skating and I've taken some hard hits on pavement with this helmet, smashing a big flat spot on it, and it protected me very well. Its comfortable, light, the liners are easy to adjust size with and also are easy to remove and attach. They stay attached well.

The only complaint I have is this helmet dents very easily its purely cosmetic though.
Payden A.
Bought this as a bike helmet for my four year old son. He loves it. It fits well and is lightweight. There are three sets of removable foam strips which allows a lot of versatility in sizing it right. Compared this to the POC Receptor and the POC was quite a bit heavier. Thrilled with yet another great Giro product.
Cole VandenAkker
I love this helmet for my two boys. This helmet offers great protection and the "coolness" that they desire.
They specifically picked out the Green Creatures design. When it arrived we discovered female nudity on the back of the helmet. Probably not the best idea for a 6 and 7 year old.
We needed to cover the girl with a goat sticker!
JMichael Boyle
Great helmet for the price. Very light and it come's with 2 extra replacement pads for the inside. The helmet is a little on the warm side but it makes for a great fall or winter helmet.
David W.
Great Helmet very light wieght.
Daniel G.
How do you measure your head?
How do you measure your head?
Vic
giro.com has a measuring tape you can download. I tried to add it here as a picture but it didn't work.
Daryl Price
Tiny head, great fit with size S.
I won't hold anything back...I have a small pixie head and face, and this helmet fits me very well without looking like a giant helmet on an ants head! LOL. Seriously, this helmet fits nice and snug with no pressure points. The strap system allows plenty of room for adjustment and when tightened on it sits in a non-choking position. I love this helmet and am ecstatic to have more protection over my head! As an aside, the color and pattern is unique and fun. This is a well made and designed helmet. My bike visor does fit under for when I'd like to block the rays. I use the helmet for MTB riding and horseback-riding. I love the idea of deeper and heavier protection, especially over the cerebellum. Buy it, be safe!
Donna K F.
Light, Ventilated, and Comfortable
I bought this last year for longboarding, and have used it for biking a little bit this year. With it being light it doesn't give me headaches like other helmets do, and with it being well ventilated it helps keep you cooler than most helmets. Fortunately I haven't taken any falls on it yet, but I've had a lot of other Giro helmets for various sports and they have all held up to the abuse I dish out so this one will live up to the Giro name.

Bottom line: Cool, light, durable, and most of all VERY comfortable.
Taylor
I've been using this lid for rides around town and for mountain biking with friends. The fit seemed a bit large at first, but Giro thoughtfully included a number of replacement inner pads. One change the fit either to make it tighter or looser. For the price, it can't be beat.
Byron Meinerth
how to you determined the size?
how to you determined the size?
Ziad
Hey,

Use the "Size Chart" link that is directly below the Select Options menu. It is based on head circumference.
Josh Chapman
Great helmet, very comfortable, good looking and very light weight!
Chong L.
Giro Section... Great Helmet!
I got the White/gold colorway and it's a great helmet. I have never bought a bike helmet and I was a little nervous because I wear a 7 3/4 size hat (I have a big melon). This helmet in a large fit perfect! I had to remove one of the pads from the back, but it fits very comfortable. I got the white/gold version because I figured white would help reflect the sun and absorb less heat keeping things cooler during rides.
MattKnudtson
Excellent Helmet, no need to pay more
Great helmet; comfortable, lightweight and excellent airflow despite the lack of vents.
Daniel P.
I am very pleased with the fit and comfort of the helmet. It is well constructed. The helmet gives me confidence I am protected in the event of a fall/crash. As a neruosurgeon, I would recommend this helmet to anyone.
Dr. J