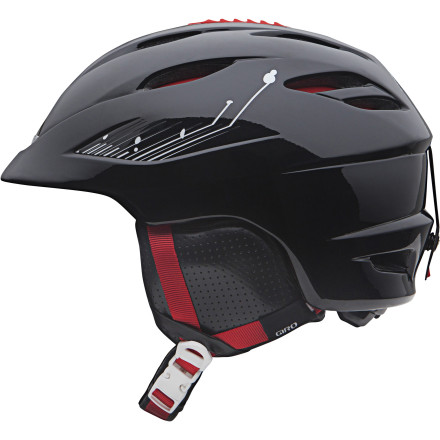 Colors

Detail Images
No more excuses.
Nobody's ever accused you of being a hothead, and they're not going to start now, not when you're wearing the Giro Seam Helmet. Twelve Super-Cool vents that can be adjusted from a single Thermostat control keep things from getting uncomfortably hot and sweaty under the Seam's polycarbonate shell, even on warm days. Add to that Giro's fine-tuned Super Fit engineering, not to mention its top-flight impact protection, and you have just run out of excuses to not wear a helmet.
In-mold construction fuses a tough polycarbonate shell with the cushioning foam, saving weight and increasing cooling efficiency
In-Form Fit system lets you fine-tune the fit with an ergonomic dial, even with gloves on; vertical tuning features accommodates different head and goggle shapes
Super cool vents pull cool, fresh air into the helmet while pushing out heat and stale air
Stack vent in helmet aligns with center vent on your goggles to keep the clear and fog-free
Thermostat control gives you one-button control over the vents to respond to changing conditions
X-Static lining has silver fibers woven into it that fight odors and help regulate heat
Compatible with TuneUps audio systems (sold separately)
satisfied xl head
Familiarity:

I've used it several times
Finally, a helmet that fits. Helmet is perfect fit for my extra large head that is more oval shaped than round. Warm with balaclava around 5 degrees F. I like that its not black. The fastex buckle is a little archaic compared to other strap connectors. I've used it about 10 times so far. I would have liked a brighter color. I've never used a helmet skiing in 40 years. I was worried about skiing with a helmet but totally don't realize I have one on. Super light. Satisfied first time ski helmet buyer.
David H.
perfect helmet
Familiarity:

I've put it through the wringer
First of all, color. I own a matte glowing red bike helmet already so I knew what to expect. It's more of red-orange but it works for me, it's bright and easily visible from afar.

Now for fit. The fit is awesome! The in-form fit system in the rear makes this helmet super comfortable. Paired with the X-static lining, I forget I'm even wearing a helmet. I always run on the hotter side so I leave the vents open all the time and never experience overheating. The ear pads do add some slight pressure on your ears but I don't use them anyways so that doesn't bother me.

*I had a defect on my first helmet but backcountry quickly remedied that. Great customer service! 1 extra star for that - 6 stars!
C M
I've had a hard time getting a helmet that's comfortable and fits well. This helmet has both. It's feels great on and keeps your head warm on a cold day.
John B.
What is the weight on this helmet? Also, which Giro snow helmet fits most like the Giro Phase MTB helmet? Or, is the Edit or Seam more oval? Thanks!
Julie C.
The weight of my Medium helmet is 470 grams/16.6 oz.
husonfirst
Disappointed in size and color
Familiarity:

I returned this product before using it
I bought the "glowing red helmet" and it is definitely red-orange....which makes it awkward when trying to match it with other red gear. Kind of frustrating that it's called something gimmicky like "glowing red". Really thought I was ordering the red...woops.

Now I would hate to give 3 stars for a color mishap, but the ear pads on this helmet are very stiff and really push down on my ears. They would probably make my ears ache after a few hours on the slopes. I have an older helmet with audio flaps I was hoping to replace, and those ear pads have always been soft and comfortable. True, this helmet feels much warmer from just trying it on, but I do prefer to wear an airhole balacalva anyway under the helmet. So beware if you have a round head with sensitive ears.
Kaz K
Great helmet
Familiarity:

I've used it several times
I've owned the Giro Montane last season and I loved it. Then saw this one in blue and loved it even more. Super comfortable, adjusts well to my head, adjusting knob and vent knob are easy to control even with gloves on. Drop-ins fit easily into the ear-pads and the sound is great as always. It is very light and my googles fit snug. I love it, and can't wait for the season to start so I can use it. Better than any beanie I ever owned.
Itay N.
Comfiest helmet I've found
Familiarity:

I've put it through the wringer
I'm on my second Seam helmet after having my first one for a solid four seasons. Between its age and the number of impacts I've gone through with it, I decided it was time for a refresh (remember, you probably don't want to wear a helmet until it disintegrates from old age....). My first Seam served me really well and I have absolutely no complaints about the durability or longevity that I had in my old helmet. I did some shopping around to see if I liked anything else better and ultimately came back to the Seam for another round.

The helmet is light and comfy and has a good set of vents. Probably not the absolute highest airflow out there, but I like the positioning of the vents and the ability to close them easily with the push of a slider on the top of the helmet. The front vent is also nice in that it helps vent hot air off your goggles and keeps them from fogging up.

I have these paired with Oakley Airbrake googles and it's a great fit. Almost looks like the helmet and goggles were designed for each other.

Ultimately the biggest deciding factor for me was fit. I've come to realize that I generally have a "Giro-shaped" head and helmets from Smith and POC (among others) generally just don't fit me as well. I've found that, as a general rule, Giro helmets seem to have a longer / more oval fit whereas Smith and POC both have a rounder shape that isn't as comfortable or secure on me. Fortunately, Giro helmets usually fit me like a glove.
Mark Travers
Not for me.
Familiarity:

I've used it several times
I hate this helmet. It's lightweight, and not in a good way. Feels cheap and the plastic top started peeling away from the foam in the front. I'm right between a small/medium, and I opted for the medium but the ear flaps are ridiculously wide and barely even touch my ears, so I have to wear a hat underneath or else I freeze. The only good thing is that I found the vents easy to open/close while wearing mittens.
Emily
Great helmet for a great price.
Familiarity:

I've used it several times
Helmet has been great for the few times I have used it. It is nice on the warm mountain days where you can open up the vents and feel some airflow. On the colder days it was just as great as I closed the vents and kept my head much warmer than the use of beanies. Feels great for all day skiing/snowboarding.
Jorge G.
Great helmet!
Familiarity:

I've used it once or twice and have initial impressions
Excellent helmet. Snug fit, and very warm.
Dan I.
Perfect Lid!
Familiarity:

I've put it through the wringer
The Seam is by far the most comfortable helmet I have ever owned. Everything from the plush chin strap to the micro-adjustable fit system ensure that the fit is snug yet comfortable enough to ski all day without any hotspots. The thermostat control is super convenient, allowing for on-the-fly adjustment even while wearing mittens or gloves. The helmet has enough space for a thin beanie underneath, allowing me to ski in some seriously frigid weather. The ear pads are removable, ensuring you can keep your noggin cool on those warm spring runs. The brim is enough to keep some of the sun out of your eyes, yet still allows you to rest your goggles without having them flop off the back. Stack vent keeps your goggles breathing nicely, and the light weight of the helmet itself is nice on those all day journeys.



Overall, a great product... can't ask for much more when it comes to a helmet.
Luc M
Comfortable and stylish
Familiarity:

I've used it several times
I love this helmet. The Giro Tune-ups fit perfectly in the ear-slots. It is extremely comfortable and I am able to adjust the vents throughout the day depending on the temperature. I thought I wouldn't like wearing a helmet but the Seam has changed my mind, it is an excellent safety addition to my winter wardrobe.
Matt F
Nice helmet... but it pinched my ears.
Familiarity:

I've put it through the wringer
The Giro Seam helmet is well made, the adjustment works GREAT, and the vents worked OK... slide action on lever was not very smooth, they froze open or closed few times, and for some reason one if the vents never closed 100%, but I never noticed the tiny opening on one vent... I give the vents a B+.



No major complaints with the function and durability of the helmet.



It is the fit I have issue with- The darned thing pinched in on the top of my ears! I was right in the middle of the M and did not have it adjusted all the way open. So the helmet was not too small for me, but the ear flaps hurt. They are plastic reinforced and they aggressively angle in- I suppose to hug your ears tight and keep you warm. They were not noticeably uncomfortable when I first put the helmet on, just snug, but everyday after a few hours my ears started hurting. I did some mods (removing foam and a bit of plastic ) which helped but didn't fix the issue .



After a season of trying to make it work, I got rid of the helmet.



Conclusion- Good helmet if it fits you. Probably deserves 4 stars, but I'm giving it 3 so people can see a less then stellar review.


Calef L.
Very solid, comfortable helmet
Familiarity:

I've used it several times
My last helmet was a pain because of its weight, but the Seam is super light; I forgot I was wearing it within minutes. I love the sealable venting--there's lots of it--so you're comfortable in a variety of conditions. Very good looking as well, with a small brim. Most of all though, the click-adjustable sizing is a dream. Helmet is easy to fit firmly without being tight, and so easy to adjust you can do it while boarding. Nothing but praise here.
Salim
Seamless fit, Mom Approved
Familiarity:

I gave it as a gift but have feedback to share
I bought this as a gift for my mother. She has always struggled to find a good fit between her goggles and helmet, but finally she bought some Giro goggles and they fit seamlessly with the Seam, what irony, right?! Her other favorite feature is the ventilation, she often gets a little hot headed (pun intended), but has no complaints about keeping cool and comfy in the Seam!
Mark R
Backcountry Video
Nadav Herman
Is this helmet unisex and are the ear pads...
Is this helmet unisex and are the ear pads removeable?
Chris Green
Mike D Hilverda
This is by far the most comfortable ski helmet that I've owned. I would recommend it to anyone, it's lightweight and comfy. The vent controls and the adjustment wheel work well and are easy to use with gloves on. The helmets brim feature matches up pretty well with any goggle, and its pretty warm. I run kinda hot but I don't have to use anything but the helmet unless it gets into the teens.
John Dobrott
happy
Familiarity:

I've put it through the wringer
I got this helmet free brand new, but I still enjoy it & have no complaints. Giro makes good stuff, you can size it fairly well. Don't have a big gaper/beater/joey gap with the Smith I/O goggles I use, if you use a Buff headband underneath you fix that problem 100%.
todddkehoe