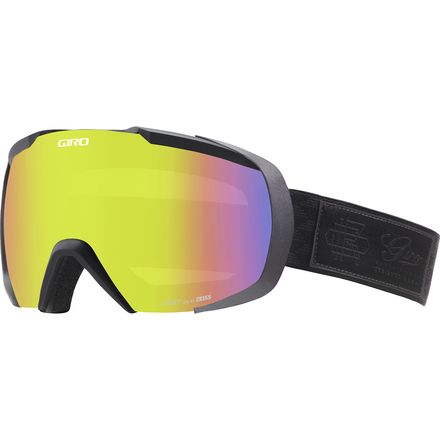 Colors

Detail Images
See them (if they can keep up).
The Giro Onset Goggle has the widest peripheral vision of any goggle today, so you'll be able to see if your buddies are gaining on you. Chances are they won't be—with the Onset's spherical dual lens and Carl Zeiss optics, your hawk-like sight will have you going Mach 5.
Proposition 65 Warning for California Consumers: This product contains chemicals known to the State of California to cause cancer and/or birth defects or other reproductive harm.
Super Fit large-size adult frame to suit a wider face shape and size
EXV expansion view, the widest peripheral vision of any goggle today, for optimal on-hill awareness
Vented True Sight spherical dual lens with anti-fog coating to increase air volume, eliminate fog, and provide superior optics
Helmet-compatible design, for simultaneous eyeball and head protection
Triple-layer face foam with microfleece facing for exceptional comfort and fit
Optics by Carl Zeiss Vision, of international renown

cool glasses! sit tight, but very easy to scratch, with time white plastic turns yellow
Rodion
The best
Familiarity:

I've put it through the wringer
Having been a big Smith fan for years I was skeptical but I've used these for the past two seasons at Alta now and day after day they've performed perfectly. The lenses have great depth perception, the frames don't inhibit your field of view at all and they won't fog over. If you're wondering if you should pull the trigger just do it.
Preston.G
AMazing goggles
Familiarity:

I've used it once or twice and have initial impressions
Super lightweight and true to size fit over my face. The spherical lens greatly improves visibility.
Stan
Great for flat light days!
Familiarity:

I've used it several times
got this goggle for days when the light isn't great. Fits great with my Giro Helmet!
Marcella Davis
Worked great for me
Familiarity:

I've used it several times
Went to Park City near the end of the season, worked great! I have the Loden Green lens, went out on clear sunny days, had high visibility, no fogging, no problems at all. I used it in fairly warm weather, probably lowest was low 30's/high 20's and sometimes it ranged into the 60's by mid day.
Philip D.
Awesome
Familiarity:

I've used it once or twice and have initial impressions
Very good goggle, good visuality
Eric L.
Is there a replacement lens?
and is this a interfit model?
SooHyun
Here is a video on how the replacement lens's work. https://search.yahoo.com/yhs/search?p=Giro+Onset+Goggle+replacement+lens&ei=UTF-8&hspart=mozilla&hsimp=yhs-002


KRuss
Good looking out
Familiarity:

I've put it through the wringer
Comfy and with a view so wide sometimes I forget I'm wearing goggles. Taken these all over (Alps, Rockies, and Appalachians) and never had a problem with fogging, but I'm not a big sweat-er either so maybe that affects it.

Loden green for sunny days above the treeline, and Amber scarlet for 'all-conditions'. Either way, and the dress code is fly.

Palabra.
Andre S.
what be the best coloured lens to suit all/most conditions


I'm liking this goggle a lot and hear great things about it. Are there other comparable lenses out there to consider looking at? Lastly, which lens would you recommend for all-conditions (ski in Midwest). Thanks!
Andres
Best Answer
For me, I like the Amber Pink as a good all-around lens.
Craig S.
I have the Amber scarlet and they also really make thing pop in almost all conditions.
Gage B.
Mostly Amazing
Familiarity:

I've put it through the wringer
I've been skiing with the onsets for over a month, and am quite happy with my purchase. I use them in combination with the Giro Seam helmet, and they work in absolute harmony. Strap stays in place, no forehead gap either! The field of view is excellent, as is the seal to my face. My only gripe is that when it gets very cold (-30), they tend to fog... but I suppose many goggles would at that temperature.



The only thing holding these goggles back from a five star review is the fogging in the bitter cold. Otherwise, extremely solid goggle.
Luc M
Nadav Herman
Nadav Herman
OH MY GOD.
Familiarity:

I've used it once or twice and have initial impressions
Okay, take this review with a grain of salt, because I've had my old goggles since Junior High. And I'm now 35. So these were bound to be a pretty huge upgrade. But...



HOLY CRAP. These are really nice.



They're super expensive, and I felt a bit silly spending that much money when I'm sure you could get something perfectly serviceable for less than half the price. But I splurged, and I'm happy about it.



First of all, they don't hurt my face. At all. My other goggles hurt my nose by the end of the day, which was lame.



Second, they really do have an amazingly large viewport. Or rather, you don't really see the goggles at all. You just see the world around you. I put back on my old goggles, and I felt like I was driving a tank or something.



Third, these didn't fog up. Not once. My old goggles ALWAYS fogged up. Now, maybe that has to do with the fact that I got a new helmet too. It has a "stack vent" system that's supposed to help goggles not fog up. So that could be a factor.



Fourthly, they fit in my helmet and didn't ride down on my face or force my helmet to ride up on my forehead.



Fifthly, they look freaking awesome. I feel like a fighter pilot or something.



Do pay attention to the "lens tints" thing. I really wanted the cobalt blue lens, but I chose Amber Scarlet because I wanted a good all-day, variable-conditions choice. I'm really happy I did- a darker lens would have been too dark. These were just right. I wasn't blinded in full sun, and I could still see where I was going in overcast afternoon conditions.



Stoked.
Jeff M
Room With a View
Familiarity:

I've used it several times
This is really a great goggle. I love everything about them. It's basically like skiing without goggles since the field of vision is so big. They have a very comfy fit with or without the helmet. I haven't had any issues with fogging. I mainly ski with the Persimmon lens. I can't be bothered switching things around. This tint work great in all conditions and most importantly it allows you to see the terrain in difficult or flat light conditions. I got mine on Sturtevant's because of the free shipping to Canada. P.S. Backcountry should really revise they shipping policies



Thumbs up for me.
Alex A
What's the best lens here for high sun? ...
What's the best lens here for high sun? I ski at Taos, and it usually only snows at night (really), and the days are blinding.
rjdamore
Best Answer
Your going to want to go with Black Limo or Loden Yellow for the darkest lens that will perform best on those really bright days, You could also get away with an Amber Scarlet lens so its going to be a more universal lens.
Freddie A.
Backcountry Video
Huge Field of Vision
Familiarity:

I've put it through the wringer
Great goggle. Big field of vision and a good overall size. For how much vision you have the goggles aren't bulky or oversized like some you'll see. The goggle sits quite close to your face and the vents and foam has been well placed. Don't tear up when you're hauling ass and don't fog up when you're hiking back up. I got a couple different lenses and they've been super good. Black Limo tint is definitely the best looking. I've used these goggles with the Giro Montane, Shiv and Edit helmets and its a good close fit with all 3. Frameless design is awesome for wiping snow off of the lens. No build up in the corners, you'll appreciate it on a pow day.
Riley Leboe
Good fit and field of view, but they fog
Familiarity:

I've used it once or twice and have initial impressions
Took these to Beaver Creek and Vail. Fit was great with a good field of view. Good integration with the Giro Montane helmet (I read Big Red's review before I picked the combination).



Day 1 - warm, sunny day on the slopes. They worked great.



Day 2 - Colder and snowing. Started fogging up on the first ride up the lift. Got progressively worse, quickly.



Took them off and realized that they were fogging between the lenses, so no way to even wipe off the condensation and keep going. It was so bad that I wound up picking up a pair of Smith I/O goggles as a replacement to get back on the mountain. Paying resort prices for a replacement was not fun.



Sigh. I guess I will have to try out Backcountry's return policy.
Alford E.
Ashley Lanning