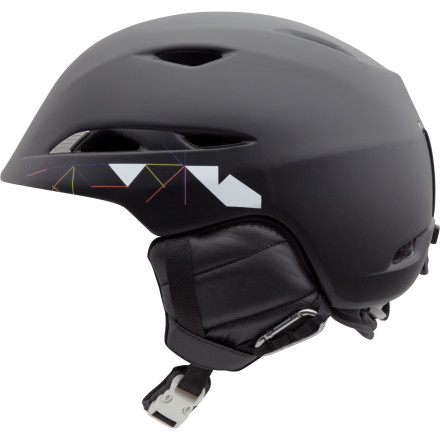 Colors

Detail Images
No excuses for not bringing it along.
Warning: putting on the Giro Montane Helmet will turn you into an airhead. We don't mean that in a bad way—it's just so lightweight, you might think there's nothing there. But there's plenty of tech packed into its 13.4 ounces, ready to protect you on your in-bounds exploits or backcountry ventures without weighing you down. Giro even included a handy carabiner clip so you can hook the Montane to your pack before heading out on the skin track.
In-mold construction fuses a tough polycarbonate shell with the cushioning foam, saving weight and increasing cooling efficiency
Roc Loc 5 Fit system lets you fine-tune the fit and the fore-aft tilt of the helmet in seconds with one hand
Super cool vents pull cool, fresh air into the helmet while pushing out heat and stale air
Stack vent in helmet aligns with center vent on your goggles to keep the clear and fog-free
Thermostat control gives you one-button control over the vents to respond to changing conditions
Compatible with TuneUps audio systems (sold separately)
Cannot Recommend
Familiarity:

I've used it once or twice and have initial impressions
Although the product does seem of high quality and I like the design, it arrived damaged. The inside casing broke loose rendering the vents inoperable and weakening the structure of the helmet. The only available options through Backcountry are to pay for another up front and wait for a refund when you send the product back (for which you pay shipping) or wait 3 weeks after sending it in for them to ship out a replacement (again, shipping is on you.) Ultimately not terribly pleased with the experience, will probably use other storefronts in the future with a better return policy. Use caution with this seller, if the product is damaged or needs to be replaced it will be a hassle.
Alexander M.
I was nervous about buying a helmet without trying it on, but I really wanted an orange helmet and I could not find one in stores!

Since I was using an old Giro "9" before, staying with Giro I thought I'd cut the risk. My head size measures right in the "Medium" specs and my old "9" was Medium too. The Medium Montane fits perfectly and its adjustable fit works perfectly to fine-tune the fit with or without a head liner.

I bought it just before the bad '15-'16 ended and was not able to wear it on the slopes yet, so I can't review its on-slope performance. But so far it's just what I wanted and expect that it will be just perfect.
Alain L.
Are the ear flaps
And insulation removable?

Can I use for summer mountaineering?

Thanks
Will Marsh
Hey Will, it looks the they are removable like for washing, but would most likely provide a not so ideal fit without them. It also isn't climbing rated so it won't protect your noggin like you probably would like. There are a few multi sport helmets like the Salomon MTN Lab or Patrol and the K2 Route... If you have any other questions, don't hesitate to reach out. Thanks!
Brennan K
Will there be any more Matte Black Outpacks in size medium?
Andrew F.
Andrew,



Unfortunately we don't have more Matte Black Outpacks on order in any size.



Sorry for the bummer news.

Shoot me an email anytime you have questions!



Jared D.

Expert Gearhead

801.736.4336

jdowns@backcountry.com
Jared Downs
Not for small heads
Familiarity:

I returned this product before using it
When this came in the mail I was pretty excited. It was light, it was slick looking, had great features. The fit however was just horrible for my head. front to back was snug, but I had so much room on the sides I could knock it off by shaking my head regardless of how hard I tightened the straps. I think this might be a great helmet if it fits you right, but it was a bit of a non starter for me.
Erin B.
Lightweight and Great Air Flow
Familiarity:

I've put it through the wringer
Unlike others who've written positive reviews here, I've had only one helmet before this one so...grain of salt, OK? First, it's nice and light. It fit my head perfectly after minor adjustments. And I'm amazed at how the seemingly-minimal helmet and ear padding provide warmth when necessary. I like the vent design and they are well-located for good breathability. I do, however, have to remove the helmet (and gloves) before I can properly adjust the vent. The very-slight lip on the rim of the helmet really helps keep kicked-up snow off your goggles and I find the goggle/helmet fit just about right (Smith Knowledge goggles). Some will like the attached carabiner for attaching the helmet to one's backpack for the hike home. Overall, a nice helmet - though they've stopped making the orange color so y'all will just have to gloat over mine.
David O.
Best fit for a larger head!
Familiarity:

I gave it as a gift but have feedback to share
My dad has a rather large head but wanted a stylish helmet for skiing so I went with this helmet. He loves how comfortable it is and the controllable vent to manage the different temperatures we experience during ski season in Utah. The helmet is adjustable via the chin strap and an inner liner so he says it fits great. I would recommend this helmet to anyone (especially those that need a large sized helmet).
Matt F
Are the liner and ear covers removable?
Are the liner and ear covers removable?
kristin
Cynthia G.
Exactly What a Helmet Should Be
Familiarity:

I've used it several times
I've used all sorts of helments in the past (race, freestyle, fullfaced). I wanted to get something that was a little more freeride oriented and light weight. I ski via lifts a little bit but I premarily tour so light weight was important to me. Before I bought the Montane I stopped using helments just becasue I didn't really see them as neccessary in the backcountry. Long story short, I decided this was silly and wanted to start wearing them again. This helmet is great for me because its so light, when its on my head I don't notice it. When I'm hiking and its strapped to my pack I can't feel it at all. It has an elagant profile and the back snitch really locks the helmet into place. The goggle strap is simple and functional. The vents work really well and being able to close them is really nice when its super cold or the wind picks up. The ears are removable which I think is really nice. Overall, this helmet is simple, has just enough whistles and bells and feels good on your head. I'm not sure if it has the same structural integrity as a POC helmet but it's half the cost and feels even better on your head and is much lighter. I'm really happy to be wearing helmets again and this one seems as good as anyother for my purposes.
Ryan B
Sold
Familiarity:

I've used it several times
So I tried a lot of helmets and almost settled with this one. Honestly, I chose this one because it was ever so slightly lighter, and it came in green. And a gearhead told me from the beginning to go with Giro and I should have listened.



My head is 22 inches and the medium works well. The small fit too, but didn't leave much room (if you're a beanie person). The Roc Loc system in the back is so clutch... Makes the medium fit snug with no gaps, making my decision between small and medium easy. There is, however, space between the ear flaps and my ears. I preferred this, as it's easier to hear. Some like it a bit more snug, warmer, and closer fitting.



Bonus! The ear flaps come off for those hot days! Helps cool you off and improves hearing! Totally didn't know this when I bought.



Great helmet. Vents are easy to open and close with gloves on (thermostat "switch" on top). No fog in the goggles. No complaints. Love the freedom and range of motion it gives me. Doesn't crowd my neck!
Lisa Quagliana
Backcountry Video
Comfy and light
Familiarity:

I've used it several times
Good fit, super light, comfy and nice features. It'd be nicer if there were more vents, but it still vents pretty well. The helmet looks really big on my head, so it's not the most stylish. I still really like it though.
David P.
I have a $100 card my employer gave me for...
I have a $100 card my employer gave me for my fitness achievements this year. I'd like to use it to purchase this helmet, but I'll obviously need to split the transaction across the card from work and my personal card. Is that possible? Or, you could just give us larger head folks the same deal as the $65 small. ;-) Thanks in advance for info.
Corey McEntyre
Best Answer
Hey Corey,

We can surely split the payment across cards for you, sorry that your noggin is more expensive ;)

Just use the chat function or call us at 1-855-712-0512 and one of our gearheads can place that for you.
Amy S
Corey,

There is a good reason the Matte Angles Helmet is at 50% off, and unfortunately we are not able to offer that price on any of the other models. Don't worry though. It isn't head size discrimination. We can't offer the small head folk out there that price on other colors/sizes either. The answer to your other questions is, Yes. We can split a transaction between a gift card and a personal credit card. To make this process as easy as possible I would suggest chatting or calling in to talk to one of our customer service Gearheads. They can help you pick the right helmet (size/color), offer any existing promotions for an item, and assist you with placing the order.
Mike D Hilverda
Very good helmet
Familiarity:

I've used it once or twice and have initial impressions
True to size, very good, I will recommend it to my friend.
Hua
Comfortable & Light Helmet
This helmet was a great price and is very comfortable. I have only used it once, but it does the job. I also like the way it fits and looks (as it doesn't make my head look as big as some other helmets.)
Tina W.
Awesome fit and super light
Familiarity:

I've used it once or twice and have initial impressions
the fit of the helmet is awesome, the adjustments very easy to use and it's so light you'll forget your wearing a lid.
John S.
How to use the Trip Clip & the carabiner
Familiarity:

I've used it once or twice and have initial impressions
I will not repeat all the kind words from the previous reviewers - they are all true. The helmet is awesome, comfortable and ultra adjustable! :)

One thing that I want to mention is the so-called Trip Clip and the carabiner. The way of using it was a mystery for me for some time. Initially I thought that the carabiner should just connect to your backpack or something like that and Google couldn't help me.

But then one video made everything clear. You should pull the bungee strap inside the helmet and click the carabiner to it thus connecting the helmet to the backpack or anything else. That's an original design solution but it should help your helmet not to flap around hitting your friends or getting scratches.

I am very happy with my new Giro helmet, that's the one that I've been looking for. =)
Ilya Akimov
Looking forward to its second season
Familiarity:

I've put it through the wringer
All in all a good helmet. Seems to be a little thicker than some, but I assume thicker is better when it comes to safeguarding the dome. Fits great with the tension band (and adjusts for easily for adding thin beanie). Adjustable vents are great and relatively easy to use with gloves. The goggle retention system isn't the best but it works. It would be nice if the helmet was molded with a grooved strap path as opposed to a flush back, as would an improved (hard plastic or more secure) retention strap versus the elastic. Regardless, it fits comfortably with Oakley A-Frames and all in all I'm pleased with the purchase and looking forward to another season with it.
BBBCofCVT
Been a great helmet all year.
I used this helmet with the Giro Onset goggle and it's been a great package all season. Comfy helmet. Roc Loc adjustments make it hug your head really nicely. Fits well with goggles underneath or overtop. Low profile design and doesn't look super 'fast'- which is definitely a good thing in my books. Vents are in effective places. Super light. Looks really good. Found that the bungee strap to strap down your goggles in the back is really good. Easy to do with gloves on where sometimes the snap button ones are hard to find with gloves on. Don't know what else to say really, quality helmet that looks good.
Riley Leboe
Comfortable for all day on the slopes
Familiarity:

I've used it once or twice and have initial impressions
Spent a long weekend in Beaver Creek and Vail putting this to good use. Very comfortable for full days on the slopes. Good on a sunny warmer day and on the following day with snowy, windy conditions.



I initially paired it with a set of Giro Onset goggles. The combination fit well, though I eventually had problems with the Onsets and wound up replacing them with a pair of Smith I/O. In both cases, the helmet fit seamlessly with large sized goggles and were comfortable.



Sole minor complaint is the bungee cord retention piece on the back for the goggle straps. I found harder to adjust (without taking off the helmet) when attempting to get goggle straps to lay flat and correctly positioned. I think the snap button strap holder on others work better.
Alford E.