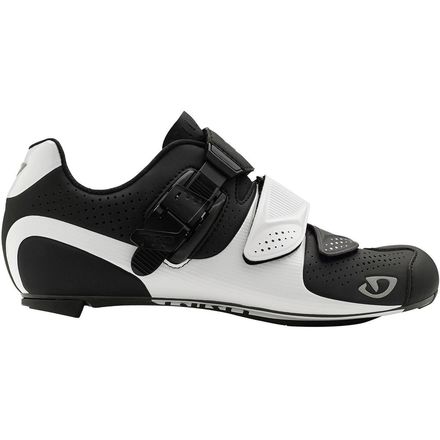 Best supporting Factress.
Giro didn't pull any punches when it designed its top-shelf women's Factress ACC shoe. From the unidirectional Easton outsole to the Teijin microfiber upper, the Factress ACC is the cream of the crop.
The Factress' upper is made with Teijin microfiber, a durable, breathable material that allows your feet to efficiently regulate their temperature. The footbed is Giro's SuperNatural Fit Kit with Adjustable Arch Support. The shoe is also lined with X-Static Anti-Microbial Fiber to manage moisture and eliminate odors.
Closure is handled by two hook-and-loop straps and a removable, micro-adjustable MR-1 ratcheting buckle. Finally Giro finished the shoe with a stiff, lightweight, unidirectional carbon fiber outsole from Easton and added replaceable walking pads for years of service.
Teijin microfiber upper
SuperNatural Fit Kit
Adjustable arch support
X-Static anti-microbial fiber
MR-1 ratcheting buckle
Unidirectional Easton carbon fiber outsole
great price for the product
so far so good. I won't give 5-stars bc I haven't been on the road to ride these shoes yet. I've basically broke them in via the indoor trainer.... that being said, I do like them. They are a smaller sized shoe. I sized up when I order. I have a pair of Specialized S Works (4 yrs old) that I love, but didn't want to drop $$$ on shoes right now. The Giro's appear to be a great bang for the buck. Great looks and comfortable fit, thus far. Again, I haven't been on the road for any lengthy mileage. Once I get outside to ride, I'll edit the post (if site allows for edits)
Amy C.
Height:
5'5"
Weight:
149lbs