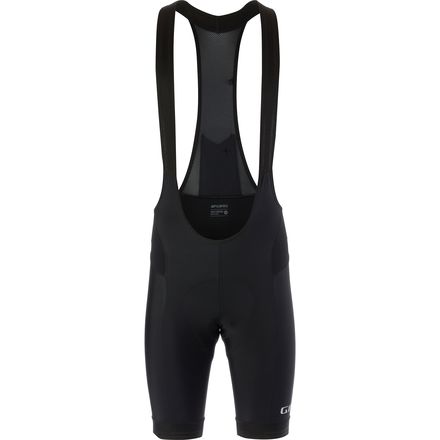 Colors

Detail Images
Settling not required.
Being less than satisfied with the materials available to them was a major theme for Giro while designing its Chrono Pro Bib Shorts, so much so that the brand took two years to craft the shorts, creating its own materials where it felt they were needed.
Giro starts with a blend of nylon and Italian Miti Lycra for the Chrono Pro's main body to lend the shorts a contoured fit that will move with you but hold its shape after hours in the saddle and the washing machine. It also made the decision to add a slightly different fabric blend to the lumbar panel on the back of the shorts, offering a compressive fit for the soreness-prone lower back muscles on your ride. Having the panel won't mean you can skip your foam roller session post-ride, but it will give your muscles more support while you're in the saddle than you'd have otherwise.
Bib strap construction on the Chrono Pro was one of the key areas in which Giro got creative. It engineered its own synthetic blend to craft the bib straps, achieving a supple fabric for the straps then pairing it with airy mesh panels on the bib itself, ensuring the entire bib will follow your body movements in the saddle throughout the course of a ride or race. Within the shorts, the Chrono Pro chamois' multi-density foam cushioning provides a range of support, relief, and breathability where needed. Giro added its own custom leg grippers to the shorts, which resemble the bib straps in their lie-flat construction, and finished the shorts with a small security pocket to stash a key, credit card, or radio.