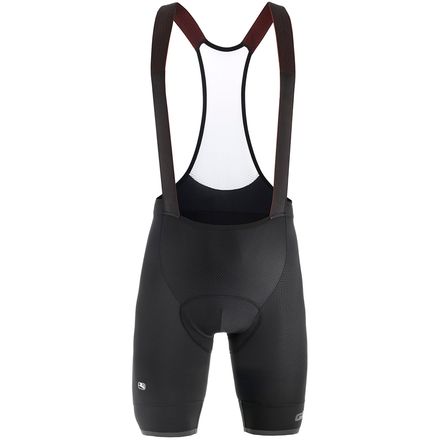 Next best thing to shade.
Inspired by the cooling fabrics in the swim and undergarment industry, Giordana made a departure from the cycling industry's traditional fabrics when it created the Sahara Men's Bib Shorts. If you're looking to gain an advantage during sweltering summer training rides, swap out your regular kit for these airy, breathable bibs and get back to your hill repeats.
As you pedal over pavement radiating summer heat on long, exposed stretches of road, the Sahara's panels of fabric, arranged in a V-shape around the core and a U-shape in the back, wick moisture continuously while maintaining a tailored, supportive fit. As you turn the pedals, Giordana's one-seam construction system and breathable, minimal leg grippers keep each leg in place with minimal chafing or movement, while Giordana's plush Cirro S chamois provides cushioning and support where you need it, breathing consistently as you toil in the heat.
Train hard in challenging heat in this highly breathable short
Form-fitting cut is tailored and supportive
Proprietary fabric wicks moisture while maintaining structure
Insert includes Copa Mondiale for male-specific comfort
Cirro S Chamois blends flexibility and plush cushioning
Bib straps allow for freedom of movement while climbing
too small must size up... very nice quly
Familiarity:

I returned this product before using it

Fit:

Runs small
too small, nice quality

Selvon F.
Nice-To small
Fit:

Runs small

Size Bought:

Large
I gave it 3 because it was really nice once I got it. This was 1 sizes to small.
I bought a large I needed a XL for it to work.
JEFF H.
Height:
5'11"
Weight:
225lbs
Runs a Little small
Familiarity:

I've used it once or twice and have initial impressions

Fit:

Runs small

Size Bought:

Medium
Nice bibs and works fine in hot conditions, only issue found was the size. Texturized fabrics make the bib looks different from normal bibs.
Galibier
Height:
5'10"
Weight:
161lbs
I've only had two rides on these but they have given me no issues on either of them. They definitely run small. I'm 5'6" (168cm) and 129lbs (59 kg) and this fit perfectly snug in a Small. I usually wear XS bibshorts.

UPDATE:
They wore out at the seam in about 2 weeks and also ruined $500 dollars worth of saddles. Would not recommend.
Tommy Liao
Really nice bibs for the HEAT
Familiarity:

I've used it once or twice and have initial impressions

Fit:

Runs small

Size Bought:

XL
I live in Georgia and needed clothing that works in heat and humidity. This set of bibs not only does the job from heat perspective, the chamois is also plush so you don't have a raw arse after sweating profusely.
Greg H.
Height:
6'
Weight:
170lbs
As good or better than Castelli bibs
Familiarity:

I've used it several times

Fit:

True to size

Size Bought:

Medium
I have been wearing size medium Castelli jerseys & bibs for about 15 yrs, and picked up size Medium for these as well. They fit the same as Castelli, the Sahara straps are a bit tight like the Castelli Endurance v2, but the chamois feels more naturally contoured. Special note on the inseam length, as they're longer than Castelli; I can feel them hitting the back of my knees while standing, then they fit perfect once I start to ride. As a matter of fact, after about 5 min on the bike, the bibs feel like they're not even there. The bottom of the leg openings grip softly yet with slight bit of compression, and the one piece fabric truly shines compared to the multi-panel designs. They do breath well for warm weather as advertised, however, I wouldn't recommend them if you're riding below 68F degrees.
If I was to nitpick, just like the Castellis I've worn over the yrs, you can find a small loose thread somewhere along the stitches. The Saharas do have fewer stitches than Castelli, thanks to fewer panels used; I don't know how durable they'll be after a couple seasons of wear and machine washing, as I've only had them for a couple of weeks.
Bottom line, if you're a loyal Castelli guy like me but want to try something similar in quality but from a different Italian brand, I'd recommend you give Giordana a try.
Donald W.
Height:
5'8"
Weight:
155lbs
Uncomfortable
Familiarity:

I've used it several times

Fit:

Runs small
The new "Copa Mondiale" shape of the chamois does not provide adequate coverage and room to perform properly. I understand the idea of cooling airflow but a swift breeze around certain parts of my anatomy does not offset given the coarse and irritating surface of the fabric covering what is normally covered by a soft chamois in other bib shorts. More chamois coverage please.
James C.
Wanted to like it. Very disappointed.
Fit:

Runs small

Size Bought:

XXL
First let me say my first purchase of Giordana kit was the FormaRed Carbon winter jacket which I love for the really cold and rainy winter rides with their Roubaix winter cycling tights. Love the jacket and really like the tights in nasty weather. Like that it is a family owned and Italian made. Great quality. So when I read that they now have their own factory and had even better control I thought that was great. When I saw these bibs and the similar bibs in this new line they were promoting as from their new factory, I thought these will really rock or they might be a little odd. I hoped for the first. Now for the details some of it personal to put it in reference for my comments. I am 6 feet, 205 lbs., still have a little belly (have lost over thirty pounds). Don't have big legs (average) nor a huge arse (but a cyclist butt). My two "regular" cycling bibs are Craft and Mavic in a large and they are fit me very easily. For further reference to street clothes, in blue jeans I wear Gap 1969 "trim" and am about to go to a 34 because they are getting loose. With that said, the story moves on. So I order the Sahara in an XL to size up because it is Giordana. I bought the Roubaix cycling tights for last winter in a XXL because I was the aforementioned 30 pounds heavier. Fit me fine. I get the Sahara XL and try and put it on. Felt like a freaking small. I could not even get the bib shorts up to my crotch it was so tight. It was ridiculous. So me having a little bit of belly was not even a factor because my normal sized legs and unhuge rear prevented the shorts from even making it to my waist. So as much as I didn't want to order XXL (for 40 to 44 inch waist), I bit the bullet and did so. Why, because I really wanted this to work. So the XXL came and again I tried to put them on. Again WAY too tight and just didn't fell right at all. I could get them on but oh not comfortable at all. I was dismayed. The legs were also too long now. Spoke to my favorite guy at CC about it and he said try them on the bike and see if once on the bike things go differently. So with cautious optimism (but bringing my Craft shorts as a back up) I drove to my usual starting point in my car wearing the Sahara. As soon as I got on the bike it just felt bad, simply bad. I was very cognizant of the discomfort and it was not for me. Rode half a mile in them, couldn't stand it, went back to the car, changed in the back seat (and didn't get arrested doing so) and went back out wearing my Craft shorts which are getting long in the tooth from many hours in them. So back to CC they go. I don't know who these shorts are made for but my only thought is some stick leg cyclist who can just squeeze into an XXL! I am happy to report I bought I pair of the Trade Forte FormaRed Carbon bib shorts and rode them today for the first time. In an XL. LOVE THEM. Love the look, the fit, the chamois. That short just "disappears" when I am riding in them. Zero complaints and buying a second pair.
barry hair
Height:
6'0"
Weight:
205lbs