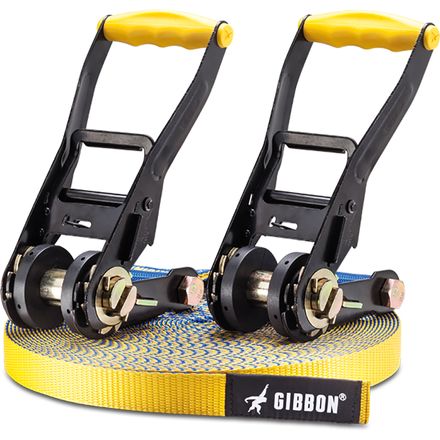 Colors
Tao te slack.
The FlowLine Slackline is one of Gibbon's more challenging lines that, after years of practice, helps you look like a wise, legendary slacker who has developed an inner peace similar to Zen and Tao practices. The only way to find a more powerful flow would be spinning poi on this line as the two included ratchets stay secure on two trees atop a tower in the middle of a sprawling natural landscape.
Find your flow with this thin, advanced slackline
Thinner width ideal for advanced slackers
Included ratchets and slings make for simple set up
Quality 1 Inch Line
Familiarity:

I've used it several times
I already had a cheaper 2 inch "toy" slackline that I was getting fairly comfortable on. I was shopping around for bulk 1 inch webbing to spool through my existing ratchet. When I saw this kit on sale the price was to cheap to pass up.

Gibbon seems to set the standard for slacklines. For example, reviews of my cheaper 2 inch line often said, "just as good as a Gibbon." Having now seen both, I can easily say that this Gibbon line is definitely higher quality than my cheaper one. Everything about it, from the ratchets to the webbing seems a little bit nicer and sturdier than what I was used to. If you think you will enjoy slacklining (and you almost certainly will) it is worth spending a little more money for a Gibbon or other quality line and avoiding the "toy" slacklines.

I also found the 1 inch webbing only slightly more difficult to walk than 2 inch. It wouldn't be unreasonable to simply start on 1 inch. This size seems to be the standard for most applications. Overall this is a really nice slackline kit, often avaliable at a great price. I'm very glad I bought it. It feels good to be walking a decent quality 1 inch line instead of what I now see as fat beginer line.

As a final thought, it is really only necessary to use both ratchets at distances over around 50 feet. I use a strong steel carabiner and a rappel ring to fashion a weblock when I don't want to use both ratchets. If you go that route, don't forget to pick up a sling or two for use on that end. And don't forget some tree protectors. They can also help protect your line or slings if you attach to non-round poles or posts.
Brian F.