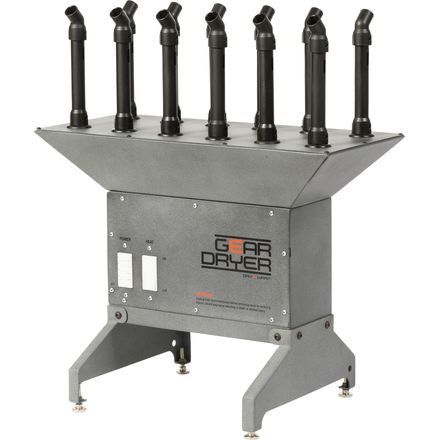 Colors

Detail Images
Know your gear is dry.
It's the age-old dilemma any skier or snowboarder faces after a powder day: either dry your gear next to a wood stove and risk melting your gear, or pile it around the furnace and roll the dice on waking up to soggy gloves and liners in the morning—better yet, invest in the Gear Dryers Freestanding 12 Boot Dryer and know all your gear will be warm and dry when it's time to suit up in the morning.
Gear Dryers is a Utah-based company founded by a couple of skiers and general outdoor enthusiasts who saw a need for a dependable gear-drying system in the outdoor industry. The system consists of a heavy-duty steel unit that's fitted with twelve individual drying ports that deliver 200CFM of warm air to your gear to ensure everything is dry by the time you're ready to use it again. Five pre-programmed dry cycles can be set between 15 and 30 minutes or 1, 2, and 24 hours. And while the system is ideal for drying ski and snowboard gear, the twist-lock port design allows the drying ports to be customized to dry everything from fly fishing waders, snowmobile boots, and work clothes.
Boot drying system designed with skiers and snowboarders in mind
Twelve individual ports dry gloves, boots, or waders
Self-regulating heat element maintains a constant temperature
Dual fans push 200CFM of air to efficiently dry gear
Five pre-programmed settings initiate multiple dry times
Durable steel construction with powder-coated finish for longevity
Plugs directly into 120V wall outlet for ease of use
Gear Dryer is a Utah-based company founded by skiers and climbers
Awesome tool for regular winter folk.
Familiarity:

I've used it several times
I'm about 10 uses in and have to say it's such a rad addition to our house. I really like the number of ports you get (we have 3 skiers in our house) and the options of drying with or without heat and the pre-set time buttons. It's so easy to choose what you need depending on the weather you encountered that day. So nice to have dry boots and gear in the morning!
Todd Ligare
Gonna be dope in my sprinter van
Familiarity:

I've put it through the wringer
I was sick of all the wet stuff in my sprinter van. Due to the low voltage, the bad boy uses I am running it off the electrical system in my spring van. Bye bye wet stuff.
Sam H.
Game. Changed.
Familiarity:

I've put it through the wringer
This thing...where has it been all my life?

How did I live without it?

I do not have the answers to these questions.

I ski around 80-100 days in the winter and this thing has turned out to be a total lifesaver. Makes my singular plug-in boot dryer look pretty lame.

Let me just count the many reasons why I like this product:



1. Adjusting the temperature to dial in WARM or keep the air flowing at room temp is a pretty neat feature most boot dryers do not have.

2. You can from several different programs of time to warm/dry your stuff. (i.e. if it's sopping wet, go for 2 hours, if it's just a touch dry or you want to warm you boots, the 15 minute option is perfect in the AM).

3. You have the option to remove the ports to dry different things like helmet, goggles, neck gaiters, etc.

4. Nothing dries my leather mittens better (After a big pow day, if the mittens get totally soaked, they have taken as long as 12 hours to dry on their own).

5. In the AM when I wake up, I fire off coffee and ignite this thing up to warm my boots squashing my toes into their once icy prison. A preheat with GearDryer is a far far less painful experience. So in summary: GearDryer makes for a better day of skiing. Period.

6. Drying more than one thing at a time is genius. Why didn't they thing of this sooner!?

7. For all those space cases out there (myself included) instead of scattering my crap across all the heater vents in my house, it's all consolidated in one, warm/dry place so I never forget gear like mittens/goggles/gaiter - etc. I'm more organized in the AM, which is a total plus because I activate ZOMBIE mode pretty hard before the sun comes up.



I highly recommend this product to winter or wet weather enthusiasts. It's been an awesome addition to my gear room and my roommate also LOVE it.

I'm on my second season with my GearDryer - no issues to report with maintenance or durability. It's awesome.
Lexi Dowdall
When you work hard and play hard outside, gear gets wet from snow, rain, and your own sweat. Left untreated, the enclosed spaces in boots and gloves can remain damp for days—and wet gear is cold gear. GearDryer delivers a powerful supply of forced air—heated or ambient—to quickly eliminate the moisture trapped in boots, gloves, helmets and more. Dry gear is warm gear, and warm gear makes for great days outside.
Mike D.