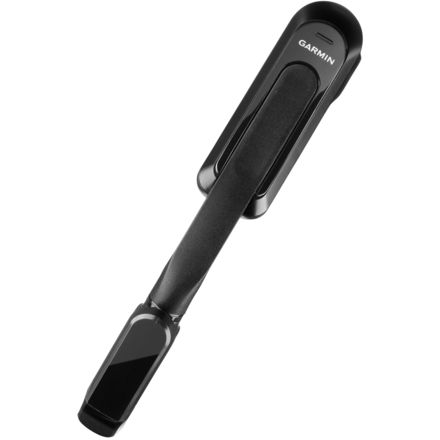 Colors
Dot the eye.
Not so long ago, rumors of glasses with live-stream data updating straight into your line of vision would've still been relegated to futuristic movies and science fiction novels. Now, they're changing the way we train. Mount Garmin's Varia Vision onto either arm of your sunglasses and see metrics like speed, distance, and cadence cleanly arranged in front of you on the 428 x 240 pixel display, delivered from your bike computer. Choose from up to four different fields to look at as you ride, and receive navigational updates to keep you looking up at the road rather than distractedly glancing to look at a bar-mounted computer every few minutes.
Weighing under 30 grams, the Varia Vision won't feel cumbersome as you ride, and it's built to withstand surprise rain showers with a waterproof rating of IPX7. Addressing criticisms that technology dulls athletes' awareness of the world around them, the Varia Vision is equipped to inform you when a car is approaching from behind, and it was built to communicate seamlessly with existing Garmin computers using ANT+ to give you uncluttered data you need without obstructing your vision, with the rest displayed on the computer screen.
Compatible only with: Garmin Edge 1000, Edge 520, Varia Rearview Radar, and Vivoactive HR
Delivered with mounting hardware, charging cable, and manual
IPX7 water-resistant rating
Mounts to either arm of any sunglasses
VV = Glasshole? Maybe. But WOW.
Familiarity:

I've used it once or twice and have initial impressions
First, please read Edward's review, I second everything he said.

Some additional initial impressions:
* Beautiful product introduction -- development did a great job on the concept and execution...
* Surprised that I can read it clearly (and even the only-a-fruit-fly-can-read-it font at the top) with my +1.5 presbyopia
* Really liked that unlike my 1000 that can be tough to read depending on what the autobrightness decides, I *always* could read the VV display
* Surprised how quickly I could block it out, mentally -- although, it does, obviously, obstruct some of your (mostly peripheral) vision
* I felt like I wanted it to have more positional choices (on my Oakley Radars), but the position I chose was still quite livable
* The device weighs enough that my glasses move around some, such as over big bumps, versus without the VV where they don't move at all
* I don't like that I can't see/choose my course's elevation (which shows me upcoming climbs and where I am on the current climb)
* I can't find an explanation for the two red dots it's showing me on the elevation graphic -- guess one of us is me, the other is the virtual partner? Why not color them differently if so? The elevation graphic didn't match my 1000s elevation profile, either... confusing
* It wasn't displaying my total elevation gain.... my 1000 showed a number, but the V2 showed "0"
* When you're wearing the VV, people notice you, but i'm not sure that's a good thing -- I think most were noticing me wearing it and thinking, "BORG" or worse, "Glasshole" =)
* I think it's regretful that the charging port is proprietary and not the ubiquitous microUSB interface
* Turn-by-turn directions didn't self-clear 50% of the time -- so you'd be shown a direction is coming up in 1 tenths of a mile, yet you had already made that turn a while back -- I finally figured out if you swipe, it clears. The other 50% of the time it cleared automatically
* I felt like it told me my turn-by-turn directions too late
* I liked being able to program it to tell me "Distance to Next" on the turn-by-turn, but I also needed a map view once it was time to turn
* Like Edward, I really liked that I could expand my stats view (like having a second monitor at your desktop) --before, with my 1000 alone, I would be constantly swiping
* Battery performance seemed good -- I was out there for five hours and it dropped by about 20% (and had minimal impact on my 1000's battery)
* I found swiping a little tricky and distracting -- made me wonder how difficult it would be with a gloved hand
* I couldn't sense the haptic at all while I was riding -- however, if I was stopped, I could feel it, say, when a new car was detected on my radar
* The manual says it can only withstand being wet for 30 minutes -- so if you live somewhere with regular rain, hmmm

I'm not sure yet how critical-path the device is -- might come to be a device I need only for certain events.

Anyway, I do think it's a marvel of technology that I'm glad to be trying out.
Douglas H.
Watch the Road, not your Computer
Familiarity:

I've put it through the wringer
I use this in combination with every single silly bit of tech I can get (minus a power meter, since I have a lot of bikes), so bear in mind I love this stuff.

I use a Garmin Edge 1000, a Shimano D-Fly (to get data off my Di2 shifters), and a Garmin Varia Rearview Radar. The Vision completes the package and I love it. If you use the Radar, you get an indication (haptic buzz + visual data) when a car comes up behind you. This alone is worth the purchase, although I find that I no longer look down at my cycling computer very often and so enjoy the scenery more, which seals the deal for me.

You can display four fields on the screen, and I display speed, cadence, heart rate, and rear cassette position, which is all I need. Gone are the (for me) frequent glances at my cassette or front chainrings, the sometimes-dangerous checking of speed when going downhill, and near-constant looking at my computer to check my heart rate.

Even if all you use this for is HR and speed, you still will spend less time looking down. They call this kind of thing a Heads-Up Display (HUD) for a reason.

Highly recommended.


J Bond
Great Piece of kit!
Familiarity:

I've put it through the wringer
I've had the Varia Vision for about a month and use it at four or five days a week. The thing works wonderfully and with the hills here in north GA, it works great to make sure I don't run my heart rate up too high keeping me from bonking before the end of the ride. I ride with maps/navigation running on the Garmin 820 and stats (heart rate, power distance and duration) on the headset - works great!
Richard S.
Surprisingly helpful.
Familiarity:

I've used it once or twice and have initial impressions
At this writing I have used this device for about an hour so I might change my mind. That said, first off, it was very easy to mount this to my Uvex 104 Sunglasses. It was also easy to adjust the screen so that it was easily visible without obstructing my view. The device readily paired with my Edge 520, programming the display was also straightforward (didn't need to RTFM).

While I do not intend to write a detailed review (as others have done so already, e.g. http://www.dcrainmaker.com/2016/01/garmin-varia-vision-hud.html), I will say that I found the device to be very helpful and easy to use while riding. So far what I have found most useful is to be able to easily track my cadence, speed, power and heart rate simultaneously.

This allows me to better pace myself (not work to little nor too much) to the extent that on the first hour out, on a day that I really did not feel like riding, I was able to improve my best 20 minute average power without *feeling* like I did.

Some will say that it is easy to look at the cycling computer when riding, but I find that there are plenty of cases when it is not so easy (like being in the drops in a decent or standing climbing at my limit and any especially at night). I find that being able to look at the display in such cases to be very helpful. Additionally, I find the display to completely readable in both bright day light (heading into the sun) or at night -- much easier to see than the Edge 520 display.

tl;dr -- I believe that for me, the Varia Vision will be a very helpful training aid and will improve my riding performance.

EDIT: The software update to 2.40 (that I was *NOT* allowed to decline) wiped out the Varia Vision setup. I don't think this is appropriate for a $400 device (plus the $300 for the Edge 520 that the Vision requires). If I spend $700 on a gadget that is not absolutely required to ride, I think that I should expect a bit better behavior. Some people don't spend $700 on their entire bikes...
Edward W.