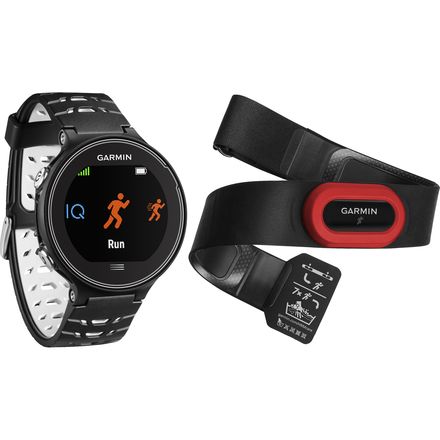 Ahead of the pack.
The Garmin Forerunner 630 looks a lot like what your grandfather called a watch, and it does fasten around your wrist and tell the time, but the similarities to wristwatches of old end there. Like you, Garmin's rarely content to sit still, so the Forerunner 630 honestly doesn't have a ton in common with the "virtual coaches" that came before it, either.
For starters, the Forerunner 630 Bundles comes with an HRM-Run heart rate strap, so you can track all the basics—heart rate, pace, distance, calories, and time—right out of the box. The HRM-Run also gives you the ability to track complex things like stride length, cadence, ground contact time, vertical oscillation, and a lot more, all of which help serious runners become more efficient. It can also track performance condition, which extrapolates how you'll do in a given scenario—if race day is a lot hotter, say—based on your past training outputs. Bike-friendly functions, sleep tracking, and phone notifications extend the Forerunner beyond just running.
The Forerunner can also provide a "stress score" to warn you against overtraining and tell you when to take it easy. Whether you're training or recovering, all your info can be stored and analyzed in the cloud using Garmin Connect, so you always know right where you stand.
Check compatibility before buying
Familiarity:

I've used it several times
Paired with my Moto X (2nd gen) initially with no problems then stopped after about a day. I found Garmin customer support to be very helpful but after trying about 50 different things the best they could come up with was that "sometimes that happens with devices that we haven't tested" I did try to pair the watch with three other phones (one on the list) and it connected no problem. I may try to keep it paired with one of those phones to see if it stays paired for more than a day.
Aside from that. I'm keeping the watch as I don't really care about getting notifications on my watch. I just wanted it to work.
The watch is awesome. no other problems. GPS is accurate. Software and website provide more stats than I could ever want. Data uploads automatically via wifi. There are a few cool apps and widgets you can download but not enough. Hopefully more will be developed as more people get the watch.
Ray H.