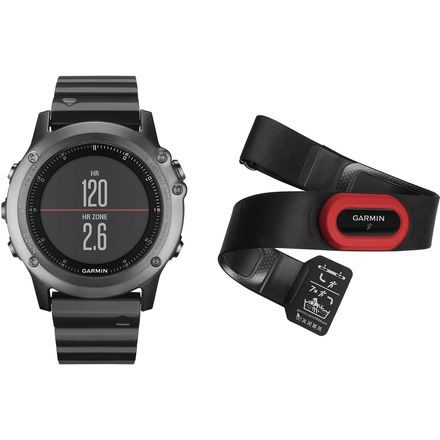 Colors

Detail Images
A fashionable training accessory.
If you're sick of being the one that no one's able to recognize when you're not in athletic wear, Garmin had you in mind when it released the Fenix 3 Sapphire Performer Bundle. Start with the Fenix and a pair of jeans, and you'll feel like a whole new person, while still being able to keep a close eye on your resting heart rate. Once it's time to change into training clothes, grab your running shoes or sneak out of the office for a few holes of golf without having to swap watches; the Fenix 3 comes complete with all of the standard Garmin tech you've come to depend on over the years, in a sleeker, decidedly classier silhouette built to fit into your daily routine.
In addition to being a fitness watch, the Fenix 3 boasts fitness tracking capabilities as well, so rather than just reporting on your overall pace, distance, heart rate, and calories for a run, it'll keep a close eye on your sleep schedule and daily steps too. The built-in accelerometer and GPS capabilities mean you'll have multi-sport distance metrics you can depend on, plus wireless uploads to Garmin Connect to keep your training log organized in one place. Garmin also gave the watch its own ski/board mode, complete with an auto stop function that will pause the watch while you're waiting in lift lines. Since the Fenix 3 is equipped to be your everyday watch, it can deliver information you rely on your phone for during the day as well, so emails, texts and social media notifications are all just a glance away whether you're sitting in a meeting or logging a few extra miles on the trails.
1.2-inch display visible in bright sun
High-strength domed sapphire lens
3-axis compass, altimeter, and barometer for outdoor navigation
Running features include: vertical oscillation, ground contact, stride length, heart rate, and cadence with sensor
Customizable screens
Measures stress score, performance condition, and lactate threshold
Modes: swim, run, ski/board, rowing, golf
Smartphone notifications
Worth the bills
Familiarity:

I've used it several times
I've had this for about a week, so here's the quick and dirty review of it. My main concern was the battery life, and so far has far exceeded my expectations. in a 24 hr period of working in a hospital, running, lifting weights (both with the HRM-HR on) and just out and about with the wifi and bluetooth on only drained the battery 15%! The GPS is pretty accurate from what I can tell. I have been enjoying customizing the face and the widgets to fit what I need this watch to do. Overall if you're on the fence because of the price, pull the trigger, you won't be disappointed. To Be Continued...

Update 5/11/16
Even more impressed with this watch. The bluetooth reaches about 50 or so yards, the battery lasts a week with a little to spare (I had WiFi, bluetooth, GPS, everything I could have on I did to see how the battery held up). Aesthetically I have bigger wrists and it looks good unlike some of the smaller garmins, and I like the round face. When charging it literally goes from 0-60, really fast!
Ben Holstine