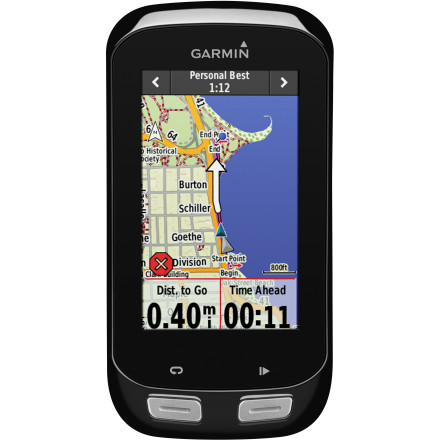 Colors
Building upon the much-loved Edge 810, the Garmin Edge 1000 not only includes a higher resolution touchscreen, it also features Bluetooth 4.0, incoming call and text notifications (iOS compatible only), and WiFi, propelling it to the forefront of usability. It still features the navigation, mapping capabilities, uploads to social media, and love tracking of the Edge 810. Additionally, the Garmin Connect Mobile App syncs your Edge 1000 with your phone to provide such information as weather alerts. Once your ride is done, the data seamlessly uploads wirelessly so you won€™t need to connect with your laptop. The Edge 1000 is also designed to work with Shimano€™s Di2 electronic drivetrain using Shimano€™s D-Fly Data Management function that transmits gearing and battery information to your Garmin head unit.
The screen simplifies your data viewing by distinguishing between €œtraining€ and €œracing.€ It€™s fully customizable so that you always have the pertinent information at your fingertips, and it even allows you to set multiple bike profiles from mountain to road. Garmin€™s HRM3 heartrate strap and the magnet-less speed/cadence sensor are included to round out the package and provide enough training info to keep you looking at your uploads into the wee hours of the night. The data is handled by ANT+.
Like Your Beloved Smartphone
Familiarity:

I've put it through the wringer
I have been riding with Garmin since the Edge 305 ( I actually still have and actively use the 305 HR strap) I love that Garmin works, just plain and simple works. I usually pick up a new unit when they roll out with something substantial, so every 3 years or so. I actually have the 520 but needed a second computer so my wife can have one too (she is just starting out) The 1000 is easier to setup due to the touch screen and fairly intuitive interface. The screen is sharp and easy to read. Pretty stoked on everything, I don't use the mapping feature a ton, so I cannot speak to it's accuracy, but every other feature is exactly what I expect. I also appreciate the notifications system, so I know when my phone is ringing or a text comes through, if it is important enough to stop or not. I would buy this unit all over again. The bundle comes with Two standard rubber band style mounts, an out front mount, Speed, Cadence, and HR sensors. Uses the ANT+ signal, so it communicates flawlessly with my smart trainer.
I give the unit an A, well made, solid battery life, I can do several rides between charges, sharp screen and a good interface.
Forrest
Great Upgrade
Familiarity:

I've used it several times

Fit:

True to size
I have had a limited function computer on my "old" bike and decided to upgrade on my new build. I could not be happier with the Garmin 1000. It was easy to set up and has is quite easy to use. Downloading is a big plus for me--can monitor my progress and compare rides. The touch screen is easy to use. I have yet to go on a ride over @3hrs., so I have not been able to evaluate battery life.
Stephen S.
Garmin Upgrade
Familiarity:

I've put it through the wringer
Thank you again Competitive Cycle for the discount on my new Garmin 1000. I have spread the word that you are the perferred vendor for purchasing.
The new unit is much better than my Garmiin Edge 810, and the options for enhancement are more readily available. Love the larger screen also!
John E Mueller
Which bike mount is included in this bundle?
PAUL K.
The Garmin 1000 comes with the standard and the out front mounts.

vdickinson@backcountry.com

801-736-6396 ext. 4756
Virginia Dickinson
PAUL K.
Failed and Garmin didn't help as stated
Familiarity:

I've put it through the wringer
I purchased my Edge 1000 GPS bundle in November for my retirement with the goal of riding across the US. Had minor issues at first, map downloads and mileage varied after trip was over versus course when set up on computer. I liked a lot of it's options and the ability to adjust screen options to suit your needs. Then my trek began, nothing but trouble.

1> Map would frequently advise you that you were off course, over time I figured out that it had lost it's gps signal. However prior to that I would ride around to try and get back on course, then have to reset my destination as the computer was lost.

2> Problem two, you would get to a turn that it told you turn on and when you got to the intersection it stated you were off course, so you turn back go the other way. After going all 4 directions including back the way I came it would still state off course. So I would reset the destination. Did this many times and wasted a lot of my time sitting on the side of the road trying to figure things out. I solved this by leaving my computer screen to the turn by turn navigation, looking at my distances and calculating when the turn should be, remembering the street name and turning no matter what. So I could not use speed, cadence, heart rate etc.

3> I typed in exact addresses and street number and city using the onboard destination function and the Garmin couldn't find major museums and battlefields. Ended up using phone gps, problem being I was still 4 hours of riding away from my destination, lot of data and battery drainage. FYI, after calling Garmin they stated use search all and don't put in exact data.

4> The distances calculated on their mapping program garmin connect were frequently wrong, the distance you had to travel was much greater, really threw off hydration, nutrition and times to visit museums, etc. Three days in a row using their destination point from the gps the stated distance from beginning of ride to completed distance was 20 miles off twice and more than that once. Ridiculous. When fully packed self-contained that is a significant difference.

5> Three times over a 4 day period I set my destination on the edge 1000 and it sent me to dead end streets, one a private road of gravel with two plus miles to reach the road they wanted me to turn on. Another was completely overgrown with trees and bushes, would of needed a chainsaw to get through, the third was again gravel and had a chain across the road stating road closed, ten mile backtrack on that one. This also happened to me prior to my ride in Washington when it ran me to a dead end road 3 miles down a road with no outlets.

6> Frequently takes you on side streets out of the way and 4 blocks later puts you back on the same street, many times you climb hills or hit multiple stop signs and you could have gone straight without hills.

7> Not so much a problem just a heads up. The routing takes you on back roads away from cars, nice, however it also took me away from any source of water or food for over four hours at a time on two occasions, so be self-sustaining.



I called Garmin to advise them of the issue, they used google maps to get me back on route called it old school, huh it worked. I again used my phone data because I wasn't going to sit on the phone for hours for turn by turn navigation from the technician. He promised to look into my issues and to call me back on Monday as this was Friday near their closing time. Never heard from him again. N

-I called again and advised them of the issue of it sending me to a dead end street again today. I had already reset my destination as it had lost it's way. It told me it was 69 miles to my destination after I had traveled 75 miles I ran into a completely overgrown street shown in photo. ended up 131 miles not 91. Garmin promised to help waited from July 17-24 they failed to call me back as promised 2nd promise broken. no good i wouldn't buy, no support.
Jeff L.
My bike now has a brain
Familiarity:

I've used it several times
Wow, this thing has it all. It took me a day or two to adjust all of the settings to what I wanted and get it calibrated on some test rides.

Installing the sensors (get the sensors) is quick and easy- even moving them across bikes to save some $ is easy. The mounts are easy to install- just be careful if your stem isn't long enough you don't scratch the Garmin. It comes with several- I put the out front mount on my road bike and a handlebar mount on my MTB. It automatically calibrates your wheel size after about 0.5 miles. Cool!

I read a lot about the bugs the Garmin devices had. It seems that by now all of them have been sorted, if you know what to do. It's not clear, but be sure to download and install the Garmin USB drivers and Garmin Express BEFORE plugging in the Edge. This way the computer will always recognize the device.

It syncs with speed, cadence, heart, bluetooth, GPS, and WiFi all very quickly. I like seeing my ride results on Strava, Connect, and TrainingPeaks after my rides without uploading anything. I still need to figure out how to efficiently download Strava segments though. Uploading segments is quick- especially since you can do it over Wi-Fi now.

Some people also complained about battery life. Something like this I expect to charge after every ride. I think this could last me a century ride easily, more if I turned off some functionality. (Bluetooth, screen brightness, GLONASS, etc)

I heard that this thing was huge and expected to have some giant display attached to my computer. I was pleasantly surprised when I got it in the mail- not as big as I thought! Definitely still bigger than other computers, but I think it's size is actually quite good for reading maps and data easily. Plus screen quality is excellent.

I love this product and can't wait to use it on all of my future rides. I did have one thought- this costs the same amount as a smartphone. Why can't it do just as much? Sure it has sensors and GLONASS... but what else my smartphone doesn't? I guess this market is a lot less cutthroat than smartphones.
Philip
Great for Training
Familiarity:

I've put it through the wringer
I am an avid user of a number of Garmin products including the Edge 1000, the Edge 810, the 910xt, and the Virb Elite. The Edge 1000 is my favorite computer for training rides. I'll be honest--- I never use the map feature unless I'm going to go scout a race course before I actually race it. In that case, I'll use the step-by-step turns and then ride the route without the map. The main thing I like about it is that the screen is HUGE which means I really don't have to squint to see anything as all of my data is practically screaming at me. I love the wi-fi feature and the mobile bluetooth feature. I will say this-- You absolutely, absolutely, absolutely MUST keep the software up to date on this product, and really any Garmin product. It's not a tough process, but very important. Also, with blue tooth pairing, sometimes you have to start from scratch in order to establish a good connection. Sometimes I'll get connection errors with the phone, so I will remove the device from the phone settings, forget the phone from the Edge settings, power both off and re-pair. This usually works as long as all the software is up to date. People complain about having to do this, but it's a pretty quick process, only takes about 60 seconds or so. Yesterday I did a lunch ride, walked into work, the ride uploaded to the network. Since my Strava and Garmin Connect accounts are synced, I was able to update my lunch ride on Strava before I even hit the locker room. Pretty cool! I would hesitate to race with this thing-- it sticks off the front of the bars like a unicorn horn, but it is pretty awesome! OH-- I also love that in the rain, or if you are indoors and sweating and water droplets hit the screen, the screen locks and you won't accidentally hit menu options with your sweat. Also-- just in the interest of full disclosure, I do work at the company that produced this device, and I have access to use whichever of them I like the best. This is my favorite training device. For racing, I like the 500 the best, although the 810 surprisingly works fine for that as well even though it is a larger computer. I only list the last part in the interest of full disclosure. I also only review things I personally use. I understand that I may have a bias, but if you keep the things updated and cared for, they work great in my experience.
Janette Tank
The Evolution of the Garmin Edge
Familiarity:

I've put it through the wringer
I preface my review with the same/similar statement each time...this is my opinion, NOT objective fact. I have owned the Garmin Edge 705, 800 and now 1000. This is an evolutionary device from Garmin. I must admit, I am an "early adopter" and this comes with benefits and, sometimes frustration. Thankfully, the most recent firmware upgrade (version 2.30) was released the day before I set up my 1000. I have not suffered from any of the connection failures some of the other reviews speak of. It appears Garmin fixed many of the issues others suffered from in the past.

GOOD: big and clear touchscreen, nice user interface, the best navigation I have used, and the connectivity is superb. I ride Di2 and after installing the D-Fly (difficult to find as of a month ago...I had to buy mine from a Japanese website), it will communicate with your system to tell you gear ratio and # (1-11 and 1 or 2) and gives you the % of battery charge (which I LOVE). Also, I often ride with headphones. I hate to be bothered but love the ability to see who is calling to determine whether to answer AND to READ (not respond on the device) texts! You can even have the weather displayed and get weather alerts! Although the last alert of a thunderstorm didn't help too much when I was poured on minutes later. I think they have just scratched the surface on the connectivity features and look forward to more integration (you can already control the Garmin camera with the 1000). Recently, the 1000 will wireless upload to BOTH Garmin Connect AND Strava. Cool.

NOT SO GOOD: This thing is LARGE. Look at my profile pic...it is as big as an iPhone. Rolling up to a ride with my buddies; most of whom sport an Edge themselves, I was received with more than a few chuckles and references to my "laptop" mounted to my stem. It is difficult to mount on bikes with shorter stems. Also, when turned on & charging, it keeps on wanting to force a connection with my iPhone (this may be something I can solve myself).


John Hart
I Love It!! Garmin Connect Not So Much!!
Familiarity:

I've used it several times
Not sure why people are all negative about this unit, maybe because Garmin is Garmin!! I think it is because the unit holds so much promise like Bluetooth 4.0 and connect to Shimano's Di2, and they don't work perfectly!! Personally, I have no need BT 4.0 because I don't need to track my calls/texts while on my bike!! I also still use the old Shimano Dura-Ace 7080 mechanical group!! But for what I do use ... GPS and to track HR, speed, cadence, power, all in one place, this unit ROCKS!! You've got to first UPDATE to fw v. 2.30 (as of June 24th, 2014) and update the US maps to 2014.10 (loooong time)!! Once updated, it works flawlessly tracking all my needed data, while I'm on the bike, and nice large LED display, which can be laid out based on preference. When I get home, it hooks up to Wi-Fi and uploads to Garmin Connect, or I can export to Strava!! What's not to like? Is it expensive? YES!! But for what you get, I have no complaints!! Easy to install, easy to use, and tracks everything perfectly!! That's all I can ask of a bike computer!!



Now, Garmin Connect ... BAD!! No segments in Manhattan, really? I rode up what is possibly the most well worn bike path in the continental US and it found NO segments!! Garmin should either abandon this folly with Garmin Connect, or update it properly, or just make the data automatically compatible with Strava!! They do that, and this device is in my book, 100%.
herebedragons
Can the device upload data to a Strava or...
Can the device upload data to a Strava or TraningPeaks app on an IOS device and or computer via WiFi?




MJS
I would think so because my 510s have been doing so since the last Garmin Connect ios update. I no longer need to sync it with my pc. You can even edit the ride title and then it automatically syncs to my strava account.
Llowielyn B.
MJS
Yes for Strava! You need to login to your Strava account on a desktop and then, set up your Garmin to automatically upload when you are connected to a wifi network. When I end a ride, the 1000 will upload to my Strava AND Garmin Connect accounts immediately and without having to plug it into a computer!!


John Hart