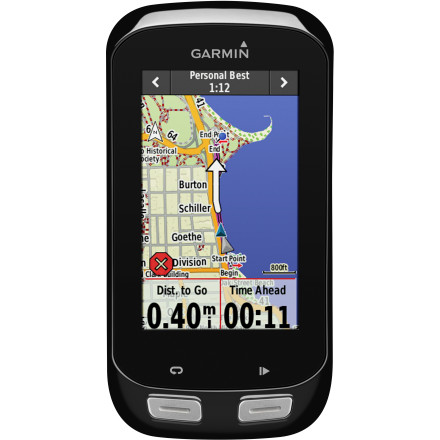 Colors
Lose yourself (or not).
A long ride is a great way to take refuge from the stress of daily life, but that enjoyment can vanish pretty quickly if you come to and discover that you're actually pretty lost, it's getting dark, and food supplies are exhausted. Mount Garmin's Edge 1000 Bike Computer onto your bars, though, and you'll be able to see where you are on a map and find out how to get home, or at least make the dreaded "I'm lost, can you pick me up?" phone call, order a pizza while you wait, and share the whole ordeal instantly on social media.
The Edge 1000 is capable of just about everything, so it's not some small, super-sleek device. It's about the size of a smartphone, but the large touchscreen enables you to see and use the mapping feature, easily toggle between race, training, road, mountain, and cyclocross modes. You can choose a category for every ride, so the Edge will keep your different disciplines separate, eliminating any confusion. It tracks and records all the usual cycling-specific info, and also has connectivity up the wazoo, so you can link to heart-rate monitors, Android and iOS phones, Shimano's Di2 electronic drivetrain, Garmin Connect, ANT+ enabled devices, and every social media platform imaginable. Sharing your ride data with friends and coaches, taking texts and calls on the go, and checking the weather are just some of the benefits of this enhanced connectivity.
At its heart, though, the Edge 1000 is a GPS unit, and its real-time mapping capabilities are top-notch. You can select a pre-chosen route, design your own, or just go out and ride, and the Edge will record your movement, show you where to go, and store it all so you can look at it later. The included USB cable makes it easy to upload everything to your laptop (although you can also view everything in the Garmin mobile app). The Edge accepts microSD cards, and it has up to 15 hours of battery life, so you won't miss a detail. It's fully waterproof, the touchscreen is designed to work with gloves, and it includes an out-front handlebar mount to keep it secure and easy to see when you're in the saddle.
Real-time GPS mapping
Glove-optimized waterproof touchscreen
Speed, altitude, time, distance, and cadence tracking
Bluetooth, ANT+, social media, and Di2 drivetrain compatibility
Android and iOS compatible (texts and call alerts are iOS-compatible only)
USB cable and mount included
Rechargeable 15-hour battery
Garmin Edge 1000 Disappoints!
Familiarity:

I've put it through the wringer
I have owned two of these devices. Every other ride the unit will malfunction by not displaying properly, not recording the ride correctly or not recording the ride at all. Both units are the same. Would recommend only as a paperweight!
Tony W.
Awesome, just too large
Familiarity:

I've used it several times
I really liked the product. The features were phenominal and it worked well. However it's MASSIVE. I am also undecided about the touch screen technology. To be honest I think i'm going with a Srm Pc8 next.
Robert Smallman
Tons of functions, but it is LARGE!
Familiarity:

I've used it several times
I've used the 1000 on 5 or 6 rides. The functions are simple and set up was relatively easy. The mapping function and automatic Strava connectivity is pretty cool as well. My one complaint is that its huge. In order to have a highly readable map, the display needs to be big I guess. Its as big as my smart phone. I just don't like the way it dominates my view on my handlebars. But its worth it if you want the excellent mapping capabilities.
Ben Towery
Works Great!
Familiarity:

I've put it through the wringer
I researched the different Garmin Edge cycling computer options heavily before I finally ordered the 1000, and I was slightly hesitant due to a lot of negative user reviews. But I'm happy to report my Edge 1000 seems to do everything it is supposed to do, and does it well. I've had no problems connecting to any of the sensors or my Quark power meter. After a ride my data uploads automatically to Garmin Connect through my iPhone, usually before I've taken my helmet off. Even the text notifications work, a feature I must admit I thought was not a big deal, but the first time I got the notifications my honest response was "Wow -- thats handy!" :)

Expect to spend some time with the device when you first get it. Like any computer or electronic device there is a learning curve and the sheer volume of all the functions and options can be daunting. But if you spend some time watching the velogps videos on you tube and/or the owner's manual, you will be rewarded with a nicely functioning device. I'm very happy with it.
John A. O.
Extremely Disappointed But...
Familiarity:

I've put it through the wringer
Bugs galore.

1). Blue Tooth connectivity is spotty at best. I use this for transferring courses and live tracking so the family know where I am for the rare occasion that I have major mechanical issues. Thought I'd try out the text and call feature, but connectivity with the bluetooth feature makes this impossible.

2). Random screen locking, only way I can resolve this is to turn the unit off. Very annoying.

3). Software update included an update to setting up blue tooth connections, didn't see one bit of improvement.



However... After hours of playing with the unit and learning it quirks... Routed a new course based on a recent back roads drive I did with the family on a day trip, managed a blue tooth transfer (yes it's possible, but makes you grow grey hair in the process). The maps were wonderful, MUCH easier to see on the screen, auto dimming, crystal clear screen, easier to swipe between screens and the auto navigation was much more spot on then my 810. But even though these features were good, they weren't necessarily the main reasons why I bought the unit. Usually In don't use maps, the bluetooth transfer was why I bought the 810, was hoping this would be a step up... not so much.



I'll give 2 stars, because some features are a great improvement, but the bugs... I can only give 2 stars.



Hope this review was helpful to potential buyers. Good unit, but beware the bugs. I'm hopeful that Garmin releases new software updates soon to address bluetooth. If not, I'll be returning mine within the 90 day return period. :(
Hans Mueller
Buggy, but some fantastic features
Familiarity:

I've used it several times
DISCLOSURE - I could not get it to sync with my iPhone but could not care less about the phone features.



I bought for 2 reasons - my 800 has many poor features and needed an upgrade, and I want to be able to see the screen without reading glasses. Seemed senseless to spend $600 on the incremental upgrade of the 810 and still need reading glasses.

So I mostly love the 1000. The slightly larger, noticeably clearer screen is a huge huge huge plus for me. I will not list features but many are great and are extremely useful. GPS + Glonass burns through battery life but extremely accurate. Build quality seems high. Even just on GPS it did not lose satellite in heavy woods as my 800 often did. It did seem to burn through battery pretty fast just on GPS so if you have 12 hour epics in mind that could be a big problem.

And candidly, I am happy with Garmin having released a BETA version I can use all summer and then hopefully have software updates resolve issues rather than working out all the glitches and not releasing until September.
Eric H.
BUGS & GLITCHES:AVOID
Familiarity:

I've used it several times
I bought the Garmin Edge 1000 to replace edge 810. Edge 1000 is loaded with bugs & has Bluetooth issues to which it looses connection with your phone. So if your planning to use live track be warned. Also it locks & becomes unusable for a few seconds. You will have to hit the power button.



I recommend not to purchase this product until garmin resolves these issues. Check their forums for all the threads with issues.
Amaury
Does this include the bar "out in front"...
Does this include the bar "out in front" style mount, or is that only included in the $699.99 bundled version?
KYLE W.
Yes, the out-front style mount is included in this package.
Anne R.
Typical early release from Garmin
Familiarity:

I've put it through the wringer
The 1000 has about an 8 hour battery life per charge. Terrible. It also is incredibly buggy. The screen freezes and says it is locked when it isn't. Low battery notice has come on yet the battery is displaying 75% power available. I had to try over 7 times to have it Blue tooth connect to my cell phone. Finally after turning the unit off and on it finally worked. I don't believe it is a defective unit either because I have two and the other one was doing the locked screen problem on my ride this. morning. Garmin support has been USELESS.
Ray B.
Does this include the maps micro card? If...
Does this include the maps micro card? If not can I use the one in my garmin800?
Eric H.
Maps are built in but you can use additional data cards.
Adam D
Am currently using the Edge 500 including...
Am currently using the Edge 500 including its cadence and speed sensors. Will the Edge 1000 pick up signals from those sensors, or do I need to acquire the new generation cadence/speed sensors that are in the Edge 1000 bundle? Thanks.
Malcolm H.
This Unit will still use the same Ant+ sensors of the past models of garmins so the speed/ cadence will work fine.
Adam D