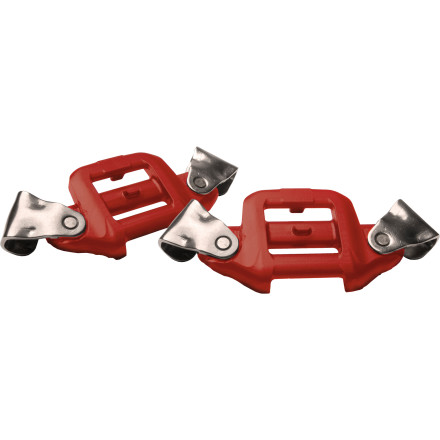 Colors
Keep your skins tight and your switch 5s dialed in the backcountry.
Stop using duct tape to attach your skins to the tails of your twintips, and get the G3 Twin Tip Connector Kit. Simply clip the connector kit to your skis' tails, hook your skins' tail strap to the connector, and then head out of bounds to find soft snow for stomping switch landings. This connector kit adapts flat-tail G3 skins (sold separately) to your twintip powder skis, so you can slay big lines and spin the way you want in the backcountry.
These are great on the split board!
johngchrist
My wife switched to a twin tip K2 Remedy ski so to make a preemptive strike, I took the standard attachment off her new BD Ascension skins and put these on instead. Super secure to the tails so should work great and avoid the in the field duct tape solution. Happy wife, happy life.
Barry R.
Great upgrade for twin-tip ski
Familiarity:

I've used it once or twice and have initial impressions
My wife was always struggling with her skin end lock cause she prefer twin-tip skies. No single problem during a mountain day-trip with the twin tip connector kit installed! Super upgrade for all having the problem. Just check for proper length, snap it and never worry again!
Alex
A must for twin tips
Familiarity:

I've put it through the wringer
Many skis do not have a nice flat tail with a notch for climbing skins. This does not mean those skis should not have an equal chance to rip that sweet BC pow. Switch out the regular tail clips for these bad boys and your skins will stay on properly all day.
Sean Muschamp
Do these come with a tail connector strap, or do you have to purchase separate? If separate purchase is necessary, what connector strap do you recommend? I'll be using these on Voile Splitboard Skins. Regards,

Hunter
Hunter
Hey Hunter - These do not include the tail connector strap and unfortunately we do not sell it separately. Another option would be the Black Diamond STS Kit for Split Skins (Item #BLD008R) which has all the hardware you need. Feel free to contact me directly with any additional questions.

- Kyle L. - Expert Gearhead
Kyle Livingston
The best tail clip
Familiarity:

I've used it several times
I got these to use on my Armada JJ's and they work very well. I have them on G3 Alpinists, but will work with Black Diamond skins also. Highly recommended.
Alex Degnan
Use them for your split board... period
Familiarity:

I've put it through the wringer
Plain and simple use these tail clips if you're a splitter, you'll thank me when you aren't the one holding up the tour because your skin tails didn't hold and you have to strap them down or scrape the snow off. The split specific G3's already come with these but if you're cutting a ski skin, like I did with the momix, you'll want a set of these on the end.
john lemnotis
great for big skis
Familiarity:

I've put it through the wringer
I have the liberty mutant and the tail is quite round and not very compatible with skins, I picked these up and never had a problem with my skins coming off again.
Kevin McBride
Work great for big skies
Familiarity:

I've used it several times
I have a pair of BD megawatt skis, I'm using BD ascension skins with them. I initially had problems with the tail clips coming off. I got these G3 twin tip connectors and they have completely solved the problem. They attache perfectly to the BD ascension skins. No more slipping. If you have big skis with round tips/tails and you're having problems with the skins getting snow under them these might solve your problem.
Dan C.
A no brainer
Familiarity:

I've used it several times
Unless your skis have a notch at the tail, these are a must have. They can still get knocked to the side like a regular tail clip, but still work better if you don't have the notch for the basic clip.
Bucket
Splitboard 101: Pucks, Bindings, Skins.
This video shows how to mount Voile pucks onto a splitboard, and setup your bindings (the Tesla system) by Spark R&D. Then learn how to cut and fit new skins (with tail clips by G3/Black Diamond/Spark R&D) to your board.



Starring Byron Bagwell. Filmed and edited by Dylan Hart. www.dylanhart.com
dylan hart
Ken
Yes, these are sold as a pair.
Lexi Dowdall
So I've got some Kabookies with a pretty...
So I've got some Kabookies with a pretty blunt and low-profile tip (yes, talking the tip here), and already have skins, but have been having problems finding tip loops that fit well. I like the design of the tip for the G3 Alpinist skin, but unfortunately that tip kit isn't available. If I did a retrofit of a tail kit on the tip, along with the twin tip connector, do you think that might work?
Christian S.
I'm not sure if it would work but you could riveting or epoxying the connectors to the end of some sort of rubber flap and epoxy/rivet the flap to the front of the skin and trim the rubber to be flush with the sides of the skin. But I'm not sure it would work all that well.
Kevin McBride
Got twin tips? Get these.
Familiarity:

I've used it several times
I have the G3 Alpinist skins and paired this item with them for my AT set up. They have the most secure fit and I never have to worry about them falling off. Or even bother turning around to check them, they are solid.



They also fit the Black Diamond tail strap in case you have a pair of the ascensions that are sliding at the tail clip.
Grant Kates
Great solution for Rossi S7's
Familiarity:

I've used it several times
The Twin Tip connectors work great on my 2012 Rossi S7's...tho old swallow tail design!
Eric Carlson
bought this for my black diamond skins, fits like a champ
Jon
Perfect for skis without a flat tail
Familiarity:

I've used it several times
These are a must have for skis that have either a twin tip or rockered tail. Hold the skins on more securely than the standard clip and your skins won't come off if you accidentally kick it with your other ski.

These also fit perfectly on Black Diamond skins
Stan M