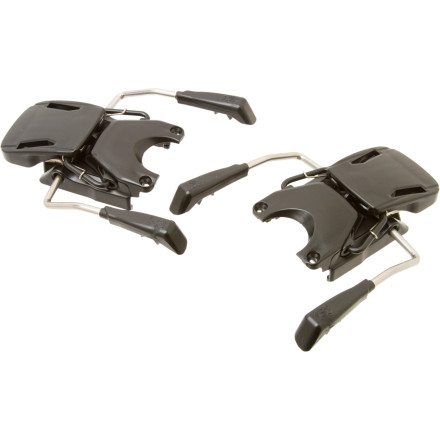 Colors

Detail Images
No one likes a ski that jumps the gun.
After a tough bootpack up the couloir you prepare to ski down. Unfortunately, one of your skis wasn't quite as anchored into the snow as you had thought and decided to leave without you. Next time count on the solid and easy-to-install Onyx Brake Set to help stop your runaway ski.
Sizes: 85mm, 95mm, 110mm, 130mm
I have skied several season on the onyx binding with leashes and decided to change to the brakes. The transition took seconds once I removed the leash. I haven't had issues with the brake sticking and they seem to deploy with no problems while skiing in the backcountry. I am satisfied with the product.
Don West
I have Rossignol Sickles with a waist of 110. Do I need to go with the 130 mm?
Michael B.
LF
Great Addition to a backcountry set up
Familiarity:

I've put it through the wringer
Onyx is a great backcountry rig but every now and again you just want to ski in bounds. Brakes add weight but worth the piece of mind of not have your skis running away.
Preborg
Nope
Familiarity:

I've put it through the wringer
I picked up a pair of Onyxs and brakes last year. The brakes do not deploy consistently. This seems to be more of a problem after skiing groomers with packed heavy snow as opposed to in the backcountry. When they were stuck they came unstuck with a minor tap and instantly deployed. I imagine that they'd deploy in a crash, but you have to be careful taking them off.
JayBo
OK
Familiarity:

I've used it several times
They stop skis and more importantly let you ski in resorts. Not perfect and unreliable off groomed terrain, but there you dont need a brake. Easy to take on and off the onyx though.
Ben C
Got the 130s for my Voile drifters and while they clear just fine, they seem very sticky and don't deploy reliably. Don't really like the whole Onyx binding system. Next time I'm back to Dynafits.
Mark McIntyre
After only a few days on these, the brakes stuck and didn't work.
Jens P. A.
I have received 3 pair of G3 Brakes, noo-were the size labeled on the package.
I finally requested a pair of 130mm to put on my 106mm waist skis. The 130 mm measured 110mm between the forks.
Some quality control needs applied.
Gene N.
Have had 3 set of these brakes
All 3 were shipped as 110 mm bindings that would work skis with up to or equal a 110 mm waist.
All 3 pairs measure inside the spread of the forks a 95mm.
None would have fallen past the ski on my 104mm ski.
Finally asked for a 130mm set, but have yet to receive.them.
Gene N.
Did G3 redesign or change this brake for...
Did G3 redesign or change this brake for 2011-12, I have had 2 older sets develop issues, hoping G3 got the message.
David P.
Yes, if you are referring to problems with the mechanism that locks it into place for touring. Any probs you have should be taken care of as a warranty.
Sandy Brown
G3 Upgraded the springs and release mechanism to address the problems with older models. The brakes now work fine.
Tom