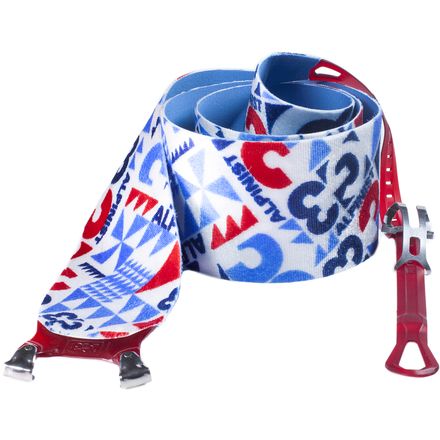 Colors

Detail Images
Same plush ride in a more reliable design.
The role of a climbing skin is simple: stick to it. The G3 Alpinist Climbing Skin accomplishes this with flying colors through a plush nylon material that bites into everything from soft powder to nasty, compacted skintracks. G3's classic Alpinist got a facelift this season with a removable Ripstrip on the adhesive side, which reduces skin-to-skin adhesion for easier pull-aparts during transitions, but it can also be removed when you need some extra sticking power if your skin glue starts to ice over, or gets a little dirty drying in the hut. The skins are treated with a hydrophobic coating to prevent ice build up, and their glue is rated to perform in temperatures down to -22F.
Nylon
Low-profile tip attachment
Adjustable camming tail clip
Removable Ripstrip
Included carry case
Trim tool included
Made in Canada
Perfect.
Familiarity:

I've put it through the wringer
The G3 skins are a second pair for these skis. They perform great on the uphill. I really like the cheater strip down the middle of the glue to ease removal.
Kratzer
Front clips too wide
Familiarity:

I returned this product before using it
I just received these skins. even though I ordered the 85mm (narrowest skins available), they don't fit my skis. the front clips are too wide and slide down, along the sides of the skis. not as universal as they are being claimed to be. returning this item. bummer.
Beat N.
Either sent the wrong size or too short
Familiarity:

I've used it several times
Ordered these skins in size M for a pair of 180cm skis. Skins are incredibly short compared to most other skins made for this length of ski. Have had a terrible time with the grip because there is about 30 cm of ski not covered by the skin. Pretty disappointed with this purchase.
Sarah H.
Hi,
I have a pair of Rossignol Soul 7's I'd like to use for backcountry, they have a sidecut of 136 - 106 - 126 mm and are 180 in length. What size skins should I get?
Dominique P F.
Hey Dominique,

I'd go with the Medium 115mm.

I have those on my 105 waisted skis. you'll have to trim a bit off but you'll have plenty of coverage. Enjoy!

I know a lot of people didn't like the glue, but I've had no problem. If anything a quick reglue with BD and they'll be great
Reid Pitman
No Complaints
Familiarity:

I've put it through the wringer
This is the second pair of these skins and I've never had any of the issues others have mentioned. Great coverage, good grip and a lot of miles. Overall, no complaints here.
Dave Cichone
Terrible Glue Nearly Liquefies
Familiarity:

I've put it through the wringer
I own the Alpinist and the Alpinist High Traction. I religiously separate, dry and store my skins. Yesterday about 50% of all the glue transferred to my freshly waxed, scraped, and brushed ski. Skied a very dicey line with skin glue tip to tail - put my life at risk! Got home and tried the other pair of skins, and they did the same thing to a different pair of waxed skis.

Impossible to remove without paint thinner or wax remover. Do not buy these skins.

I have old Ascensions (like 10 years old) that still perform very well. Buy those.
Bruce A.
Haven't had any issues
Familiarity:

I've used it several times
Wow, I haven't had any of the issues previous people have suggested. I've used these skins quite a bit and absolutely love them. I live in Alaska and the snow is really heavy and wet and these are perfect. They have just enough glide on them when skinning up or traveling on flatter ground. The top and base stay secure on my skis too which I appreciate. The glue hasn't worn off at all and I have no issues with it wearing down. I've been really meticulous about storing them and keeping them from getting dirty. I store them folded in half with the plastic mesh that it came with between them. I then put those in the bag it came in and store it in my garage where it never gets too warm.
HeatherM
Worst glue ever confirmed
Familiarity:

I've put it through the wringer
I'm going to chime in, even though I have the "High Traction" version.

Yes, the glue is the confirmed, the worst ever. First pair, after ~15 days the glue transferred over my skin base. G3 did warranty my skins, however this season the glue on the warranty replacement did the same thing after ~15 days of use.

I'm debating a reglue with BD gold label glue. But I'm not sure if it's worth my time and effort versus just buying a new set of Ascensions.
Eric W.
Worst climbing skins ever!
Familiarity:

I've used it several times
I have exactly the same problem as Julie H. and Tom. G. I used them ~ 10 times this season and the glue came off all over my skis. Quite annoying and now I have to find a way to remove the glue of my skis. The skins have been stored inside at room temperature and were never exposed to high temperature/sun.
I will never buy G3 skins again!
Matthieu R.
Ended my season early
Familiarity:

I've used it several times
I guess the good thing about these skins is that they are easier to pull apart than a lot of other skins. The bad thing is the glue they use sticks to everything except the skins. I used them a total of only 6 or 7 times over one season before the glue came off all over the bottom of my board, making it impossible to ride down the mountain. I'm going to try the heating over parchment paper method to try and fix them, & if that doesn't work I'll have to try removing and replacing all the glue. Not exactly what I had in mind when I bought these a year ago.
Julie H.
So far, so good
Familiarity:

I've put it through the wringer
I'd say these skins have been pretty good thus far with one season under the belt. I haven't had the awful glue issues other people are describing and am hoping I don't, otherwise these are definitely getting demoted to a 1-star. They are easier to apply than my husband's Black Diamond skins because they need minimal guidance to stay centered after the top 4-inches or so are on. I will say, I agree with others that they are a little on the short side with the length recommendation. If you want more coverage, go a size up. I'm guessing this is because they are giving you a recommendation that will give you pretty good grip but also save you weight. As a small human, I appreciate the weight savings. I haven't had too many issues with steeper, slick terrain so less coverage in the length doesn't bother me greatly out in the field. Also, I'd say they are quite light, even after they're wet.
Julia W.
sizing
Familiarity:

I returned this product before using it
I ordered mediums for my 179 cm skis but the skins were much too short and left at least 8 inches of my tail uncovered. If you have 179 cm skis go LONG!!!
Kristen M.
Another quality G3 product
Familiarity:

I've used it several times
After being first exposed to G3 skins on a week-long backcountry trip through the Wallowas in northeastern Oregon, I purchased a pair of 140mm wide, size large G3 Alpinist climbing skins for use with my 178cm Line SFBacons. I have excellent coverage, great grip on all snow surfaces, and find them quite easy to take care of (though the white bristles do stain easily from dirty snow).

Overall I am very happy with the product.
Edward J.
Bad Glue
Familiarity:

I've used it several times
Me and my friends have skied on G3 skins for a season (about 50 times) and the glue has gone bad already! We have taken good care of the skin (drying, storage, etc) but they leave an unacceptable amount of residue on the skis. Needless to say, it will ruin your runs when going down. A very frustrating situation! Looking at many forums we found that the problem is quite common. Contacting G3 is useless as they will call for bad skin management. My advice is to go for Black Diamond skins.
John B.
What would you suggest for a Women's Rossi S7 178, (140 110 118). 130 medium or long?
ginelle
Ben Rabinowitz
I have volkl nunataq skis 178 long and 139-107-123. what size skins should I get
Keith W.
Hi Keith,

For those skis the best option here would be the 140mm medium skins. Volkl also makes a skin specifically for the Nunataq (http://www.backcountry.com/volkl-nunataq-climbing-skins).

If you need anything else, just let me know.

Thanks,
Matthew Pizza
haven't been able to use the skin yet
Familiarity:

I returned this product before using it
kinda bummed. i ordered the medium 130mm skin based on the recommendation. i have moment underworlds 181 in length (132-106-123). i get that it is based on the preference of coverage of the ski but they seem significantly short let alone on a ski that would be 184 (the top of the range of the medium skin). will have to exchange which is double bummer since i bought them when they were on sale and they are no mas. also, not sure if i was just sent the wrong size, as there was no label with the specifications on them.
Kristin Schrandt
Skin Cutting Made Easy with G3 Tool
Center the skin the best you can on your ski. It does not have to be perfect but, dont throw it on there from across the room. Once you feel like its as centered as you can get it, pull out the skin cutting tool.

Its a little counter intuitive so I decided to post a picture. The skin tool says
Bill Porreca