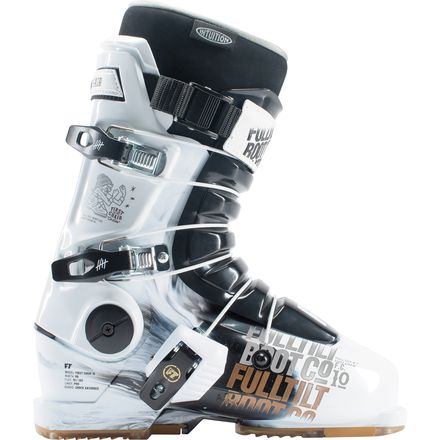 Colors
Get on it.
When your alarm goes off early on Saturday morning, don't be the guy who accidentally shuts it off and falls back to sleep, only to arrive at the resort disheveled around noon, freshies nowhere to be found. Instead, drag yourself out of bed and get in the car with your Full Tilt First Chair 10 Ski Boot in tow. You'll eventually have to take your feet out of your favorite slippers, but with the First Chair's Intuition liner, open toe box, and free flexing cuff, your feet won't even miss 'em.
Earning the distinction as the stiffest boot in Full Tilt's lineup, the First Chair 10 comes in at a 10 out of 10 on Full Tilt's stiffness scale. If you like a stiff boot with a little extra cush to soften your landings after you huck a cliff or two, Full Tilt's freeride-leaning boots are the way to go. The brand takes fit pretty seriously, using a flexible 3-piece FTS Soul shell that wraps around your ankle and foot with security, but none of the digging and pinching your poor ski racing friends are always whining about. A 99mm last accommodates medium-to-narrow feet, and an open toe box gives your toes room to splay out as you adjust your balance heading into filthy pillow lines.
As with other Full Tilt boots, the First Chair 10 gives you free reign to play around with fit and feel. Swap out the tongue for a softer flex to duck into the park for the day, adjust the lateral angle and forward lean easily at home, and crank down the power strap for a little extra reassurance when you head to the steeps. Inside the boot, a thermo-moldable Intuition liner will bend and yield to all of the awkward lumps and bumps your feet have earned from years of skiing, ensuring you have a responsive fit you can count on when you're staring down a gun barrel chute. Aluminum buckles with cable closure dial in the right fit without numbing your toes, and rubber soles along the toe and heel provide traction and grip when the bootpack gets exposed.
Full Tilt's stiffest ski boot for all-mountain domination
Narrower 99mm last enhances precision and turn initiation
Three-piece construction delivers a progressive forward flex
Thermo-moldable Intuition liner offers a customized feel
Forward lean adjusts without any tools from all-mountain friendly to aggressive freeride performance
Solid Boots
Familiarity:

I've put it through the wringer
I've put about 30 days on my 2017 pair, and as far as I can tell, there doesn't seem to be a difference with the 2018 model so I'll provide some thoughts here.

Fit: Went with my mondo size, 26.5. Shell fit gave me about 1cm behind the heel. I measure 98 across my width, had to get right shell punched out at 6th toe and along the met. After throwing in Sidas insoles and heat molding, fits great (comfy but still snug enough for a performance feel). Speaking of insoles, they're highly recommended. Skied these without them after a few days with insoles, and they just feel like wet slippers under your feet. Just be careful though as FTs don't come with stock insoles, and adding mine definitely changed the volume and fit. I was getting crazy instep pain, but a session of heat molding fixed that and properly seated the insoles.

Fit around the shin is another story. I've got skinny calves and it's hard to keep the powerwrap liner firm and snug around my shin. They always "unravel" a bit at the shins after 1-2 runs and I'm constantly having to pull them back together at the tabs. Continuously cranking down the top buckle and powerstrap don't help either. Taking cue from snowboard boots, I just bought some velcro patches and glue to stick in between the shin wraps in hopes to keep them from unraveling.

Performance: For my style of "all mountain" riding, the stiffness works well for me. Could go stiffer, but definitely not softer. Might consider the new 12 flex tongues FT just released, claiming 130 equivalent flex. Also removed the stock forward lean shim as they have a fair amount even no shims.

Durability: Metal buckles have held up just fine. The only issues I have are with the lower buckles; they are difficult to slide up/down a lot, and when enough snow sticks at cold temps, they get sticky to work with. Replaceable soles seem to be holding up fine as well after 30 days, don't see a need to replace them anytime soon.

I'm not an ex-racer that needs ultra responsive boots, and considering my style of riding and how easy they are to get in and out, I'm quite happy with my pair so far.

EDIT: Tried the velcro patches attached to the wrap liner, and am already not a fan. It worked perfectly to secure my shin and stay put all day, and the feeling of response was much greater. However, it changes the flex pattern quite a bit. Instead of having that continuous flex travel with even pressure along the length of my shin, it is now concentrated on the top/cuff of the liner. This seemed to create a feeling of increased stiffness and I really had to focus on my posture & mechanics or it would throw me in the backseat. As much as I loved the increase in response, I've decided to remove the patches and try and go a different route to fill the void in my skinny calves.
CJ
All Hail The KING!
Familiarity:

I've used it several times
These boots are nothing short of legendary. Same classic design that was invented by NASA engineers in the 80s, but with a face-lift that would make Dolly Parton proud. The Intuition liner is the best in the west. The stiff tongue is strong enough for my turns, and yet forgiving (by design) when I need it. Ten out of ten.
Dan Bishop