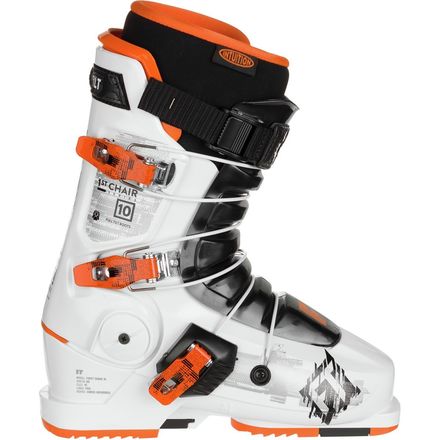 Colors

Detail Images
Get on it.
When your alarm goes off early on Saturday morning, don't be the guy who accidentally shuts it off and falls back to sleep, only to arrive at the resort disheveled around noon, freshies nowhere to be found. Instead, drag yourself out of bed and get in the car with your Full Tilt First Chair 10 Ski Boot in tow. You'll eventually have to take your feet out of your favorite slippers, but with the First Chair's Intuition liner, open toe box, and free flexing cuff, your feet won't even miss 'em.
Earning the distinction as the stiffest boot in Full Tilt's lineup, the First Chair 10 comes in at a 10 out of 10 on Full Tilt's stiffness scale. If you like a stiff boot with a little extra cush to soften your landings after you huck a cliff or two, Full Tilt's freeride-leaning boots are the way to go. The brand takes fit pretty seriously, using a flexible 3-piece FTS Soul shell that wraps around your ankle and foot with security, but none of the digging and pinching your poor ski racing friends are always whining about. A 99mm last accommodates medium-to-narrow feet, and an open toe box gives your toes room to splay out as you adjust your balance heading into filthy pillow lines.
As with other Full Tilt boots, the First Chair 10 gives you free reign to play around with fit and feel. Swap out the tongue for a softer flex to duck into the park for the day, adjust the lateral angle and forward lean easily at home, and crank down the power strap for a little extra reassurance when you head to the steeps. Inside the boot, a thermo-moldable Intuition liner will bend and yield to all of the awkward lumps and bumps your feet have earned from years of skiing, ensuring you have a responsive fit you can count on when you're staring down a gun barrel chute. Aluminum buckles with cable closure dial in the right fit without numbing your toes, and rubber soles along the toe and heel provide traction and grip when the bootpack gets exposed.
Freeride-minded boot with a flex ready for big lines
99mm last accommodates medium-to-narrow feet
10 out of 10 flex for hard-charging expert skiers
Intuition liners mold to provide a precise, comfortable fit
Lateral and forward lean adjustments dial in your ideal feel
Rubber sole adds grip and traction on slick bootpacks
Great Performance
Familiarity:

I've used it several times
I'm coming off rental boots this past season, so I know I'm setting the bar pretty low when I write this review, but I have to say I'm a happy camper so far.

Went to see a boot fitter and tried on some boots, to no avail; Boot fitter suggested a few other options to try if I could find the right size in other stores, including Full Tilt. Took the risk, ordered online, and was quite relieved to find these were actually the best fitting of all. I immediately noticed how light these were and loved the response I was getting from being properly fitted. Cushioned boot board is nice, but was really only noticeable when jumping off little bumps and side hits. I can see it being beneficial if you throw yourself off cliffs and kickers.

While I have no pain while riding, I do start to feel pressure on my toes once I'm out of my bindings and walk around for an extended time. It has been getting better with time though, which I hope it's just a matter of the liner packing out enough. I'm wondering if reducing the forward lean would also help.

Also wish these would've come with J bars, as I may need them if the liner packs out enough around the ankle. Lastly, the replaceable rubber sole pieces were already showing wear on the first day. Granted the parking lot was bare of snow by the time I got these, I feel they are wearing pretty quick after just a few days.


CJ
I have been skiing on full tilts my whole life, they are the most comfortable boot I've ever owned, very easy to take on and off and are super durable , warm and great for any ski levels.
cole addison