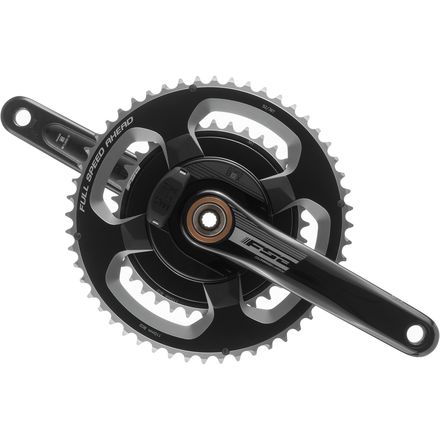 Colors
Low bar, high potential.
Getting into the power game can be a daunting prospect, but FSA—in partnership with Power2Max—lowers the bar for entry with the PowerBox Power Meter Crankset. The PowerBox is undeniably one of the most affordable models in the power meter industry, but suggesting that it's an entry level option isn't quite accurate. A downloadable system update (available from September 2017) changes it from a single-leg meter to a dual-leg meter. It's built to grow with you, not to be outclassed once a category upgrade means a single leg meter is no longer accurate enough to give you the detailed info you need on race day.
Out of the box, the meter measures power in a single leg and calculates total output to an industry-standard +/-2%. It wirelessly transmits those numbers to ANT+ head units, and Bluetooth compatibility is also available with a system update. FSA's BB386EVO design also provides virtually limitless compatibility, as you're never more than a simple adapter away from fitting the 30mm spindle to whatever standard your frame's bottom bracket shell adheres to.
A power meter crankset for the aspiring racer
Proven accuracy with Power2Max internals
Compensates for temperature variations to prevent drift
Aluminum construction doesn't fear the occasional crash
Measures power on both legs with optional update
Wireless transmission to most head units
Easily replaceable battery is protected from the elements
Bottom bracket design adapts to virtually any standard
Easy set up
Familiarity:

I've used it several times
We had to do some research on bottom brackets because we replaced the bottom bracket so it would fit the crankset, but the installation was pretty straight forward. (We went from an FSA Exo to the 386 Evo needed.) It paired up very easily to my Garmin. The original battery didn't last long, but the replacement has lasted much longer.
Michael W.
Solid Review from Cycling Weekly
"The Powerbox is not really one for weight weenies, and there are power meter options that weigh a lot less and are cheaper but I would have no qualms in recommending this to get through the worse a winter can throw at it and still come out the other side in full working order, something that was the initial aim for the product."

http://www.cyclingweekly.com/reviews/power-meters-bike-components/fsa-powerbox-power-meter

Peter N
Unanswered Question
Is the spindle detachable from the crankarm ? I have an FSA Carbon crankset already and would like to swap the powermeter with my Carbon Arms. (I know I could get the Power2Max, but this option is cheaper) Thanks
Philippe Leduc
Consistent and simple to step up
Familiarity:

I've used it several times
Installation was pretty simple , had to move take shims from previous crank to set up.

Once on sync'd quick with my head unit. Coming from a hub based PM for years was a nice change but keep in mind now dont have speed built in so need to depend on GPS or sensor. Overall it has worked great, super consistent watts. First battery barely lasted 15 hours of ride time so hoping second lasts as stated. For the price it can't be beaten, build on proven technology and looks sweet too!
Matthew C.
FSA quietly released their foray in to the power meter market in the middle of 2017, and although it may seem like a gamble to purchase a first generation power meter, they're actually backed by years of German reliability and technology.

FSA are smart folks and decided not to go out on this venture by themselves, so they employed the folks over at Power2Max to whip something up for them. They've been around since 2010, which doesn't sound like a long while, but is an eon in power meters. Since that time, they've gone through three generations, and even the first was trouble free, a rarity in this genre.

So this unit will give you everything you'd ever really want, accuracy, reliability, and price. The only small issues are the proprietary FSA chainrings and the weight. This is definitely one of the heavier cranks on the market and the chainrings aren't compatible with anything else. That really isn't too large of an issue though, a well maintained drivetrain will see upwards of 10,000 miles on a chainring set and replacements are easily found.

Some cool features:
- Automatic temperature compensation (which also works mid ride)
- It auto zeros whenever you stop pedalling for a few seconds, only PM on the market that does that
- Compatibility with every single frame out there that isn't a Trek
- Attainable price (I guess thats not really a feature, but I had to include it)

Feel free to reach out with any questions you may have!
Tommy Liao