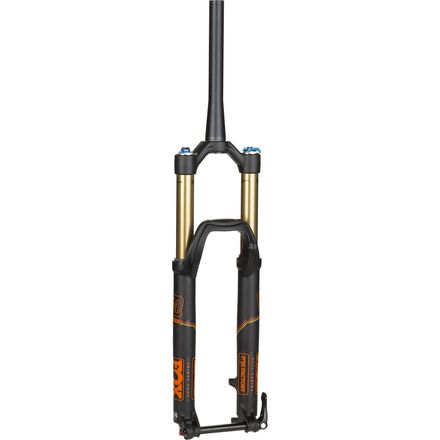 Colors

Detail Images
Futuristic possibility.
We don't think it's a stretch to assert that FOX Racing Shox's TALAS technology carries with it a futuristic air, one that suggests where mountain bike travel could be headed with time. As it is now, the 34 TALAS 27.5 150-120 3Pos-Adj FIT4 Fork offers its rider the choice to set the fork to either 150mm of bump-devouring plushness or 120mm of well-placed, responsive cush. This adjustability matches the trend toward do-it-all 27.5in frames that we've seen dominating the industry as of late because if your trail bike was designed to go enduro on big lines yet climb like a nimble XC frame, it will only be as capable as its suspension.
For 2017, FOX keeps its focus on leveling the playing field across its line, updating standards and letting the strong improvements it's made over the past two years stand unchanged for the most part. Introductions like FIT4 continue much as we've known them, receiving a slight retune for improved sensitivity this year.
The FIT4 damper allows you to use the fork's travel in more clearly defined categories of Firm, Medium, and Open settings. The latter also includes a range of sub settings, which give room to fine-tune just how open you want the fork to ride, depending on how rowdy you plan on getting. Medium has become a responsive setting suited to lightly rooted flats and fast, rock-lined singletrack. We'd reserve the Firm setting purely for climbs on smooth singletrack and fire road transitions, as its name doesn't overstate its lockout abilities.
Unanswered Question
Hi, I'm thinking about this for my 5010 to mostly go between 130 and 150mm travel. I assume 3 positions are 120mm, 135mm and 150mm travel, correct? Is the bike geometry the same as it would be for forks of those same travel? Meaning the head angle for the 135 position would be the same as for a135 travel fixed-travel fork, and the head angle for the 150 position would be the same as for a 150mm fixed-travel fork? Thanks!! Christian
Christian S.