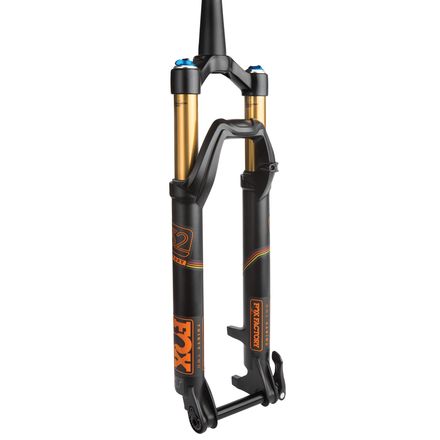 Colors
Five inches to freedom.
Ripping over leaf-covered chicanes, blasting up chundery climbs, and keeping the pedal jammed down through tight and techy descents are just a few of the things that the FOX Racing Shox 32 Float 27.5in 120 3Pos-Adj FIT4 Fork lives for. It's a true XC fork, and Fox redesigned nearly every aspect to make it lighter, stiffer, and sharper without sacrificing even a micron of plushness.
It's especially important that a shorter-travel fork like the 32 Float stays high in its travel, so Fox redesigned the FIT4 damper to eat up small bumps and rebound like controlled lightning so you don't bottom out during rooty, high-speed descents. Easily installed spacers let you fine-tune the feel even more, and the self-equalizing air assembly shaves significant ounces from the internal coil spring found in previous Float models, so hitting hyperspeed isn't limited to the downs.
The other major change is the FIT4 damper, which replaces the old CTD system. It still offers three-position adjustment, but the sub-adjustments now live in the open setting, which means you spend more time riding with the shock open without worrying about excessive squish. The medium setting is firmer, and the firm setting is appropriate for paved roads and firm gravel grinds when you're punching it up to the top of your favorite descent.