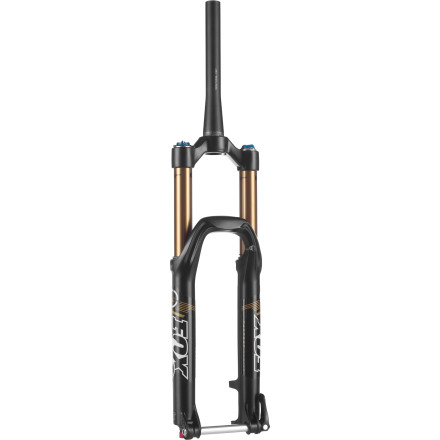 Colors

Detail Images
Right in the middle.
For aggressive riders, it's been hard to find a fork that's stiff enough to inspire confidence, without weighing you down on the ride back up. Luckily, though, Fox Racing Shox has been paying attention, which has resulted in the 34 Float 26in 160 FIT CTD with Trail Adjust Fork. Sitting half-way between the XC oriented 32 chassis, and the burly 36 platform, the 34 Float 160 is light enough to climb for hours without complaint, but it's purpose-built for jumps, drops, and rock-strewn trails. So, don't hold back. The 34 will take it in stride and gladly come back for more.
Like recent generations of Fox's Factory series forks, the Float 160 controls its stroke with the venerable FIT damper. As you may have guessed, 'FIT' is an acronym, and it stands for Fox Isolated Technology. And, unlike a traditional open bath system, FIT means that the damper fluid is sealed in an air-tight bladder. This prevents contamination, which improves the consistency of the damper on long descents.
Long-time Fox riders will immediately notice Fox's Climb, Trail, Descend damper adjustments. And there's no need to worry, you're still getting the same adjustments to high- and low-speed compression, only it's now packaged in a more user-friendly format. Climb mode provides the most damping for a near locked-out feel. Meanwhile, it still provides a bit of cushion for any unexpected hard hits. Click the damper into the Trail mode, and you'll find that there's ample low-speed compression in order to keep the fork riding high in the travel through berms, jumps, and rocks. Better yet, it still provides plenty of compliance in order to smooth out the ride. Trail mode has three sub-settings that allow you to tune exactly how much feedback that you need from your suspension. And, as you may have guessed, Descend mode provides the lightest compression damping for a plush ride.
Depending on your tastes, many riders simply find the trail setting that works best for them, and don't feel the need to make on-the-fly adjustments. However, the CTD lever is easily accessible for those of you whose ride isn't complete until you've flipped your suspension levers a few dozen times. And best of all, those options are presented in a way that makes each adjustment instinctive. This way, you don't need a degree in fluid dynamics in order to correctly tune your suspension.
The 34 Float 160 comes with Kashima coated stanchions. And, in addition to being 100% 'gold-er' than the competition, Kashima coating is harder than standard stanchion coatings. This equates to a longer wear life, as well as smoother suspension action.
The 34 chassis is brand new to the Fox lineup, and it fills an obvious gap. Splitting the difference between the light overall weight of the 32 chassis, and the bombproof reliability of the 36 series, the 34 is built as a perfect companion to the latest generation of aggressive-use trail bikes. At just over four pounds, this fork is no heavyweight. Better yet, it's built to ride rough trails day in and day out, and it's more than stiff enough for most riders. And speaking of stiffness, Fox uses Shimano's 15mm QR axle assembly, which provides both added stiffness and increased security over a traditional 9mm QR skewer.
The Fox Racing Shox 34 Float 26in 160 FIT CTD with Trail Adjust Fork in the color Black and with a 1.5-inch tapered steerer tube. Please note that this fork is only compatible with 26-inch wheels and 15QR thru-axles.
Unanswered Question
I have a 2006 Stumpjumper FSR. Would this fork be a good upgrade from the stock fork? The stock fork isn't very confidence inspiring and feels heavy (difficult to lift over curbs and other bumps). I've also alternatively been considering a shorter stem. I've gotten a wider S-works carbon bar and S-works tires that are also lighter. But they haven't helped very much.

Link to my current bike:
http://www.specialized.com/us/en/bikes/archive/2006/stumpjumperfsr/stumpjumperfsr#specs
Jonathan H.
What type of headset would I have to purchase with this fork?

David D.
You would need to pick up a 1.5 - 1.125 in Tapered headset-
Mark Burnett
Unanswered Question
I have a 2012 trek remedy 9.9 carbon. It has 26" wheels and teh size is 21.5

would this fork fit to my bike?



Thanks
cristobal ayala
Hi, Are these 160 forks adjustable down to less travel like 140mm, or would they need the internal shims changed to achieve this?
Gordon Reiher
Hey Gordon Reiher,

The float doesn't have a travel adjustment feature. The Fox Talas does offer that feature, without needing to mess with the internals.
Dan Be
Awesome fork!
Familiarity:

I've used it several times
No brake dive, smooth, and ctd is perfect!
XMO