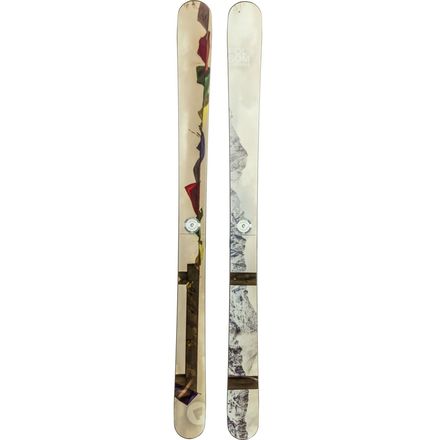 Ski like the world's about to end.
Do you have a mantra when you're mobbing down untracked powder and tossing a cork seven over a crevasse? Something like, "Annihilate, annihilate, annihilate" maybe? If you do, then the Folsom Rapture Ski is your ride. This solid 122-millimeter-waisted freeride machine gets from top to bottom with tank-like stability and race-car speed and agility, with a 28m turn radius that lets you open things up and a rockered tip and tail to keep you bombing over uneven snow and floating in pow. The vertically laminated poplar and bamboo core is wrapped with a carbon-and-fiberglass laminate to stiffen things up without adding unnecessary ounces, and the low camber underfoot provides a powerful platform that won't get squirrely when you're hitting Mach 2.
Not that you'd ever hit a rock, but Folsom made sure the Rapture can stand up to impacts, just because. The sintered 4001 base is as tough as it is fast, and the rugged UHMW sidewalls and sharp 2.5mm steel edges have been hardened, so you can use your skis to shave or slice up salami in a pinch. A sandwich construction keeps the whole package sealed tightly together, so you'll feel stable as a table no matter how rowdy you're getting.
Hard-charging freeride ski with a knack for big mountains
Beefy 122mm waist width craves the deepest powder days
Rocker tip and tail navigate soft stuff
Camber underfoot assures edge control in firmer snow
Wood core made with poppy poplar and light bamboo
Carbon and fiberglass laminates enhance stiffness
UHMW sidewalls with steel edges take a beating