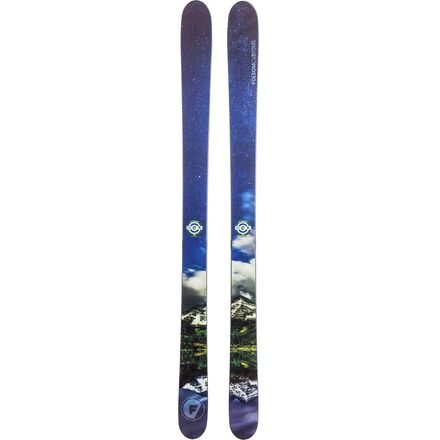 Color me impressed.
Red, green, blue, and the Folsom Primary Ski—that's all you need, unless you have crazy trichromatic vision or like to spend your ski time on skiboards, which you probably don't (and definitely shouldn't). You might also want some winter clothing, a ski pass, and some whiskey tucked inside your jacket, but even those aren't as essential as the supremely rippable Primary.
Folsom made its name making custom skis, but it also offers a few standard models, of which the Primary is one. It sports what Folsom calls its SRC (Shallow Reverse Camber) profile, with a full rocker profile that makes it easy to smoothly initiate turns, pivot on a dime and serve up nine cents change, and skip over choppy snow without worrying about burying a tip and testing the conditions with your face. The burly sidewalls prevent it from twisting when you really tip it over and rail a turn, and the tapered tip and tail give the Primary the ability to get into aggressive and smeared turns and cruise through champagne pow without that hooky feeling that can make powder skis scary instead of awesome.
Inside, the Primary is built on a poplar, maple, and bamboo core, which provides a killer combination of stiffness, durability, flex, and light weight. Full-length carbon fiber stringers work with the wood to give the ski a solid amount of pop and a playful feel but don't interfere with the stable feel that makes the Primary such a fun mixed-conditions ski. Folsom topped—or bottomed, we suppose—things off with a super-speedy sintered base, so you'll be able to carry speed through the flats and down less-steep pitches, if you ever get lost and end up on the bunny slope.
An all-mountain freeride ski for all but the deepest days
107mm waist handles its own in pow, yet still manages packed snow
Full rocker pivots, turns, and plays in soft to chopped snow
Core made of poppy poplar, stiff maple, and light bamboo
Carbon fiber stringers enhance stiffness
Sturdy sandwich sidewalls ensure long-lasting durability
I have 2 pairs of these skis because I love them so much! I got the 188cm version of these skis and I don't think I'm ever going back! I bought the first pair a few years ago and after thrashing them around on the FWQ big mountain competition circuit, I can definitively say that no ski will make you look better than these sticks! I've hucked them off cliffs and skied them on the deepest days have never stopped smiling. Plus, they're insanely durable! I've re-drilled a few different pairs of bindings onto these bad boys to convert them to a touring set up and I've had no problems ! This is probably because Folsom hand picks all of their wood and puts strong maple hardwood under typical drill sites. That maple combined with the carbon stringers running the middle of the ski make for a bullet proof construction!
Jeff E.