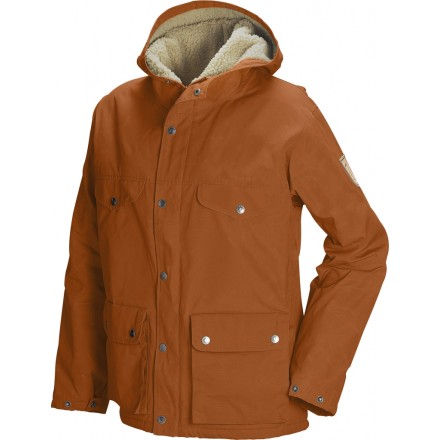 Colors
A timeless winter jacket for urban strolls and rural adventures.
You grab the Fjallraven Women's Greenland Winter Jacket, your house keys and wallet, and head out the door. You want to be the first person in line for the cinnamon-crunch topped donuts, and the last time you waited until Sleepyhead was awake, the donuts were long gone. Made from durable G1000 Original fabric, and lined with snuggly pile fleece, the Greenland Winter jacket will keep you warm while walking for a Sunday morning treat or waiting for the subway after a long day at work.
G1000 Original fabric is a water resistant and wind resistant blend of polyester and cotton. This durable fabric breathes due to microscopic pores facilitating the removal of sweat vapor, so you can wear the jacket and not become a hot mess inside after chopping wood or pitching the tent. Stand around the fire to warm your paws or toast a marshmallow without worry of ruining your coat; G1000 Original brushes off sparks like you brush off paparazzi. The pile fleece lining gives you warmth and cuddles that are almost as good as a hug from grandma. The Winter jacket isn't cut to kiss your every curve, so when the mercury moves beyond chilly and into frigid territory, you'll be able to layer as needed without feeling squished or pinched.
Reinforced shoulders handle the load from your backpack, going to and from class or while out on a winter backpacking trip. A snug-fitting hood offers protection from boisterous wind gusts, or just a safe place to hide from your nosy neighbor. Bellow hand pockets open from the side or from the top, giving you easy access to your phone, cash for tips, or a secret stash of chocolate on Day 3 of your winter wilderness adventure.
G1000 Original fabric, 65% polyester and 35% cotton
Greenland Wax treatment, water and wind resistant
Pile fleece, 100% polyester
Hood
Reinforced shoulders and elbows
2-way opening bellow hand pockets