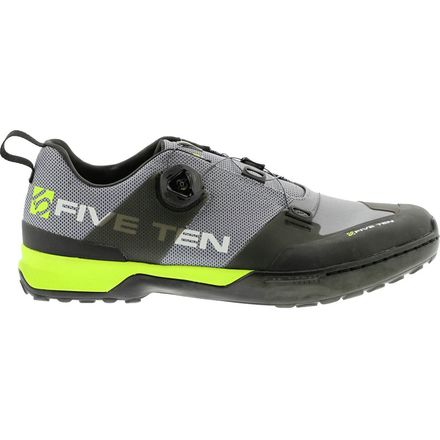 Colors

Detail Images
Land shark.
If the torpedo-faced profile of Five Ten's Kestrel Clipless Shoes reminds you of a shark's nose, then you're being pointed in the right direction. With a combination of a durable upper and what Five Ten claims is its stiffest sole, the Kestrel certainly hits rock bench-laden climbs and root lattices with all the voracity of an all-mountain land shark. The enduro heart of the Kestrel is actually a spine: a carbon-infused shank spanning the midfoot in the shoe's sole that serves as a conductor to direct power more efficiently into the pedals. More efficiency equals more speed equals more time to either line-up another run or get the first choice of beverages from the cooler at the trailhead.
The stiff spine is housed in an outsole comprising two different compounds. The first, Stealth C4, is hard enough for rock climbing. In fact, it was developed for rock climbing, but Five Ten imports it to the cycling world by ringing the Kestrel's cleat mount with the stuff. The same material that, according to Five Ten, rendered the "world's hardest rock climbs" climbable by dint of its unyielding strength shows up on the Kestrel to make sure there's no watt-wasting outsole squish where rubber meets pedal. The other compound, Stealth Mi6, is a softer, tackier compound that dissipates impacts while navigating the lumpy ups and downs of enduro cycling and provides grip while scrambling across un-rideable talus slopes and rock walls.
The Kestrels are finished with a synthetic toe box mated to a mesh upper, with the former providing structure and protection while the latter keeps the heat down when the trail and temperature both go up. Gusseted stop gaps also bridge the distance between tongue and upper, so enterprising gravel and goat heads will find it that much harder to get in and get irritating. The whole thing is strapped down with a Boa IP1 wire buckle, something we're used to seeing on high-end road shoes and more than happy to welcome to our off-road wardrobe.
stiff and painfully small
Familiarity:

I've put it through the wringer
For the past 6 months, I've used the shoes on single track and trails, mostly 15 to 25 mile rides. As advertised--they are wonderfully stiff. I've had no (additional) discomfort from walking in them. However, after a couple dozen rides, they still haven't broken in for loosened up. They run a bit small and narrow (and my feet are rather narrow). Due to the synthetic materials, they are not likely to stretch much anyway. i would consider getting them again, but a size or two larger.

Andrew N.
Good east coast rocks mtb shoe
Familiarity:

I've put it through the wringer

Fit:

True to size
I've had some ups and downs with this shoe. On the bike it has performed very well racing 100 mile backcountry races or shorter super technical rides. If you have to bailout in a knarly rock garden - have no fear. However, if you blow up on a long climb on day four of Tour de Burg, better take them off and walk in your socks or your heels will blister. These are not good for extended walks, but great year round on the bike. They don't get too hot in summer, and stay pretty dry in the winter. I had to return my original pair after less than 6 months because of the sole peeling away at the cleat box. The replacements came fast and they have proven more durable so far after two years. No problems with the BOA system. Overall satisfied with them. My second favorite MTB shoe next to the SIDI Dominators.
Ben Brown
Uncomfortable shoes
Familiarity:

I've used it several times
I found these shoes to be very uncomfortable. I had more than one hotspot on each foot. I gave them to a friend and he returned them to me with the same complaints.
Thomas O.
Stiff, but great
Familiarity:

I've put it through the wringer
These shoes are pretty good, and a good idea. But the Boa system is crap, the shoe is very stiff, don't plan to walk around in them or you will get blisters like I did. Now that the negatives are out of the way. Stiffness isn't bad, especially on the bike. When you're on the bike they're also very comfortable. The boa system has snapped after 3 months but after a 3 minute phone call (not exaggerating, 3 minutes) and FIve Ten had not 1 but 2 new Boa systems mailed to me. Haven't put the new Boa on yet but the instructions online make it look straight forward and easy.
Sam T
good shoe, kinda narrow
Familiarity:

I've used it several times
got these for my kid and he likes how they fit except he feels they are too narrow.
Steve O
Stiff, narrow and uncomfortable
Familiarity:

I've used it several times

Fit:

Runs small

Size Bought:

10.5
Outside, they feel extremely durable and should last through some decent mountain use. I have a high instep that causes me some problems with fit despite my 10.5D shoe size. Had to get special hockey skates with a deep fit, chacos are not my friend, and so are these shoes. I can barely get into them. It is an epic struggle. Once in, the narrow toe box, even for my regular width feet feel tight and start to burn after a few minutes on the bike.
Michael J.
Height:
6'0"
Weight:
170lbs
Don't do it!
Familiarity:

I've put it through the wringer
I couldn't be more disappointed with these shoes.
I rode them hard for several months despite some glaring issues. Recently I gave up.
The Kestrels are very hard to break-in, as several others noted- the stiffness of this shoe is great for pedaling and awful if you have to walk. I destroyed my feet on multiple occasions. My first 4-5 rides were uncomfortable at best.
My biggest complaint was the boa closure system. I have a size 13 foot, and the boa doesn't release enough to allow my foot in without a struggle. The heel is so stiff I couldn't wiggle past it and I eventually broke both pull tabs fighting these shoes on. I finally resigned to carrying a shoe-horn. No joke.
Once I got them on, the single boa didn't tighten evenly.
To top it all off, 5.10 is extremely slow with returns/ warranty issues.
This shoe is not the answer.
Go look somewhere else.

Johann A.
Height:
6'4"
Weight:
180lbs
Stiff Upper with No Heel Hold
Familiarity:

I've used it several times

Fit:

True to size

Size Bought:

8.5
These may be the worst MTB shoes I've had in 20 years. The uppers are stiff and uncomfortable and create hot spots all over my feet by the end of an hour ride. Also, there is absolutely no hold in the heel area. I have never had this problem with any other shoe, but the heel is so shallow that it is impossible to walk without my heel slipping out. I would say that this is pretty true to size although with the heel slip problem I sent back my first pair for a 1/2 size down. Probably should have just given up after the first try.
ShaneG
Height:
5'9"
Weight:
155lbs
stiff hikeabike
Familiarity:

I've put it through the wringer

Fit:

True to size

Size Bought:

12.5
amazingly stiff. runs narrow. boa slips with aggressive riding.
Peter F.
Height:
6'2"
Weight:
185lbs
Great for gravel
Familiarity:

I've put it through the wringer

Fit:

Runs small
I've put a few hundred miles on these shoes and am very pleased with my purchase. I was looking for a shoe for gravel events, where there are often sections of class IV roads that require some walking. My MTB shoes were fine, but get heavy on multi-hour rides. I took the other reviewers' advice and went up a half size. Unlike one of the other reviewers, I have a wide foot with a high instep and the shoes work great for me as well. The toe box is plenty wide and my toes have room. The boa system is great for distributing tightness across the foot without creating hot spots. The opening to get my foot in the shoe is a little tight with my high instep, but the pull tab on the heal helps a lot. I was surprised at the stiffness of the heal cup, but once my foot is in the shoe I am very comfortable. So comfortable, that I've been swapping my pedals less often when I go road riding with my friends (my gravel bike is that awesome) and I don't notice any lack of performance, even on long mountain climbs. These are great-looking, comfortable shoes, and all that mumbo jumbo about the two types of rubber in the sole is immediately noticeable. These shoes are incredibly stiff In the forefoot, allowing for performance riding, but when you walk, you immediately notice the softer rubber in the heel, making walking or scrambling really comfortable. Very happy with this purchase and have received many compliments on the shoes' looks.
Miguel F.
Solid commuter shoe
Familiarity:

I've used it several times

Fit:

True to size
UPDATE: Boa snapped while loosening, rendering shoe completely unusable. Shoe takes extremely long time to dry now that there is no sunny patch in my apartment to put them in and does not drain water at all- not ideal for cold weather daily wear
----------------------------------------------
I've been commuting in NYC with these shoes in conjunction with crank bros eggbeaters for about 5 weeks now. Great commuting shoe, very stiff, cool low pro style.

The boa does not do a great job distributing pressure equally across the top of the foot, the toe box tends to feel much looser than closer to the ankle.

The shoe is somewhat heavy, especially relative to road shoes, and is quite warm now that the weather is getting hotter. They do not drain water well on rainy days and saturate very quickly, however they seem to dry pretty quickly.

I wear them sockless and they are very comfortable except for rainy days when road grime gets in between the ankle cuff and my skin, at which point they become pretty abrasive (I can fix this by wearing socks; I would rather take the chafe).

I used crank bros metal cleat spacers on the shoes as the engagement with the pedal has a very strong interaction with the very grippy rubber of the shoe otherwise and makes clipping in and out a lot harder.

The shoes seem very durable, are comfortable, and work really well overall.


Trevor D.
Glad I waited
Familiarity:

I've used it once or twice and have initial impressions

Fit:

True to size
I love how low-profile these are compared with other all mountain shoes. I have a narrower foot and they fit well. It's also a bonus that they come in 12.5. I considered getting several other pairs of AM shoes over the past year but I'm really happy I waited for these to come out. They are expensive but I'll likely use them for commuting as well because they look flippin' rad.
Trevor W.
BEST LOOKING AND COMFY CLIPLESS SHOE
Familiarity:

I've used it several times
This shoe looks like a casual loafer. They are true to size. Maybe 1/2 small. This is my third BOA shoe, and I am not going back. First the SIDI DRAKO, that, even though has unparalleled on-the-bike pedal power transfer. It is a shoe that I could not even walk 20 steps with. The Mavic Crossmax are a bit lighter but narrower and too soft. And also a hideous shoe. The Scott Elite Boa shoe was my favorite. Probably as comfy as this one but it was soft in the cleat, and that makes the shoe a bit difficult to disengage. This shoe is very comfortable, and even though it is a bit heavy, I do not find that to be a big deal unless you plan to ride more than 50 miles. It is not a cross-country shoe by any means. It is strong, heavy, grippy, extremely comfortable and quick to clip and release. The hole for the cleat makes it very easy to find your cleat position, and it protects the cleat when walking. If it were a little bit lighter, I would use it like a regular casual shoe. It is kind of cool. The only thing that could be improved is a DOUBLE BOA like the new Pearl Izumi X-Project 1.0 2015. That is going to be my cross-country shoe whenever it becomes available.
DAVID V.
Didn't work out for me
Familiarity:

I've put it through the wringer

Fit:

True to size

Size Bought:

11
I used these shoes for three weeks, really wanted to like them as they checked off all that I was looking for in a pedally AM/Enduro shoe but for me, just too many issues.

- Too warm, especially in the UT/NV desert terrain, that rubber capped forefoot just retains too much heat. I thought it wouldn't be such a big deal but definitely unpleasant when climbing up to something like Grafton DH.
- Fit was good, exceptional heel hold down, but unlike another reviewer here, after a few weeks of riding I did not find them to stretch or conform at all in either the forefoot or the heel. Specialized in 45 fits me perfectly (especially on the S-Works Trail with the bigger toe box) and I would say these fit a touch tighter.
- Sole is great for rocky terrain but sucks for wet/muddy conditions, no grip when climbing, obvious really when you look at the sole. Thats the one good thing about XC shoes that come with toe spikes is it really makes walking steep terrain in slimy conditions that much easier. I don't expect any shoe to be an exceptional climber in the mud but some form of rubber toe lugs would have gone a long way IMO.
-*****Sole became unglued from the forefoot of 1 shoe and started to peel off in one small spot on the other.
- I position my cleats right back and for whatever reason, the one shoe was difficult to enter/exit Shimano XT Trail pedals. I repositioned the cleat once but this did not alleviate the problem. Perhaps I should have tried a shim to see if that would help.
- Not a big deal but difficult to get on/off due to the single Boa.

These issues became all the more apparent as I'm now back on the shoe I was on last season, Specialized S-Works Trail, not without its faults(very stiff and unfortunately the rubber sole chunks off in rocky terrain if walking too much) but a great shoe overall for me.

Great ideas implemented into the Kestrel shoe, however execution could have been better.
robnow
Height:
6'2"
Weight:
190lbs
So far so good
Familiarity:

I've used it several times

Fit:

True to size

Size Bought:

13
Let me start off by mentioning that these are my first clipless shoes, normally I wear Teva flats.
First thing of mention is these things are very nice looking for bike shoes, great build quality and they look way better in person than any of the pictures.
Compared to my flats these things are STIFF, after 3 rides the difference is vastly noticeable. They feel great when pedaling and I haven't had any issues with comfort or hotspots which is awesome for barely breaking them in. I rode them in some serious mud with alot of hike a bike and they held up great and the grip in mud was surprisingly good. I was worried these would run small but they run very close to true, almost a tad big. The BOA system works pretty good for my foot but as mentioned in other reviews around the net it can be hard to get the optimal tightness around the top and bottom of the shoe.
Overall, great shoe and I highly recommend them if you're in the market for a new clipless shoe.
Tyson W.
Height:
6'5"
Weight:
208lbs
5-10 Kestrel Clipless MTB shoes
Familiarity:

I've used it once or twice and have initial impressions
Just received my 5-10 MTB shoes, the new Kestrel Clipless shoes. Wore them for the first time today. Appearance wise, they appear to be well made. Sizing: I wear a 9.5 dress shoe but needed a 10 in the Kestrel. They appear to run a 1/2 size small. Out of the box, they are stiff and the toe box a little tight. After one ride the fit has loosened and they feel great. Hiking over rocks the shoes grip well and are very comfortable. No sliding like with most other MTB shoes. Comfort level is very good once you wear them for a ride or two. The boa system works well and allows you to get the level of tightness you want. I would rate this shoe as probably the best MTB shoe I've had. Better than Shimano, Giro Terraduro or Sidi shoes I've worn over the past 10 plus years. I can't comment on durability as the shoes have just one ride on them. But so far, love the shoes.