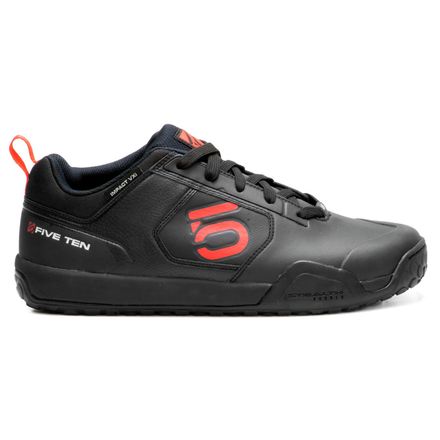 Get a grip.
Five Ten's Impact VXi Shoes set the stage for what a downhill or park shoe should be, and they just keep getting better. From grippy soles to a new upper, the Impacts should be first on your wish list.
To up the ante, Five Ten uses Stealth Mi6 rubber for the outsoles — the same rubber used in climbing shoes. And if it holds onto granite, it's sure to keep your feet firmly adhered to your platform pedals while simultaneously resisting damage from your traction pins. Mi6 Rubber also provides more shock absorption and dampening than other seemingly similar rubbers. Aesthetically, the Impact VXi shoe seems like it's lost a bit of weight, and it has. Nearly 25-percent of its weight has been reduced due to a new upper constructed from a quick-dry hydrophobic fabric. Not only will your feet stay dry from the outside in, the fabric also allows moisture to escape to keep perspiration from soaking the liner.
Downhill and park riding
Stealth Mi6 rubber outsole
Compatible with platform-style pedals
THE GOAT
Familiarity:

I've put it through the wringer
These shoes are a game-changer. They stick like nothing I've ever felt before and they offer incredible support to your feet. The shoe itself is pretty beefy (not the lightest by any means) but it will protect you from rocks and other obstacles you may come across while you're ripping down the trail.

I've also found that they will still grip till no end even in the wet and provide decent protection for you feet from the elements. The only real downside that I've found in these shoes is how long the rubber on the sole lasts. I run pins that are on the sharper side on my pedals and they definitely tear up the rubber a bit (I go through about one pair every season).

Having confidence in your shoes will change the way you ride your bike. These shoes will make you think that your clipped in and give you the support you need to really get the power to the ground.
Paul Braunstein
five ten for life!!!!!
Familiarity:

I've put it through the wringer
awesome shoes and run true to size
Shae
LOVE!
Familiarity:

I've put it through the wringer
I have been wearing these for a few years now and won't wear anything else, The fit is perfect and the sole is super grippy. I liked them so much I bought a pair as a gift for my friend.
Shae
Great shoe for trail or park.
Familiarity:

I've put it through the wringer
Have been using the contact for trail riding and the impact for park days. These shoes do both well. Extremely comfortable. Fit true to size just as all five tens. A lot lighter than the impacts. Very happy with this shoe. Good color ways. Nice quality feel.
Nathan O.
Sticky and So Far durable
Familiarity:

I've used it several times

Size Bought:

11.5
I've read quite a few reviews saying these shoes aren't very durable however i took a heavy crash the other day where my foot scraped along the dirt then the shoe came off and they still look good as new(besides some dustiness) The rubber is super grippy with my Deity pedals and the shoes are very comfortable.
Sam T
Height:
6'3"
Weight:
220lbs
Good, but not perfect
Familiarity:

I've put it through the wringer

Fit:

Runs small

Size Bought:

11.5
Pretty good shoes. Pros: sticky soles, durable, mostly comfortable, protection for toes, look awesome. Cons: Expensive, a bit heavy and stiff.
Max S
Height:
5'9"
Weight:
175lbs
Love these shoes
Familiarity:

I've put it through the wringer

Fit:

True to size
I had problems with my shoes slipping a lot when riding downhill. These shoes solved that problem, the soles are super sticky. After a couple months riding with them I have no complaints, great product!
Ryan P.
Decent
Familiarity:

I've used it several times

Fit:

Runs small

Size Bought:

9.5
The shoes look awesome, I'll give them that but they are nothing special especially for the price point. I'm not sure what changed with 5.10 over the years but these shoes are not like what they once were 5 years ago.

After my first ride I am already seeing wear in the soles where the pins of the pedal make contact. I remember owning a pair of 5.10s years ago that lasted me well beyond two years of DH racing. I couldn't wear those out if I tried.

What happened along the way?


Austin P.
Height:
6'0"
Weight:
175lbs
Luke Humphrey
Luke, that is an older version of this shoe, this version is much lighter and more water resistant. I personally prefer this model to the other one. If you have any questions, feel free to email me at btanner@backcountry.com
Braydn Tanner
The difference is the vxi is more waterproof, less heavy, and has Mi6 rubber on the soles as opposed to the Stealth S1 on the traditional impacts.


Braydn Tanner
Great grip and light
Familiarity:

I've used it several times
These are awesome for dh but I prefer the free rider contacts for all mtn riding. I cant seem to get change my foot to just the right spot as easily;y with this shoe as with the contacts but I do like how much burlier it is over some of the others for DH riding.
Ben B.
Height:
5'10"
Weight:
170lbs
Great shoes
Familiarity:

I've used it once or twice and have initial impressions

Size Bought:

10.5
I really like these shoes. They do run about a half size small, I'm normally a 10 but got a 10.5 and anything smaller would not have fit. They felt great when riding and are very durable.
Kyle G.
Height:
5'7"
Weight:
170lbs
Super Sticky
Familiarity:

I've put it through the wringer

Fit:

True to size
I use these shoes for everything from trail riding to downhill. They are fairly lightweight which makes them great on long climbs, but they are still super durable for the rough stuff. These feature the same super grippy rubber that Five Ten is known for as well.
Chad Cordell
Never really satisfied
Familiarity:

I've put it through the wringer

Fit:

True to size

Size Bought:

9
I've got to be honest, these shoes never really hit the spot for me. Really there are 2 reasons: The massive toe box and the quality of the workmanship on the sole. I wear a 9, and ordered them a half size down due to a few reviews that made that recommendation. The 8.5 felt "box-ey" and loose around the front of my foot yet my toes pressed against the end of the shoe. So I exchanged for the size 9. These were the right size, but the toe box felt massive. In order for my feet to feel naturally secure in the shoe I would have to tighten them way down and that was uncomfortable across the front of my ankle. (Is that a real place on your foot?) Every time I put them on I simply wasn't happy with the fit . That being said my feet always felt nice and cool which perhaps is the reason for the roomy toe box? Maybe the best way I can describe it is I felt like these shoes were designed to be worn with thick winter socks or something. Anyways, I'm done with the fit.
Other issue is a simple one, the sole of both shoes started peeling off after a few weeks of riding. Across the middle beneath the arch of my foot. Super lame. I guess the toe box was able to keep my feet cool but not the glue so the sole peeled right away. Dang it I drifted back to the fit!

Positive note(s):
Grippy sole
Light Weight
Durable (besides the sole there was no obvious destruction after weeks of aggressive riding)

stuckify
Even Better than Impacts
Familiarity:

I've put it through the wringer

Fit:

True to size

Size Bought:

9.5
I was a huge fan of the original Impacts and was hesitant to try another shoe, but these are even better. So much lighter, thinner and more comfortable with just as much grip on the sole. Especially great for those steep sections where you have to hike-a-bike.
Jay Tierney
Height:
5'11"
Weight:
175lbs
Wicked Shoes
Familiarity:

I've used it several times

Fit:

True to size

Size Bought:

5.5
These shoes are wicked amazing!! They're pretty sticky so getting your foot in the right spot is crucial before you descend. I wear Vans shoes women's size 6.5-7. Pedaling is easy, they're a little stiff to be hiking your bike up but aren't too bad. I wore them in 35 Celsius weather and my feet were a tad bit warm but not too bad! Have yet to try them in colder wetter Vancouver weather..
ia T.
Height:
5'5"
Weight:
100lbs
Huge Improvement
Familiarity:

I've put it through the wringer

Fit:

True to size

Size Bought:

12.5
These are my third pair of Five Tens. I had the original Impacts, and I still wear Freeriders. Both great shoes-- but these are better. FAR lighter and more comfortable than the original Impacts. More comfortable and better sole/traction/protection than the Freeriders. These are great in the mud, however they are NOT waterproof. They do dry quickly, which is a plus, and they shed mud easily and clean up completely.

The soles are phenomenal. Stick to my RaceFace Atlas pedals through rock gardens, drops and G outs, yet I can reposition when necessary. Going to order another pair now, just in case they change them and 'lose' this winning formula.
Jeffrey N.
Height:
6'2"
Weight:
175lbs
Mountain Goat Traction for Racecar Speed
Familiarity:

I've put it through the wringer
The Impact VXi is another home run for the STEALTH rubber king. Whether you're a flats or a clipless rider, the Impact is available in both styles and worthy of an investment. With the VXi version, 5.10 went back to the drawing board and lowered the volume of the shoe as well as increasing durability, lightening the weight and building a cleaner aesthetic without sacrificing any of the qualities the shoe is known and loved for.



As a professional DH racer who loves rocking flats on nearly every bike, the only shoe I trust is the Impact -- my feet stay where they're supposed to stay so I can focus on keeping the bike underneath me. I use longer pins (up to 10-15mm pins depending on the track and the ride), for more stability, but even short pins grip the soles.



I find this new iteration of the shoe to be a bit more accurate of a fit, although still a bit packy after a few weeks, so I would suggest sizing down a half size. Other than that, I love how the shoe still molds to my foot, the newer lacing style AND the faster-drying upper, with the more impact-resistant layering on the toe box.



If you have any questions about these shoes or any other MTB or downhill shoes, please get in touch with me at abatty@backcountry.com or 801-736-6396 ext. 4768!
Amanda Batty
I love them!
Familiarity:

I've put it through the wringer
These are super comfortable. They also have a good stiff sole that keep my feet from getting tired while standing on my pedals and the soles are grippy enough to hold on to my pedals. I wear a women's 7.5 and got these in a size 6, they fit perfect. Feel free to contact me with questions, shae@backcountry.com
Shae