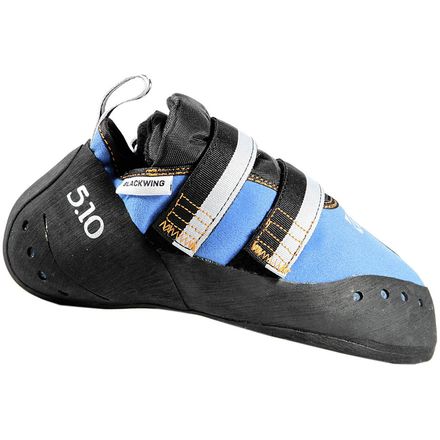 Colors

Detail Images
Like a second set of hands.
Designed on a last similar to the renowned Dragons, the Five Ten Men's Blackwing Climbing Shoes provide the sensitivity and power required for steep double-digit boulder problems and 5.14 sport climbs with the convenience of dual hook-and-loop closures. The down-turned Stealth HF outsoles allow your feet to perform like a second set of hands on steep terrain while the Dragon Stifner in the midsoles supplies powerful edging performance.
Durable Cowdura uppers provide next-to-skin comfort and a glove-like fit
Dual hook-and-loop straps provide a secure closure and make for easy on and off
Aggressively down-turned profile allows you to pull into the rock on steep routes and boulder problems
Dragon Stifner in the midsoles provides powerful edging performance without compromising sensitivity
Super sticky Stealth HF rubber is specially formulated to perform on overhanging rock
Padded tongues with a micro-fiber fleece linings wick away moisture and enhance comfort
I couldn't get these to work for my feet. I tried sizes from 10, 10.5, 11 and 11.5 and none of them fit.

The toe box on these looks narrow out of the box but when you put your foot in the shoe, it expands to fit your foot.

I wear a size 10 street shoe and the 11.5's were the closest to fitting, but the issue is I have slightly narrow heels and in the 11.5's my toes were still pretty smushed but my heel was starting to get some movement. The 12's would have been best length wise but my heel would have been swimming.

I ended up returning all four pairs but wanted to post some comments about my sizing experience.

I'd also recommend reading through more reviews since I am one of the few that had to go up this much in sizing.

Street Shoe: 10
Evolv Addicts: 10
Mad Rock Sharks: 10.5
TC Pros: 42.5
Katana's: 43

Jared Downs
Height:
6'0"
Weight:
180lbs
Second Hands
Familiarity:

I've put it through the wringer

Fit:

True to size

Size Bought:

11.5
My use: Indoor bouldering, indoor and outdoor sport primarily 5.9 - 5.12. Have owned them for ~2 months.

Fit: I disagree with most commenters that these run small, I find them true to size. I wear size 11.5-12EE (wide) street shoes. Bought these 11.5 and they are tight but comfortable enough for single pitches without issue. I'm not sure why you'd want a shoe this aggressive to be loose.

Pros:
-Super sensitive, tacky soft rubber. These are the softest and most sensitive shoes I have owned.
-Reasonably Comfortable. These shoes feel like a very tight set of socks. My toes get cramped if I try to leave them on, but for single pitches I don't have a problem.
-Craftsmanship seems very good
-Will be getting another pair when these wear out.
-These toe into small holds like a dream

Cons
_-No real complaints, a few comments:
-You don't want these anywhere near a slab, way too aggressive.
-Softness can mean uncomfortable for long routes, or less than vertical routes.
-While the craftsmanship is quite good, with metal buckles and good stitching, the softness makes me think they wont be the longest lasting shoe.

Get them!
Corey A.
Height:
6'0"
Weight:
190lbs
Dragon replacements
Familiarity:

I've put it through the wringer

Fit:

Runs small
I got these as a more comfy alternative to my Dragons. I wanted a slipper and something with no laces and after trying a few I went with the men's blackwing over the womens for my wider foot. I am a women's size 6/36 eu, and I sized up to the women's 7.5/38 eu and they fit me like a glove.
Maia Menard
Height:
5'1"
Weight:
120lbs
Five Ten Blackwing Climbing Shoe
Familiarity:

I've put it through the wringer

Fit:

Runs small
These are my longtime favorite. I've probably owned a dozen pairs of these and keep coming back for more. They have been well suited for bouldering and sport climbing alike.

Street shoe 8.5 / Blackwing 8.5
Cory Heintz
Power
Familiarity:

I've used it several times

Fit:

Runs small

Size Bought:

9.5
I just recently bought these shoes and I can already tell how much power you can put into the toe. The edging is extremely good, and hooking is a charm, although I do have a small air pocket in the heel, as the heel is a little pointy for my foot. It doesn't seem to affect hooking at all, though. Otherwise, the fit is like a glove. The velcro straps and overall skintight fit of the shoe do a great job of eliminating dead space. I wear a size 10.5 street shoe, and I got a 9.5 in the blackwings, despite the amount of people saying to get them a half size up or in your street size. They're definitely painful right now, as I've only worn them for two sessions in the gym, but I can feel them breaking in and getting softer already. I would recommend this shoe for anyone looking for higher performance on overhanging sport climbs and hard, steep boulders. I'm looking forward to wearing this shoe for a long time.
Nick Schneider
Best aggressive shoe
Familiarity:

I've put it through the wringer

Fit:

Runs small

Size Bought:

8.5
This shoe is incredible. While initially it runs smaller than your typical 5.10, after a few sessions they break in nicely. Just for reference I wear a size 9 street shoe and went to a 8.5 blacking (I wear a 39 Solution). These shoes are extremely precise and are pretty durable, so you won't have resole them. My favorite thing is the heel. My issue with the Solution, Tenaya Oasi, and other really aggressive shoes is the dead space that I have in the heel. I have narrow feet with a really low-volume heel, and the Blackings are the first aggrieve shoes I have found that fit my heel perfectly. I can throw heel hooks all day without slippage. While its not quite as aggressive at the Solution, I like this shoe more and cannot tell any difference in performance on super overhung or difficult bouldering routes.
Jordan
Height:
5'9"
Weight:
140lbs
Unanswered Question
I've been wearing the 5.10 Anasazi moccasym in a 7.5 and they fit nice and tight and I was wondering what size I would fit In with these shoes, and I can't find them anywhere near me to try them on.
grant tallman
Just got 'em
Familiarity:

I've used it once or twice and have initial impressions

Fit:

Runs small
Haven't climbed on them but I can tell they're gonna be great for higher end bouldering. I've been doing V5/V6's in my La Sportiva TC pros, and while that is the greatest shoe ever made, I needed something a little more aggressive for attempting problems V6 and above. I wear a size 10.5 street shoe in everything and I bought both a 10.5 and an 11. The 10.5 was impossibly tight so I' m going with the 11. Definitely size up a half size unless you're a masochist.
Brooks G.
Unanswered Question
Hello
I wear La Sportiva Pythons in 37.5, which size should I order these? Also how is the heel compared to Pythons (smaller or bigger)?
e_gluk132250
Amazing All Around Shoe
Familiarity:

I've put it through the wringer

Fit:

True to size

Size Bought:

10.5
I've destroyed these shoes over the last year or so. For me, owning these and Solutions makes me feel like I can tackle and boulder problem out there. The Blackwings are excellent for over hanging routes and a little smear here and there. And I love the heel! This will differ from person to person but it fits me like a glove and feels like it gets locked into anything! Also, after the initial break in, I found them really comfortable.

For sizing: (I like my shoes pretty tight) I wear about a 10.5 street shoe, an 8.5 Solution (41 EU) and 10.5 Blackwing
Carsen McDaniel
Height:
6'0"
Weight:
160lbs
Five Ten Blackwings have my vote
Familiarity:

I gave it as a gift but have feedback to share

Fit:

Runs small
I am writing this review as the purchaser of the shoe and not the person who wears them :). I bought these for my fiance' (he picked them out specifically) and he loves them! We initally bought a size 11 (His street size is 10) but had to exhange them for 11.5, which seem to fit perfectly. We climb both indoor and outdoor and he has made no bad comments about the fit, the feel or anyhthing like that! He has wide feet and says that they fit really well. Overall we are very happy and would recommend them to anyone!


Sara R.
I wear a 10.5 in the quantum's, and they...
I wear a 10.5 in the quantum's, and they are nice and tight, only downside is a small amount of deadspace in the heel, just like half a centimeter? if I like a 10.5 in the quantum's what would you recommend for the blackwings? (Note i have no where to try them on within 4 hours of my home, so saying go try them on doest work!) Thanks!
Chris D.
Best Answer
Hey Chris! The black wings and the quantum's will fit very similar. I would stick with the same size you went with in the quantum's (10.5) If you would like I am working on chat, we can get you set up with a couple of different sizes so you can try them on and then we can give you a free return label for the size that doesn't fit. Let me know. If I'm not on chat you can email me anytime at skdavis@backcountry.com
Skylar Davis
Unanswered Question
Does this shoe run wide? If so, is it...
Does this shoe run wide? If so, is it similar to the Rogue shoe in terms of sizing?
Alex Garcia
I can comment on the design only now.
I have the first model with the Mystique rubber and rubber striping on the upper. The new blackwings have the HF rubber which I haven't used yet but are supposed to have the same friction with more durability. They also don't have the rubber striping on the upper. For a review on the design see my review on the old ones at http://www.backcountry.com/five-ten-blackwing-2012-climbing-shoe-mens?rr=t
Danny M H
YES!
Familiarity:

I've used it once or twice and have initial impressions

Fit:

True to size
just ordered the new 5.10 blackwing in US 11.5. Here I thought the Evolv Shaman was the shoe for my foot, WRONG. These shoes fit me so much better in the heel and they're lighter. Having a smaller knuckle box area on the 5.10's will be better for smaller feet. ( I sometimes get my shamans stuck in small holes or can't establish my feet properly. I have not climbed with them yet only getting them today but just wearing them real quick I could tell they were much better for my foot. I have a wider upper foot being broad across the knuckles where the toes meet the foot itself and then medium length toes. My foot is slightly flatter but extremely petite from that point back with a very small heel that barely sticks out. These shoes out of all the shoes I have worn have fit my foot the best as of now. I may need to size down after trying them with climbing but I'll see.



Shoes I've worn



MadRock muygen US 12 decent fit but terrible shoe

5.10 team (neon blue) US 11.5 extremely painful fit and eventually gave up

5.10 Hornet US 12 Way to big on me

5.10 quantum US 10.5 fit but not my style, little to tight too

La Sportiva katana US 11.5 way to loose in the heel like all of them loose toes

La Sportiva testarossa US 10.5 fit in the toe extremely loose in the heel

Scarpa Instinct Slip-on US 11 meh, fit decent didnt like loose heel kinda and smaller toes

Scarpa Instinct Lace-up US11, same story but could adjust the arch of the foot by pulling the laces tighter in certain spots.

Evolv Shaman great in the toe box slightly loose heel ( have gone through 3 pairs and thought they were my shoes for my feet.



I'll update after climbing in them, hopefully they stay this snug only slightly painful but cozy tight, not to tight that i can't apply pressure and no loose room in the heel or toes. Finally found my shoe of choice for now.



Ordered these and already can tell that they're better.... Next shoe to try will be the new 5.10 VXi team.




Gavin M.
Five Ten Blackwing Climbing Shoe - Men's
Backcountry Video
Mayan - Salathe - Black Wing
Wolfgang Schweiger
Mayan - Punks/Australia - Black Wing
Wolfgang Schweiger
So I have worn many a brands and shoes. ...
So I have worn many a brands and shoes. I had a pair of 5.10 teams for 3 months and still couldn't get past the pain of wearing them. Some days were better than others but I have larger feet and ended up getting a US 11.5 for the 5.10 team I really liked the shoes and the STEALTH rubber but eventually gave in and returned them. I have eventually stumbled to the Evolv Shaman in the same size and love them, the rubber seems to wear a bit fast for my liking but overall I love the shoes. I have tried two pairs of scarpa instincts and then the la sportiva testarossa I wasn't a big fan of either of those brands and had a hard time getting a shoe with a heel small enough to leave no air. The testarossa had a great comfy toe box (like the shaman IMO) I had worn a US9 in these shoes and still had problems with my heel being sloppy and extra material (air pocket) bunching up and sliding around on me.



If anyone has worn or climbed with the 5.10 team shoes (US 11.5) could you give me a size recommendation on these Blackwing? Wearing the Teams in the US 11.5 was almost unbearable at times. I couldn't get past the pain of my toes. Sometimes my feet would be bruised and bleeding after climbing some routes. I wan't to get back to the 5.10 shoes after liking them so much but haven't found a pair I can wear and still be able to enjoy climbing. My shamans are tight and still hurt after 2 months of wearing them but I can fight through it.



Can someone suggest a size or try and compare them to the 5.10 Team (US 11.5) or the Evolv Shaman (US 11.5)?
Gavin M.
Best Answer
Hey mar4718151,



Maybe this will help you decide which size you'll need. I wear a size 10.5 (european 44) in both the blackwings and shamans. I have found the sizing between these two shoes very closely matched, so if you've found a size that you like in the shaman, I wouldn't change it up too much. Also, in my opinion, the blackwings are a HUGE step up over the shamans. Definitely worth the extra money. You'll only need 1 pair of shoes instead of 2.



Best of luck.
Daniel Hupp
I actually got these in the same size as my street shoes and they fit pretty tight. They were painful at first, but not unbearable. Also, I have the old black and red ones which I think are less forgiving on top, where your toe knuckles up, because of those red stripes across it.
Carsen McDaniel