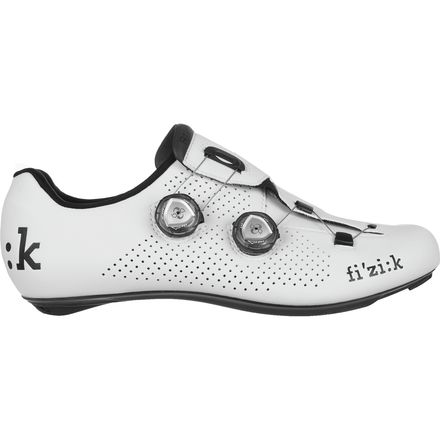 Colors

Detail Images
The new breed.
Warning: if you upgrade to the Fi'zi:k R1B Uomo Boa Shoe, there's a good chance you'll be so spoiled by the sumptuous uppers and irresistibly second-skin fit that you'll never be able to go back to another shoe. That being said, if you have a penchant for clean, minimal aesthetics and pro-level functionality, you'll have a hard time finding fault with the R1B Uomo. As the top-of-the-line shoe from a brand that prides itself on simplicity over excessive extras, the R1B Uomo relies on fit and high-end materials to become an indispensable part of kit.
This year, Fi'zi:k replaced last year's kangaroo leather uppers with its trusted microtex material. If you're a loyal R1B fan, don't worry; the synthetic material has already earned its stripes on Fi'zi:k's extensive line of saddles and other shoes, so rest assured that it's worthy of a shoe of the R1B's caliber. With an asymmetrical cut and dual Boa dials providing limitless potential for fit adjustment, the shoes' one-piece uppers will wrap around your feet in a way not unlike the post-ride burrito you dream about to get you through your last climb of the day. Plus, Fi'zi:k took the time to carve tiny, precise pinpricks throughout the shoes' uppers to let the shoes, and your feet, breathe on hot days.
Fi'zi:k didn't stop there either. Other fit details, like an adjustable heel cup for more consistent power transfer and Fi'zi:k's careful Volume Control design work to achieve a nearly custom fit that goes beyond simpler, less precise models. Along the bottom, a uni-directional carbon fiber sole anchors the shoe, promising the kind of snappy power transfer that has earned the R1B Uomo its well-deserved presence in the peloton. Take a closer look at the soles and you'll notice a complex, and meticulous arrangement of vents, capably managing airflow without inhibiting your aerodynamic efficiency.
Carbon-soled, top-of-the-line road cycling shoe
Highly durable, ventilated synthetic uppers
Adjustable heel cup improves power transfer
Streamlined, next-to-skin fit from dual Boa dials
Stiff, responsive carbon sole with cooling vents
Fizik designs show artful restraint and uncompromising fit
Good shoes
Familiarity:

I've used it several times

Fit:

Runs large
Great shoes. I live In Florida (no hills, mostly flat fast terrain). I'm 5.6ft and 143lbs (65kg). I used it in the Florida winter during sunny days with temperatures ranging from 40F early in am to 70F later in the day.
Shoes are comfortable. They run big as everyone mentioned. I use 41.5 on Garneau Course Air Lite, Mavic Ultimate and Giro ACC, but had to purchase size 41 on these Fizik to have a similar fit.
Ventilation is good. Stiff sole as all high quality shoes have. The heel fits really well and "cups" the Achilles' tendon. I have normal arches. The upper mesh does not bother me at all. It feels a little tight in the toe box. I'm used to slightly wider shoes.
The BOA works like all BOAs are expected to work... well.
They look good. Not only in picture but when you look at them while on your feet (some shoes don't).

Haroldo Melo
light, stiff comfortable, big and pricey
Familiarity:

I've used it once or twice and have initial impressions
While not the lightest shoes out there, they are reasonably light with carbon soles that are stiff and thin.

The boas are a bit different than other boas I've worn (Diadora).

The advice of tighten the one on the forefoot first is good, but unlike other shoes It is really easy to over tighten the forefoot boa.

I wear a 42 in both Sidi and Diadora, and the 41 was maybe couple millimeters longer than the 42 Diadoras they replaced.

Booties are a definite must when the weather turns cold with these shoes, as the ventilation is better than the Diadoras with the mesh soles.

I haven't had any hot weather to ride them in yet, but if the cold weather ventilation is any indication I'm expecting very comfortable feet this summer
Micheas
RUN BIG !!
Familiarity:

I returned this product before using it
First of all the shoes feel amazing when they are on your feet but definitely have a lot of room in toe box compared to other brands. My current Shoe is a Scott RC which is a very narrow shoe that personally for my feet feel great. I thought maybe I would try something with a little wider toebox to see if that would be more comfortable. I had read previously in the reviews that some people said the shoes ran big but I stay true and ordered my current size. Sure enough I felt like these were a little too roomy for me and felt like my heel would slip quite a bit even when they were tightened up snug. I went as far as trying several different insoles to see if I could make up a little room in the volume of the shoe and would put them on every evening when I got home from work and would sit around in them just to try to get a feel for them with different insoles but in the end I just couldn't see risking riding in them just to find out they would not work. So I'm returning these and picking up a pair of Scott RC lace ups and sticking with what feels good on my feet.
jason H.
The jury is still out
Familiarity:

I've used it several times

Fit:

Runs large
I have never ordered shoes online before and I was a bit nervous about doing so. However I had read some great reviews about these shoes and they were on sale, so I thought I would give them a try. The shoes are very nice. The soles are stiff and I really like the quick release boas. However I am less sure about the fit. I normally wear a size 45 and that is what I ordered but the shoes are a bit large. I am not sure that a 44.5 might not have been a better choice. Also I have high arches and the part of the shoe that wraps over my arch is not padded. So if I snug the shoes up tight, the leather digs into the top of my foot. Finally the mounting holes on the bottom of the shoes are quite far forward which made it tough to get my cleats set up. All things considered, the jury is still out on these shoes in my mind.
art102323168
Very stiff. Runs a litter larger
Familiarity:

I've used it several times

Fit:

Runs large

Size Bought:

43
I like the product.
Edgardo B.
Height:
5'11"
Weight:
160lbs
Too narrow for me
Fit:

True to size

Size Bought:

42
I really want to love this shoes. Love the look and color but not the fit. I have semi-wide feet. I ended up going with Specialized Torch 3.0.
Paul Sukphisit
Height:
5'4"
Weight:
143lbs
My first non-SIDI shoe
Fit:

Runs small

Size Bought:

46.0
Note, the 2018 model is out as of November 2017 - Infinito R1 for $400 MSRP direct from Fizik. That said, the design changes seem subtle (I have both in my possession), so as long as you get the right size/fit your best bet may be to get this discounted 2017 model. The main differences I see is 1-2 more anchor points for the BOA wire, and the fabric is cut a little more strategically so you can pull it a little tighter (move the 2 sides closer together) with the dials. The outer soles appear identical - very sleek, thin unidirectional carbon with vents. The 2018 inner sole is more engineered, but it's a non-issue if you use a custom orthotic like me. The shoes are very lightweight and you don't feel the bands of pressure like you do with conventional straps. Instead, the whole shoe closes around your foot like a sheath. It almost feels loose at first since you don't have the localized strap tension. They are both very lightweight (cannot tell any difference in hand). It seems to run exactly 1/2 size smaller than Sidi. So, I am a 46.5 in Sidi and a 46.0 in these Fizik.
Alan B.
Very stiff. Careful with the sizing
Familiarity:

I've put it through the wringer

Fit:

Runs large

Size Bought:

46.5
I've been using these shoes for a few months and I put a few thousands of miles on them.
The first thing I noticed was how stiff they were, compared to my previous shoes. This makes a noticeable difference in power transfer, which I'm really happy about.
So far, and after a lot of abuse, they're holding up great. A few scratches here and there, but they still look great and just get more comfortable with time.
Based on the previous reviews, i downsized 1/2 a size, from my usual 47 to a 46.5, which fits great.
Overall, a great pair of stiff racing shoes that look great too.
Pablo Bles
Height:
6'3"
Weight:
155lbs
Initial Reactions
Familiarity:

I've used it once or twice and have initial impressions

Fit:

Runs large

Size Bought:

42.5
First off, these shoes run way big! Should have trusted the other reviews, but the guy I talked to at competitive cyclist told me to stick with my size, since I own a pair of the fizik R3's in a 44.5. I had to move down 2 sizes to get a good fit (see photo for comparison). So it was a bit of a pain to find the right size.



I just went for a quick ride on the trainer to check cleat placement and a few initial thoughts. The double boa is awesome, first off. It was nice to make minor adjustments to each dial to get a great fit. These shoes are really stiff too, that was something I noticed within the first few pedal strokes. I felt like a got a few more watts just from increased efficiency in transfer of power. I'm no weight weenie, but these shoes are light and well ventilated as far as I could tell.



The only reason I didn't give these shoes 5 stars is because I haven't put enough miles on them to have a real opinion, but first impressions are important. So far so good! I do wish fizik put some more creative touches in their packaging for shoes of this price point. The box is a little basic and lacks some of the flair I'm sure I would have gotten had I bought a pair of Rapha shoes.
pkvelo
Love These Shoes
Familiarity:

I've used it several times

Fit:

True to size

Size Bought:

45.5
I was looking for a very stiff, very light, narrow fit with a bit of room in the toe box. These are perfect. I wear US11.5 and the 45.5 fit me perfectly. Around 300 miles on them now. Love these shoes.
Mark F.
Height:
6'1"
Weight:
184lbs
Simply AMAZING
Familiarity:

I've used it several times

Fit:

Runs large
Great closure system, looks great but lacks arch support, can easily buy insole. Runs large. I use a fizik R1 probably 5-6 years old in size 42. However I had to get a 40.5 in Fizik R1B.
Andrew M.
Poorly designed instep
Familiarity:

I returned this product before using it

Size Bought:

41.5
I will start by saying that shoes are a very personal thing, and what works for one person might not work for another. I knew within 15 seconds of putting this shoe on that it would not work for me. The piece at the top of the tongue (where the "R1" is printed) is made of hard rubber, with a sharp edge facing the top of your foot. when I press down with my toe (i.e, a normal pedal stroke) it cuts into my foot quite painfully. I did order a half-size down from normal, as a number of others suggested that these ran large. However, I do not believe that sizing up would make a difference. I have no idea why they decided to make that piece from rubber, if it had been any sort of cushioned material, these would have been great. I still think that these are the best looking shoes out there, but if I had known about the material choice for that fairly crucial part of the shoe, I never would have ordered them in the first place. If you have a fairly pronounced instep tendon like I do, look elsewhere. If not, give them a shot.
Jon K.
Sweet shoes and are really comfortable. The double BOA closure system even pulls the top of the shoe over the foot without creating hot spots. Only issue I had, was that they run a bit big for me. Typically I wear a 44, but I needed a 42.
Clayton Otto
Solid Shoe
Familiarity:

I've used it several times

Fit:

Runs large

Size Bought:

42.5
Solid shoe, seems to run slightly large as I normally run a 43 in Sidi and Specialized high-end road shoes, and ended up with a 42.5 for the R1. Shoe breathes very well, and the boa system works fantastic. I did need to swap out the insoles as they did not work for my medium arch feet. Fairly lightweight, and the look is super high-end. Overall a solid shoe.
Todd
Height:
5'11"
Weight:
163lbs
When it comes to shoes I have serious issues. If there is the littlest imperfection in the fit it finds a way to explode onto my foot somewhere. Having fought plantar fasciitis a few years ago I have learned the hard way that one of the most important pieces of equipment for a rider is undoubtedly shoes. The new fizik R1B is not only one of the most comfortable cycling shoes I have worn, but one of the most comfortable shoes I have worn.
Fizk calls it Volume Control technology with some micro-adjustable Boa IP1 closure controls...I call it a comfortable shoe.
As soon I slide my foot in I knew it was going to be a good fit, even without putting in my own insoles. Surprisingly the insoles are really good with a good amount of arch support and dense cushion. Nothing a hate more than spending a few hundred dollars on shoes and the first I do is throw the footbed away. Not saying these shoes will work for you, everyone is different when it comes to shoes, but I have worn a lot of different shoes and these are at the top of the list right now. Feel free to reach out if you have any questions and/or concerns about fit.
Size Purchased: 42.5
For reference I wear a Specialized 42.5, Shimano 42.5, Giro 43, Adidas 42-¾, Nike 42.5, Sidi 42 / 42.5
Bill Sherman
Customer Account Manager-Bike
Office: 801-204-4545
bsherman@backcountry.com
Bill S.
Beautiful Shoe that Breathes well
Familiarity:

I've put it through the wringer

Fit:

Runs large
I've been very pleased with the R1Bs so far, and the best compliment that i can give is that most of the time i don't really notice that they're there. That's something that I can't say for a lot of shoes that i've tried.... I will say that these shoes seem to run big and whereas I was a size 42 in the Sidi Wire Airs (8.5 US men's), I am a 41 in the R1s.
Peter N
What took so long?
Familiarity:

I've used it once or twice and have initial impressions

Size Bought:

44.5
This is the 21st Century and only recently with my purchase of the R1B have I finally found a shoe that fits and fits so comfortably. I have been using Sidi's for years mainly because that's what everyone recommends for a top end shoe. I got my shoes and wore them for about a hour then decided the fit was pretty good so I installed a new set of Look cleats then after several mounts and dismounts on the bike to get the cleats dialed in I rode a route on my Tacx trainer for some mileage to see if I'd get hot spots or any discomfort. I can say I'm very pleased with my purchase so far. I don't think I would ever go back to velcro straps again. I think the BOA Dials are great and I really like them. The look and design of the R1B is something I like too, no huge white logo that turns yellow over time. I only hope they wear well but only time and use are going to tell me that. I read in most of the reviews I found that people have found heal grip to be a concern but I am not getting any slip, in fact my heal slips in my used Sidis more. The thing I did like about the Sidis is the replaceable parts which have been replaced alot. I hope I don't have that same experience with the R1B. I was concerned about what fit size to order. I measured my foot standing on a piece of paper and it measured 11 inches. I wear an 11 US size shoe. I wear a 45 Sidi shoe. I ordered the Fizik's in a 44.5. They fit great and are wide enough for my feet and toes. Sidis were narrow and the mega's too wide. I'm not trying to knock Sidi here but I seem to have difficult feet to make happy in a cycling shoe, so with that said, I would say the R1B has been a purchase that I am glad I decided to go with and worth the price paid.
was105951015-0
Height:
5'11"
Weight:
175lbs
Best Road shoe yet
Familiarity:

I've used it several times

Fit:

True to size

Size Bought:

43/White
Fit 5, stiffness 5, quality 5, lightness 5 and the shoe breathes so well! I live in Palm Springs, CA and always looking for a shoe that has good ventilation this one fills the bill in spades!!! Also, great styling and clean lines (see my comment to Rob B)!
Frank L.
Height:
5'6"
Weight:
170lbs
Just missed
Familiarity:

I returned this product before using it

Fit:

True to size
I am a road cyclist who rides almost every day. I've been riding a 2012 pair of Specialized S-Works shoes for the last 4 years but the time has come to retire them and move on. I loved the look of the Fizik shoes and read positive reviews and decided to take a shot.

The shoes came today and I love the look in person. Very sleek, and nice. The Boa dials are much better than my old ones and I really liked the pop up quick release feature. You can fine tune the fit with the dials as well (both tighter and looser). Very easy to get on and off.

The upper material felt great. It wraps around your foot nicely and feels soft but snug at the same time. Compared to my S-Works shoes there was more room in the toe box. This is a plus to me.

Overall the fit felt really nice. The sole feels about as stiff as the S-Works and the placement of the Boa dials makes the shoe feel nice and snug and gave me the feeling that the shoe really wrapped around my foot. At this point I really liked the shoe. It felt like it was of really high quality, the upper material is awesome, supportive but soft.

The deal breaker came with the heal. Simply put, I could not stop my heel from slipping. Not just a little but a quite a bit. I cranked the Boa dials down as firm as I could - so much so that after a few minutes I could feel the pressure point of each dial on the side of my foot and it started to cause my foot to fall asleep but I could not stop my heel from slipping.

I really wanted to like these shoes and they got 3 out of 4 areas right for me but the heel issue means I'm sending them back. Overall I would say if the heel works for you these would be an awesome pair of shoes. The upper is far superior in feel to the S-Works and the sole is nice and stiff. Fix the heal and I'd probably be a customer for a long time.
Robert B.
These new R1B's look very nice indeed. How is the midfoot width? Narrow like regular Sidi? Or wider? Anyone tried them on?
Jonny Heinken
Best Answer
I have regular Sidi and have tried these on. The midfoot width is similar to a regular Sidi. Much longer though. About one full size longer. So if you are a 43 Sidi I would go with at least a 42 Fizik.
John H.
Hey Jonny, midfoot width was slightly wider than my Sidi and S-Works 6 shoes.
Todd