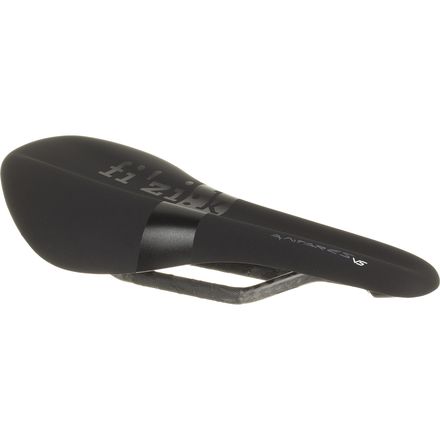 Colors

Detail Images
Adapted to you.
Fizik recognizes that cyclists require different features in saddles, and its fit guide, known as the Spine Concept, focuses heavily on how spinal flexibility affects saddle comfort. The Antares VS Carbon Braided Saddle borrows from the sleek silhouettes of its pared-down race models, with a few changes in construction to suit it to riders with average flexibility — Chameleons, according to the Spine Concept — who also happen to prefer saddles with pressure relief channels.
The Antares VS is a member of Fizik's Versus line, a collection of saddles designed with pressure relief channels of varying sizes at their centers, measuring 7mm in the case of the Antares. The channel encourages circulation and blood flow while you're pedaling, and it does so without compromising the structural integrity of the rest of the saddle, which some cutouts can do. The Antares remains stiff and strong, with low-density foam providing some added comfort without weighing you down or adding bounce.
While you're out riding, the saddle's braided carbon rails lend it the ability to dampen road vibrations moving through the seatpost, creating a less fatiguing ride over time, and the carbon-reinforced nylon shell features engineered flex to facilitate pedaling. Finally, Fizik stretches a Microtex cover over the top of the Antares VS to protect it from damaging sun and rain so it can remain a part of your setup for miles to come.