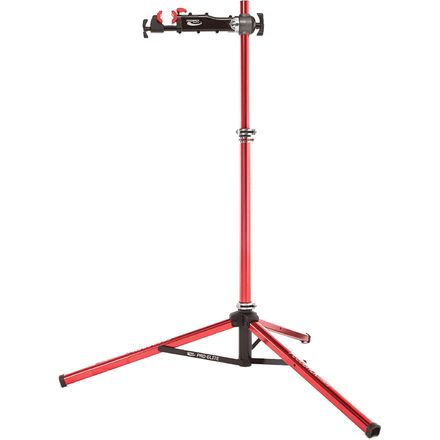 Colors

Detail Images

Community Images
Simple, durable, convenient.
Feedback Sports started as an offshoot of Ultimate Support Systems, the company known the world over for its speaker stands (big speakers, concert-sized). So it should probably come as no surprise that the three-legged design of the Pro Elite Bicycle Repair Stand is rock solid. What was a surprise, though, is just how useful, strong, and simple the clamping mechanism is.
Throw the seatpost in between the jaws of the clamp, push it in, and give the wheel a few turns to tighten it down completely. When you're done, back it off a hair to relieve tension on the threads, slap the spring-loaded quick-release, and voila! After years in bike shops using the old-style clamps, this was a surprising revelation.
The Pro Elite Stand folds up small, so you can take it to a race, keep it in a closet, and generally not mess with it until you need it. This one even comes with a tote bag to make transporting it easier.
Three-legged design
Quick-clamp jaws
Collapsible
Includes tote bag
Bike Stand
Familiarity:

I've put it through the wringer
I have a bike class in a middle school I bought two better quality bikes stands so the students I have trained as mechanics can learn more about the bikes and learn to do basic maintenance. I am much more secure moving to each bike rack as it is a sturdy stand. This allows me to move from stand to stand not having to worry about anyone getting hurt or a bike falling off or a stand tipping over. Thus far we have fixed three bikes. 8 more to go...
Diana D.
Best portable stand
Familiarity:

I've put it through the wringer
This is the best portable stand. It's easy to use, durable, and packs up nicely.
Ben Melini
Moderate Use and it's awesome, still new
We turn our own wrenches on our bikes most of the time and use this stand for fork services, bike cleanings, bike maintenance and even travel with it on vacations far from a LBS. It's been a wonderful piece of equipment and with the included tote bag it's easy to manage and pack.
Bryan Smith
Awesome
Familiarity:

I've used it several times
My first ever workshop stand. Funny enough my back used to hurt more from working on the bike than being on the bike (slammed stem and all). No more, this thing is a beauty , lightweight and looks sturdy enough to last for decades. I hesitated spending that kind of cash but now I think I can't do without it!
George
Perfect bike companion
Familiarity:

I've put it through the wringer
I got this repair stand to go along with my Park PRS-20. So far this stand is a lot better suited for working on newer mountain bikes with Boost and or TA setups. I've turned wrenches for 25+ years, and have used these stands in the past, and now I have my own stand to service my own fleet of bikes. It is easily setup and offers great versatility to accommodate "all" bikes. If you're looking for a "do it all" repair stand, don't look any further, do yourself a favor and pick this stand up for yourself.
Scott Golsan
Well Designed
Familiarity:

I've put it through the wringer
This is the perfect bike stand; stable plat form, easy to transport, and a well designed quick release clamp. Highly recommend picking this up to go with your new bike; it makes cleaning and working on your bike a lot easier.
Fritz Hanseler
The Best Portable Stand Yet
Familiarity:

I've used it several times
I picked this stand up recently and so far it has not let me down. It's lightweight, easy to setup, easy to use, and feels like a quality product. It took 3 minutes to setup out of the box and no time at all to get used to, coming from a Park Tool stand. It clamps securely and quickly and the release button works well. Feedback customer service is excellent so I'd have to say this is the best stand I've tried yet. The push button release does feel the flimsiest on this stand so I'll be keeping an eye on it, but I've heard no reports on it's failure. The only downside is if you're used to a sturdy shop stand, be careful when wrenching hard in this. It's definitely not as stable as stand with heavy bases and can tip if you're slinging your wrenches too hard, but it's not designed to be that kind of stand, it's the portable option.
Daniel
Exceptional Stand
Familiarity:

I've used it several times
This is my first work stand I've purchased after using exclusively Park stands. What a major difference: easy to use, adjustable, and sturdy.

A great purchase for me.
Ricardo D.
Amazing
Familiarity:

I've used it several times
so ridiculously solid, you can really wrench on your bike when its in the stand. The quick adjust jaws are totally worth the upgrade, especially if you've got a few different bikes you are always putting in the stand. couldn't possibly be any better unless it came with a basket
James Bleuer
Love this stand. Easy to use, portable and solid.
Charissa Olsen
Great Stand, A Must for DIY...
Familiarity:

I've put it through the wringer
This stand is very helpful when cleaning, maintenance, and is portable enough to help out on those longer weekend/trips.
Timothy J.
Stable and Compact
Familiarity:

I've used it several times
I was in need of a stand and picked this one based on the reviews. It does not disappoint. Nice to have the travel bag as well. When packed up it takes up as much room as those folding camp chairs that come in tote bags. Very well made and is stable.
Ben B.
Intuitive and secure
Familiarity:

I've put it through the wringer
Park tool once made a head that was similar to the feedback sports but it only came on the top end team travel stand. Feedback sports has had it for the most part across all their models since the beginning and it's one thing that has set them apart. It is secure and super simple to use. Simply hold your bike up and put the seat post Inbetween the clamps, push in, and then give it a turn or two to tighten your bike in securely. Then when you are done, press the button and voila! It opens up and you can get your bike out. The rubber on the inside does a good job at not scratching your seat post, though it is a good idea to put a towel or rag around your frame if you need to clamp it around your expensive carbon frame. It folds up compactly which is also very nice and takes up very little space and it is very light weight. Sometimes depending on the bike and how you have the legs positioned, you might find that your bike might tip over. Simple fix really, just rotate the legs to the position that is the most stable for your application and then you're back in business.
Brennan K
I can't believe I waited this long
Familiarity:

I've used it several times
I just set up my new stand. I've been using the same Park stand for almost 20 years, and when I opened this up I couldn't believe it. The build/materials are absolutely top-notch. It is 10x more stable than my old stand, and 10x easier to get the bike locked in there. WAY more adjustable, lighter, and folds down into an easily stored or transported unit.

I thought i was spending a lot on this stand, but now that I have it i think it is an absolute steal. Between myself and the family, we have 9 bikes to maintain... this is going to make my life significantly easier.

If you're serious about doing your own wrenching... don't hesitate.
Richard S W.
park tool doesn't even compare
Familiarity:

I've put it through the wringer
I upgraded from a PCS-10 to this and am kicking myself for not doing it sooner. Between the ratcheting/quick-release clamp, light weight, collapsiblity, and included carry bag this makes up for the slight difference in price.
skinny cyclist
I have a KS Lev dropper post on my Cube mountain bike. Will the dropper post not be damaged if I suspend the bike at the dropper?
Jan J.
Hey Wil105946508,

You will want to suspend the bike from the outer post and not the inner post. Suspending the post from the inner post could damage the post.
Dan Be
i suspend my bike from my top tube. you could also wrap a towel around the seat tube.
Chris Huntley
Outstanding!
Familiarity:

I've put it through the wringer
I already had a perfectly good Park Tool stand- not really sure why I bought the Feedback Sports version, other than the idea of the ratcheting QR clamp really appealed to me...

Turns out that feature is fantastic! It really makes working on heavier MTB's so much more enjoyable, just because it's now so easy to clamp them up and unclamp them.

The quality of the stand is top notch, the finish is perfect. It's lightweight, but sturdy. BUY THIS STAND!
s28p679451
Great Bike Repair Stand!
Familiarity:

I've put it through the wringer
Well, what makes this stand great?



1. Easy setup and take down - extend the legs, neck, and arm. Reverse to take back down! Easy!

2. Is sturdy and balanced - it is HEAVY DUTY! This stand means BUSINESS! My wife walked in when I first set this bad boy up to adjust my rear mech, and she thought I turned the living room into a bike shop. It's solid and there is NO sway when you need leverage to turn a pedal loose, or whatever. The quality of the stand will outlast me and my bikes.

3. Easy to get bike in/out - it has a QR button, which makes changing from all of my bikes super fast (I don't own an aero bike, so haven't tried the clamp on one of those seatposts, but works well with '14 Giant Defy, which sort of has a shaped seatpost). One word of caution here: be careful in tightening bike because I have no doubt the clamp could crush the crap out of a carbon seatpost!!

4. EXTRA EXTRA ... comes with heavy duty (ballistic nylon material) carry bag, which when folded down takes up no space at all and allows me to fit it into a small corner of my precious Manhattan sq. footage (trust me, if you live in a place where R/E costs $1,500/sq. ft., this is a MAJOR benefit)!! Also, since it's mostly unseen when not used, no complaints from the wife, and that's always good news when buying bike kit!!



Combine all those benefits with the fact that it is very competitively priced at CC / Backcountry.com, and you've got yourself a serious WINNER!! Definitely exceeds expectations!! If you're on the fence and need a bike repair stand for cleaning, repair, and maintenance, then BUY IT NOW!!
herebedragons
Purchased this stand a week ago. At first I almost returned it because I did not think the clamp would work on my aero seat tube, because it clamped side to side. I also looked at the Park Tool prs 25 team issue. I actually had REI pull one out of a box to compare build quality, (no wow factor) Parks clamp needs to be completely removed to transport. No bag is included w/Park stand. But I liked the clamp on the Park for my Aero seat tube.(Park clamps front to back on Aero) Then I visited four bike local shops asking them which one they would purchase if using their own money. Mind you they all offered to order in either model as they were retailers for both companies. Every one chose Feedback Sports stands. One shop actually had two Feedback clamps mounted on their commercial Park (bolted down stands) in their shop. The best part of my adventure was a bike mechanic showing me how to orientate my Feedback stand to grip my Aero seat post Front to back, instead of clamping side to side.

This stand comes with a very heavy duty protective bag for storage or travel. Plus with the $37. credit applied after delivery, you can purchase an accessory tray or other products. If you have any questions or concerns about this stand, please do not hesitate to send your questions my way.

This is truly a remarkable piece of workmanship, I am proud to have in my home bike shop. We need 6 STARS for this product Competive
Gianni Versace
Best stand ever!
Familiarity:

I've put it through the wringer
Finally decided to purchase a better stand than the cheap ones offered by other companies.

This stand is super durable and is very well designed.

It folds up small enough that I don't hesitate to take it along on road trips.

The included Tote bag is worth the extra expense to protect the stand if you're going to travel with it.
Stan M