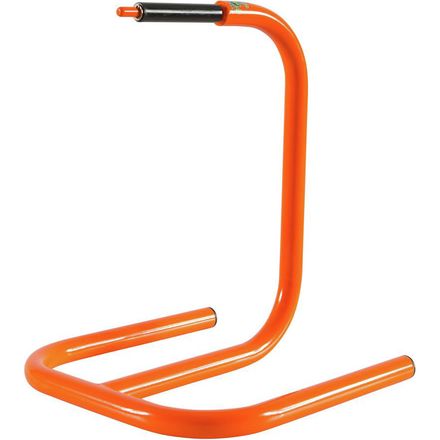 Colors

Detail Images
Repairs made easy.
Like most good ideas, the Scorpion MTB Stand is a relatively simple, straightforward tool that's sure to make your life a lot easier. This minimalist stand helps you perform simple repairs to your favorite mountain bike without taking up the space of a traditional bike stand. It attaches to the hollow spindle of your bike's crank arm, supporting your bike with the rear tire elevated off the ground. This makes gear adjustments and other maintenance work much easier. It's also super-light and portable enough for race day, weighing in at just four pounds. The Scorpion MTB Stand comes with an adaptor to fit most hollow cranks, such as Shimano, SRAM, Rotor/FSA, Specialized, Truvativ, and Cannondale. Moreover, it works with 26, 27.5, and 29-inch wheels for compatibility with your favorite XC, trail, and enduro bikes.
Works with 26, 27.5, 29-inch wheels
Comes with crank adaptor for use with hollow crank spindles
This stand is cool!
Familiarity:

I've put it through the wringer
These stands are nice and functional. Cool colors too, but the paint does come off some.
Toots Magroots
Functional but no perfect
At it's most basic, this is a very functional storage or work stand. It comes with 3 different sized "adapters" (plastic sheaths that slip over the end) to fit a variety of hollow cranks. It's sturdy and easy to move around with or without a bike on it. Mine arrived with the paint already flaking off even though it was well packaged. It would be great if these were powdercoated instead of painted.
Eric D
Exactly what I need it to do
It holds my bike up in storage and when I am washing/wrenching on it. The paint did fleck off at the end fairly quickly... but that doesn't compromise it's functionality. Easy purchase to recommend for others needing a quick, mobile, light stand.
Jonathan Cowan
Excellent stand, easier cleaning/repairs
Familiarity:

I've put it through the wringer
Really like how simple and stable this stand is. Mine was scratched pretty bad upon arrival, but I did more damage to it the first time I used it on the concrete, so not worried. Holds bike steady for repairs. chain/derailleur repairs still tough since the stand messes with the pedal spin, but for a home stand this is cheap/easy/small and works well
AaronC
It's good if you just need something to keep your bike from falling over in the garage or to stand it up while cleaning, but isn't really sturdy enough to do any real matinace on your bike.
Teresa Nguyen
Great option for bike storage. Stand has different crank arm sizes to accommodate different bikes. Seems sturdy but a little bulky for traveling
Christine D
Stand Up!
Familiarity:

I've put it through the wringer
Great little stand that is simple to assemble and use. Put it through the middle of your cranks and you can hold your bike upright. Furthermore it lifts your back tire up enough to spin the cranks.
Nick Chan
Great Stand
Familiarity:

I've put it through the wringer
I picked up two of these for keeping the bikes front leaning on stuff in the house and they are nice and portable for using at the trail head or on trips when you need to do a little work to the ole bicycle.
Jared Downs
FINALLY
Familiarity:

I've put it through the wringer
maybe you feel the same way. I have needed a stand to work on my bike for years. Now I can do work without having my bike fall. So simple
Diana Jenson
Stands your Bike up!
Familiarity:

I've put it through the wringer
This stand works as it should. It stands your bike up so you don't have to lean it against walls. There's not much else to it!
Zach Higgins
Awesome
Familiarity:

I've put it through the wringer
I love this stand. I have 3 of them around the house. I do think $60 is a bit much for what it is. So catch the sales.
Alex Witcher
I use it for cleaning and maybe a little bit of light maintenance. I didn't come with an adapter that fits my cranks, but it doesn't move around too much. Overall pretty good though
Sam Broome
Easy to Use, Stable
Familiarity:

I've used it once or twice and have initial impressions
This is a great bike stand. It requires very little assembly and it comes with 3 different size sleeves so you can make sure it fits your bike properly. The colors are a nice touch. I ordered mine in Turquoise and the color matches the photo. It also makes simple maintenance like changing my tires easier to do with the bike supported.

I wish it was more packable, as this is one solid frame without any folding or jointed parts that would allow it to pack down a little nicer. But it's lightweight and pretty small so it would be easy enough to travel with.
Ana Stamenkovic
Practical stand
Familiarity:

I've used it once or twice and have initial impressions
Works well with my X1 SRAM transmission. Stable, small footprint for space saving and well built. However does not allow free pedal spin with my DMR Vault flats
Joe F.
Mt bike Stand
Familiarity:

I've put it through the wringer
real easy to use and easy to pack with you!
shane teano
Tips For Assembly
Familiarity:

I've used it several times
This Feedback Sports Scorpion MTB Stand is low profile, easy to travel with and great for small work spaces but it can be tricky to set up. It will come with two spacers, an eyebolt and the crank adaptor. It is very important to flare out the ends of the eyebolt in order to get enough friction to hold the adaptor together with your cranks (see picture below). Feel free to reach out to me if you have questions about this Scorpion Stand.
Kyle Livingston
Solid Stand
Familiarity:

I've used it several times
I got this stand so that I didn't have to flip my bike upside down or lean it against anything while I was cleaning or doing light maintenance. With that, it has served it's purpose for sure. It also helps with storage if you have multiple bikes so that you do not have lean them against each other.
JB Graham
Would this stand hold a 60lb EBike?
John B.
Matt E.
Meh
Familiarity:

I've used it several times
I like this stand but there are a few things I don't like about it as well. It gets the job done holding your bike up and allows you to complete some light maintenance on your steed if need be. When my stand arrived the paint was chipping off and there was no hardware to keep the plastic sleeves on the arm. There are two end caps, on the stand legs, that fall off everytime I move the stand. I had to put some tape, on the inside of the stand, to prevent them from falling out. Nice to have if I need to hold my bike up without leaning on the something in the garage but don't think I would purchase this again.
Steve Tam
Great compact stand
Familiarity:

I've used it several times
I love these. They tidy up my basement so it doesn't look like a bike hoarder lives there, and they also let you check and adjust shifting while the bike is on the stand as the rear wheel is elevated.
Luke Dordai