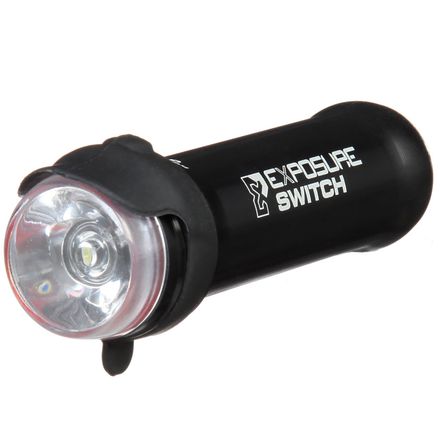 Colors

Detail Images
Commuting beacon.
Whether you're fortunate enough to have been commuting for years now or you've decided it's finally time to take a leap and start, you probably already know the importance of having a light. When surrounded by the sea of options that exists currently, we wouldn't blame even the most seasoned two-wheeled commuter to be a shade overwhelmed. If well-lit village or city streets make up the bulk of your commuting miles and you've got a penchant for smart engineering, Exposure Lights' Switch Headlight with Flare Tail Light makes a solid option for your next light setup.
Though it makes plenty of high-power lights for trail riders, Exposure tones down its road offerings for riders who don't necessarily spend all of their time in complete darkness. The Switch headlight's 350-lumen beam will still improve your visibility on dimmer side streets, but it will also help keep you visible in crowded bike lanes and on multi-use roads. It comes with simple steady and flashing modes, as well as a fuel gauge to help you keep track of battery life. When you're running low, just pop the Switch's USB cable into any USB port and top off on-the-go, if needed.
On your seatpost, the Flare emits a valuable 75-lumen pop of light behind you to ensure you stay visible to motorists and other cyclists with whom you're sharing a lane. Unlike reflective clothing, this tail light isn't dependent other people's lights, and it will pulse or remain steady to ensure you stand out among a tapestry of vehicles, street lights, and other distractions. The Flare comes with an easy-to-replace disposable battery, and it mounts on either your seatpost or under your saddle with Exposure Lights' separately sold Saddle Rail Bracket.
Stand out on crowded urban streets with this light set
Headlight emits 350 lumens in steady and pulsing modes
USB-rechargeable headlight can be topped-off on-the-go
75-lumen tail light mounts to either seatpost or saddle rails
Lightweight, compact designs won't clutter your frame