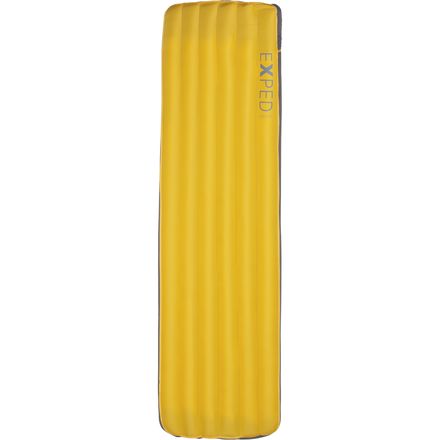 Colors
Solid and reliable performance for long-haul expeditions.
Designed for extended expeditions in cold and demanding environments, Exped's Synmat TT 9 Sleeping Pad is a durable and comfortable four-season sleeping mat that can be easily repaired in the field. The design of the Synmat consists of individual tubes that run the length of the mat and are protected by a durable, yet soft outer cover. The major benefit of this design is the mat will maintain its shape and insulating properties if a tube should somehow get punctured throughout the night. Once morning comes, the damaged tubes can be removed from the mat and easily repaired in the field. Each tube is also filled with a synthetic insulation for added warmth and comfort.
The Synmat features 3.5-inch sidewalls for added lift off the cold ground. Additionally, the mat features an I-beam construction to help eliminate cold spots and limit wobbling. Inflating the mat is made easy thanks to the included Schnozzel Pumpbag, which is, basically, a stuff sack with a valve that can be used to fill the mat with air. In addition to the main valve, the mat also has individual valves on each tube that can be used to dial in the perfect amount of air pressure in each individual tube, ensuring a comfortable and warm night's sleep.
6 R-value (-13-degrees Fahrenheit)
Texpedloft microfiber insulation
3D construction with vertical sidewalls
I-beam construction
20D polyester honeycomb embossed fabric
FlatValve technology
Schnozzel Pumpbag included
Repair kit and manual included
Bought 2. Used one in my Amok Draumr 3.0 hammock for 3 weeks strait. Worked great! I also used the 2 mats side by side in my Chrysler voyager van. Took out back seats at home. Went on a road trip with my wife and we slept wonderfully at rest stops and even decided to sleep in our van instead of hotels because it was so comfy! I highly recommend these. Solid built. I like the individual air tubes. If one goes flat you still can use the mat while you patch the leaking tube. The material is kind of noisy but not so much you wake up the neighbors lol. I also have a diwnmat 7 and synmat UL 7 that I love. Exped never failed me yet!
Ryan
Granite
Granite