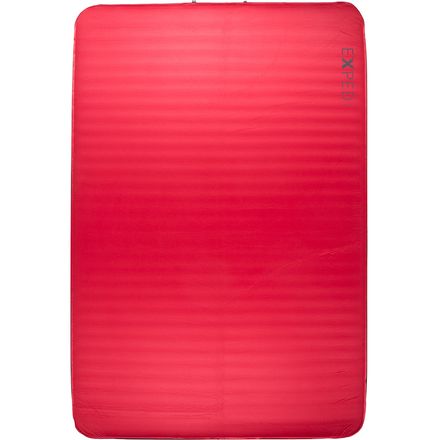 Colors
Sleep like royalty.
The Exped Megamat Duo 10 Sleeping Pad is the height of camping luxury and can be used in your tent or RV, or pull it out when friends come to visit. The self-inflating open cell foam core provides a pillowy soft sleep surface, and the tricot top provides slip resistance and a comfortable place to plop your body. Welded seams and fabric lamination keep the glues from breaking down, and the 3D construction with vertical sidewalls makes sure that your pad has the durability to last a long time. Separate inflation and deflation valves offer a high flow of air in and out of the pad when you need it. The included Exped Mini Pump can be used to blow things up quickly without busting a lung.
Soft and supportive sleeping pad for two campers
3D construction creates a level sleeping surface
Welded seams and fabric lamination for durability
Designed for weekend camping and camper vans
Separate inflation and deflation valves
Exped pump included for quick inflation
glamp away!
Familiarity:

I've used it once or twice and have initial impressions
I set this up for a test run in my backyard an was amazed how comfortable it was. I slept through the night and woke up with no back pain. If you are looking for a car camping mat that feels like a real bed this is the one for you.
ally curzon
Better than my bed
Familiarity:

I've put it through the wringer
Full disclosure, my current bed is 10 years old but this mat really is comfortable and changed my car camping set up for the better! Inflating it is a breeze with the included hand pump but deflating it takes a little more effort. I highly recommend this pad for anyone looking for extra comfort!
Nick Johnson
We just stepped up our game
Familiarity:

I've used it several times
My husband and I recently decided that our backpacking air mattresses are just fine for backpacking, but for car camping we wanted to step it up a notch. And we did. This Exped Megamat Duo is pretty pricey, so we tried some other options first... all of them were comfortable, but didn't come close to the comfort of the Exped Megamat. We decided if we're getting a mat specifically for car camping, we might as well go all out. So we returned the others and went with this one. I honestly think this mat is more comfortable than most beds I've slept on. The little hand pump it comes with works great, and you only have to top it off with a little air after its been sitting out self-inflating for awhile. My only concern is not being able to get out of the tent in the morning.
Jes Ford
Comfy.
Familiarity:

I've used it several times
My girlfriend convinced me to purchase this because she does't sleep well camping. This pad does the trick. A little pricey but it is well padded and insulates well so its worth the price of admission. Elevate your car camping game.
Eric White
Ok so I guess my injuries make me qualified to speak about this mattress.
2 Back surgeries 1 neck surgery 13 previously broken bones in my back. 1 broken hip (healed) and 3 ribs Healed.
Waking up is no party but I know a thing or two about resting well.
This is the mattress that allows me to travel again. I cant say thank you enough. No more stuck at home or having to pay tons for a hotel.
WoW! Is all I can say . if you are looking at this mattress then you are going to be very happy when you get it. 6 week motorcycle trip is going to be so much fun. Thanks guys
Edward B.
That goes without saying, but if you think you'll get the same quality and reliability from a coleman sleeping bed from Walmart as this, you'll be pretty bummed when you find yourself on a deflated mattress at 1 am.

Love this bed and won't car camp without it!
Kyle
Unanswered Question
Is this the 2017 model with the larger purge valve for deflating and the roll-top storage sack?
Ian T.
So comfy
Familiarity:

I've used it several times
The first night I slept on this pad was the first time in my life that I slept the whole night through (outside). It's sooooo comfortable. I have the 2017, which has the bigger deflate valve and the side open stuff sack. For car camping I have zero complaints, worth every penny. It even pulls double duty when my nieces stay over.
timdonaldson
Unanswered Question
Is this the newer model with the larger purge valve for deflating and the roll-top storage sack?
Backcountry Sportsman
Checking the Exped site, this pad is 70 x 30 cm, which is 11.8 x 27.5 inch.
Andy Rice
Very comfortable, very HUGE
Familiarity:

I've used it several times
I bought this for canoe camping and car camping, do not buy this for backpacking as it would take up most of a 70L backpack. Even putting it into a checked bag for international travel is most likely not an option.
Aside from the monstrous packed size, it is crazy comfortable for two people, fills a two person tent wall to wall, and is very warm. If it packed down to the equivalent of two normal insulated sleeping pads I would give it 11 stars.
Michael H.
5 star comfort, but HUGE!
I bought this as an indulgence for a 5-night camping road trip with my wife and 7-month old son. I felt my backpacking therm-a-rest would be a little thin for the job at hand. The megamat duo 10 is hands-down the most amazingly comfortable sleeping pad I have ever used. It is the size of a queen mattress. If you are trying to turn a loved one into a camping enthusiast, this will help.
HOWEVER, the thing is massive. If you leave it alone to self-inflate for an hour when you set up camp, you'll only need to spend an extra minute or two using the included hand pump (one of the coolest bits of outdoor engineering I've ever seen- you essentially do CPR on the foam pump to inflate the mat). The pad takes a very long time to deflate and takes the weight of two people to effectively squeeze all the air out so that it fits back into its stuff sack. This was the wrong pad to take on our trip because we went to a different site each day and the setup and takedown was too intensive. But as a base camp pad, or as a spare mattress for guests at home, this thing is tough to beat.
Simmjen
I purchased this and was impressed with the comfort. Even for car camping it takes up a lot of space. Returned and went with the single SIM mat that you can velcro together with another SIM mat. Super comfortable, just too large for my liking.
Jason True