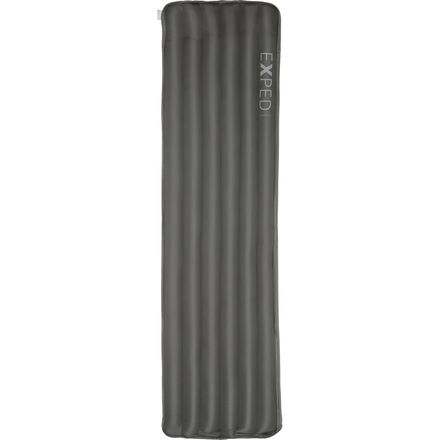 Colors
Soft and warm.
Exped's Downmat TT Sleeping Pad includes a pump and down insulation for easy and cozy camping in colder environments. Tube Technology uses separate air chambers for long-lasting durability, and the independent shell enhances comfort by separating itself from the light and lofty down insulation. Exped included a Schnozzel Pumpbag and an Octopus pump adapter for extra convenience.
Tube Technology
Independent shell with down insulation
Schnozzel Pumpbag and Octopus pump adapter
Better than my current mattress
Familiarity:

I've put it through the wringer
Seriously this thing is extremely comfortable!!! Do not opt for a cheaper option, it is worth every penny, it keeps you warm, it's durable and so comfortable you will want to replace your mattress with this! At least that is the case with me. Ive owned and used this model for over two years now and I am not turning back! Seriously such an amazing product, buy it, try it, and you will love it! My husband opted out for the ExpednDownMat XP Sleeping Pad Black, 9LW because at that time is was $288.95 which was $41.00 cheaper. I've used his pad to check out the differences numerous times and in numerous locations. It definitely keeps you warm but I found it to be too stiff, uncomfortable, and noisy due to the materials used in its construction (My husband was too proud to acknowledge it was uncomfortable). Looking back he does wish he would have just swapped out for the Exped Downmat TT Sleeping Pad even though it was $41.00 more because even he agrees it's the best pad, it keeps you really warm without sacrificing comfort and it has a softer material for the outer layer which is less noisy than that of the XP. This isn't something normally recommended for ultra light backpacking but I will not go anywhere without it. I don't mind having to carry the extra weight because what I will get in return is a good nights rest, which better enables my physical ability the following day. This was my experience with the this product which I really love, and I hope you find it helpful! Good luck, and enjoy your adventures👍🏽😉🏕☺️
Mary-Dove B.
Granite
Granite