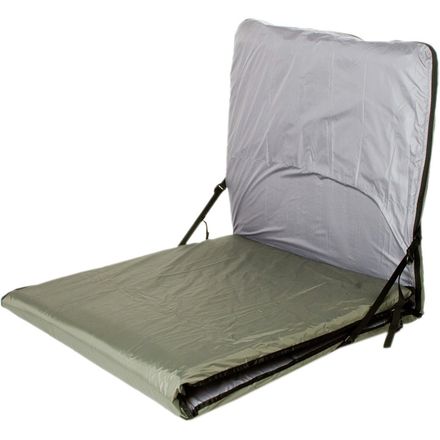 Colors

Detail Images
Make yourself comfortable.
Squatting around a campfire may have worked for our Stone-Age ancestors, but we've evolved since then. Enjoy the outdoors in comfort with the Exped Chair Kit, which converts your sleeping pad into a chair or lounger. Simply slip your mat into the protective cover, insert the stiffening poles, clip, and enjoy. When it's time to sack out, you can simply unclip the straps and stretch out without having to stand up.
Poles and straps can be removed to save weight when you just want the protective cover
Couple multiple sleeping mats using side buckles
Stuff sack included
Mixed feelings on this
Familiarity:

I've used it once or twice and have initial impressions
I want to love this product. It is exceptional as a chair/ lounger and super comfy fabric to sleep on.

But the whole idea of taking out the poles to make it lighter is not working. We tried and after much struggling go them out and then ripped the sleeve trying to get them back in.

Also the bag is way too big, even if you store the mat with it. It is too long, and the Velcro compression straps don't sit in the right place. You end up with a loose floppy package.

Having a great chair I guess makes up for the bag and the inability to take the poles out but fixing those 2 things would make this product awesome.
Anita Georgy
Comfortable, but fragile.
Familiarity:

I've used it several times
I took this to New Zealand on a 2 month backpacking trip I think it lasted 4 days before the stays broke and I was stuck carrying a useless piece of gear. Not impressed.
Brett M.
What are the differences between the M, MW, and LW size options?
liesl_beck2099302
Hi Liesl,



The M is medium, the MW is medium wide, and the LW is long wide.



Thanks,
Matthew Pizza
The lightest backpacking chair option.
How to use this as a chair, chaise lounge, and pillow.
Emily Jenson
Camping will never be the same again!
Familiarity:

I've put it through the wringer
This is the most amazing thing I ever got to my camping gear. I have fallen asleep in upright sitting mode several times just because it is so comfortable, sometimes I even use it at home instead of sitting in our couch! That's how much I like it!
Johan K.
Stays are too long?
Familiarity:

I've used it several times
I like this in general, but it seems like the nylon stay-holders may have shrank because I can't get the stays in them anymore. It seems like the stays are about 1-2cm too long.



On Shasta last weekend, I was able to get the "bottom" (mid-section) stays in by prying them into place with a multitool, but I couldn't get the "back" (end-section) stays in place for the life of me.



Anyone else experienced this? I'm bummed, because it's a great product otherwise. I keep it on the pad 100% of the time (sleeping, storage, sitting, etc.).
Ross
Will this fit the Exped 10-4 inch thick...
Will this fit the Exped 10-4 inch thick mattress?
Tamara
Hey Tamara,

The LW size for this chair kit will fit the SIM Comfort 10 LW pad, which is 78 x 26 x 3.90 inches.
Travis Tzioumis
Envy of my camping companions
Familiarity:

I've used it several times
I've had this a few years now and love it. Just recently we were sea kayaking to an island and we all get our tents set up and all get around to cook dinner. My companions have no chair or their dinky tripod foldout they precariously balance upon. I have the incredibly luxurious Exped chair! Nobody could understand how it fit in my kayak! They did not realize my sleeping mat was inside. It is big and comfy with lots of insulation from the ground, and you can lean back against it and relax. It makes my mat multifunctional by becoming the cushion to the chair, therefore it cleverly conserves space. Also, sleeping with the chair kit on the mat increases comfort because you feel the tube shape of the mat less through it. All through the night my friends were envious of my chair as we sat by the fire. I felt like king. Exped rules.
Nick
Ted gives us a tour of the features and usage of the Exped Chair Kit. This kit works for all Exped mats as well as many other mat brands.
Granite
How much do the poles in this kit weigh...
How much do the poles in this kit weigh and can this be used without them? I'm having a hard time adding more than a pound to my bag for this. I am about 180 lbs 5'10 and I would be using this on my synmat 7 LW.
Greg B.
Poles and straps can be removed to save weight when only used as a protective cover for your mat.
Nathan
Unanswered Question
Does this work with the SynMat 7 UL M and...
Does this work with the SynMat 7 UL M and SynMat 7 UL S?
Andrew W.
Does this chair fit the exped 7 downmat...
Does this chair fit the exped 7 downmat 7?
Larry M.
Yes, the medium chair kit will accommodate that pad.
Artur D.
Okay, so I normally don't write these reviews but I think this product merits it. The picture that BC uses makes it look crappy but the chair kit is actually made of super high quality material and a lot of thought has obviously been put into its super functional features.
First off, the material on the top is super comfortable to the skin, while the bottom material is durable but light. All the straps, stitching, and zippers are all high quality.
Secondly, the functionality of this product is orgasmic--secret pillow Check out this video for all the functionality features: http://www.youtube.com/watch?v=OVwPdsHA21o
Plus, you can leave your exped mat (which are phenomonly underated and super high quality--great r value, comfort and durability) inside the chairkit and role it up, put it in the sack--making the set up and take down super easy.
anyway, I'm super impressed with this product--if functionality and high quality craftmenship turn you on, get this product!
josh jones