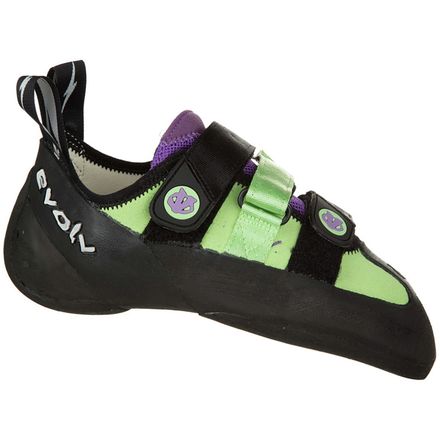 Colors

Detail Images
Get aggressive with the Shaman LV.
Lisa Rands and Emily Harrington helped Chris Sharma design the Evolv Women's Shaman LV Climbing Shoe. With three of the top names in the industry behind it, you know the Shaman LV packs some serious vert-grabbing power. Climbers with lower-volume feet can step right into the Shaman LV for a precision fit augmented by triple hook-and-loop straps. Two signature features combine for a specific and strong transfer of energy; the 'Love Bump' eliminates under-toe dead space, while the 'Knuckle Box' holds your big toe in a position of power.
Holds my toes to the wall
Familiarity:

I've used it several times
I bought these when my Katana's blew a hole and needed to go off to be resoled. I was looking for similar, or slightly more aggressive than the Katana's and these definitely fit the bill. At first I thought that I had bought the wrong size. Until now, I've only worn La Sportiva's, in sizes 34-34.5 (which my understanding translates to 4-4.5). But I heard these ran small so I bought a size 5. They were extremely tight right out of the box, almost painful. But I didn't like how tight my Katana's had been out of the box and I fell in LOVE with them, so I decided to do a little climbing and see. It's taken me two months to break them in how I wanted, but I knew I was going to stick it out the first time I climbed over a roof and my toes were like velcro on the holds. Especially as a short climber, my feet get me up the wall, and these really let me exploit what I can do with my feet. My Katana's have come back resoled, and I'm sad that I won't be in my Shaman's for every climb now - but I want to save them for the stuff that really needs the more aggressive profile. They heel hook great as well! I also appreciate the little nubs they have put in the shoe to make them more comfortable, and the three alternating velcro straps are GREAT! I have small narrow feet and I used to think velcro straps were terrible, until I discovered alternating - that's the only way to get the shoe tight enough for me - and the Shaman's are very adjustable. If you have very wide feet, because the shoe runs small, you may need to go up more in sizing, because I think the shoe is fairly narrow to begin with.

I love these shoes and recommend them.

Mylissa M.
Great Fit!
Familiarity:

I've used it several times

Fit:

True to size
They run true to size to my street shoes. I could tell they are a perfect fit for me because they're comfortable right out of the box: my toes are slightly curled and no weird dead spaces. My feet are flat and slightly wide, with narrow heels.
I've climbed in them for a couple of sessions. They do rub on my big toe knuckles a little bit, as all new shoes do. Otherwise they are pretty comfortable, and perform really well in steep bouldering.
Junyi F.
Awesome shoes!!
Familiarity:

I've used it several times

Fit:

Runs small

Size Bought:

5
These shoes run small I usually wear a 3 in regular shoes and I purchased a size 5 in these climbing shoes. They were a little tight but have stretched a little so they're great now. These are my first aggressive shoe and oh my goodness they have made a HUGE difference on overhung walls for me. They grip really really well, even on those tiny holds! Huge confidence booster when I wear these shoes. I would definitely buy these shoes again without a second thought!
Janell T.
Runs small, I went up a size, probably could've even went up a size & a half. Great grip with these, super comfortable. Love them!
Halie N.
Wonderful Climbing shoe
Familiarity:

I gave it as a gift but have feedback to share

Fit:

Runs small
Bought these shoes for my girlfriend and she couldn't be happier with them. They run a tad bit small so if you want your shoe to fit comfortably I would recommend sizing up, but if you like you shoe very tight like most climbers I would only size up a half size. All in all, very solid shoe!
Ryan P.
Unanswered Question
Hello there,
Will this shoe stretch over time? I wear a 7.5 street shoe and have a 6.5 and a 7 to try on. The 7 is very snug but not too uncomfortable but the 6.5 is super tight and uncomfortable to stand up in. My fear is that in a few months they will stretch like my other shoes and be too big. What's your thoughts?

Thanks!
mary
Great Shoe
Familiarity:

I've put it through the wringer

Fit:

True to size

Size Bought:

8
It is so nice to edge in these shoes. They're amazing for training in a gym. I haven't used them on a real rock, yet. Pleased with purchase.
Ai
Height:
5'5"
Pair #3
Familiarity:

I've put it through the wringer

Fit:

True to size

Size Bought:

6
I can legitimately only sing the praises of these shoes. I picked up pair number three after climbing the edges off of #1, the edges & eventually all the rubber in spots off of #2, and reverted back to #1 to climb the remaining edges and rubber off in spots. #1 and #2 lasted for 2 years of heavy binge climbing. I almost forgot what these shoes are like when they have edges! I love these shoes. The Shaman LV has become an integral part of my adventure seeking soul. I can't image my carny-sized feet climbing in anything less.
Jeni Nash
Height:
5'6"
Weight:
127lbs
These shoes are great!
Familiarity:

I've put it through the wringer

Fit:

Runs large

Size Bought:

7.5
These seemed to run 1 size larger than other rock climbing shoes. When we finally got the right size, they fit great and work great for outdoor and indoor climbing.
Linda H.
Height:
5'0"
Weight:
100lbs
Are the sizes for shaman LV in women's size or men's? I wear 40 EU and so I don't know whether to purchase size 7.5 or 9....this is too big of a difference to guess.
thu
Best Answer
This is the women's version, so these are women's sizes!!
LF
is the fit for the shaman lv the same as the mens version of the shaman?
Alex Garcia
Hey Alex



It is not the mens version has a wider toe box and a wider heel. I hope that this helps!



Cheers!
Jane Hwang
Hey, My foot mesures 24.3cms, I usually wear a size 7-7.5us. How are these shoes supposed to fit? I'm not sure if I should get a uk5 or uk 5.5



Cheers :)
Hello,



I went a half size down from my US size and my shamas fit great. The breaking in process sucks but they will stretch out, I promise. These are sized to US so I would get the size 7. I hope that this helps and let us know if you have any more questions.



Cheers!
Jane Hwang
I have worn the mens Shaman in my climbing shoe size, but the straps have lots of slack when closed. Being a lower volume shoe, will the Shaman LV have less slack when closed?
Patrick D.
Hey Patrick,



They should since they are made to fit womens feet. The Womens version has a lower volume and a more slender heel cup than the mens. I hope that this helps and let us know if you have any more questions.



Cheers!
Jane Hwang
Like father like daughter, or something.
Familiarity:

I gave it as a gift but have feedback to share

Fit:

Runs small
My favorite bouldering shoe besides the Nexxo from Evolv is definitely the Shaman. My fiance and I feel the same way about the women's Shaman; these shoes are amazing out of the box!



Why sacrifice performance for comfort?



With the Shamans you don't have too! Not only are they super comfortable but durable and precise as well. The unique lacing system allows you to tighten down for ultimate performance as well, making this the winner of many gear guides and editor choice awards.



Best female shoe on the market for aggressive climbers! Period.



The woman is an 8.5-9 womens street shoe normally, and she needed a 9 in these. So size up accordingly. Thank you!
Jonathan
I usually wear street shoes at 7.5, and my la Sportivas were a 39.5. What size EvolvShaman should I get?
Siri Miller
Hi there,

Evolv tries to size so that you don't need to go down in their climbing shoes. I would recommend trying that size 7.5 to start, that should give you a nice fit. If not, we can always get you set up with an exchange as well. Feel free to contact me with any further questions! kweiser@backcountry.com
Kayla Weiser
Hi! I've got 37 EU size (23cm) and as I've read comments here these shoes fit right to you regular foot size, so US 6.5 should be the right one for me, correct?



Thanx,

Natalie
natka
Hi Natalie,

Yes, I would recommend giving the 6.5 a shot! They are meant to fit the same size as your street shoe, so that should give you a good fit. If not, we can also always get you set up with an exchange. Feel free to contact me with any further questions! kweiser@backcountry.com
Kayla Weiser
I wear a size 9 in the regular Shamans. What's the recommended size for me in the Shaman LVs?
b0uld3r3r
Hey Bould3r3r,



Here is what you have to keep in mind when comparing these LV Shamans and the original men's version. First, these are women's sizing so a size 9 in these are going to be about the same length as a 7.5 in the men's. Where the Low Volume comes into play is the width. These women's version are going to be narrower in the heel and toebox.



What I am saying is that if you are wearing a size 7.5 in the men's version and you have issues with the heel being sloppy then get these but keep with the same length; Women's size 9.
Wayne Christoffersen
Hi Wayne,

Thanks for your reply. Does it mean that if I wear a size 9 in the men's; I should get the 10.5 in the women's?

Thanks!
b0uld3r3r
The climbing I do is split pretty evenly...
The climbing I do is split pretty evenly between bouldering and sport climbing. I want a shoe that is aggressive yet still edges and smears well. I'm deciding between the Shamans and La Sportiva Miuras- any suggestions?
Sarah Finger
Best Answer
Hi Sarah,

These Shamans and the velcro Muiras are intended primarily for bouldering and short, steep routes. If you can have two pair in your life, the Shaman would be an awesome go-to bouldering shoe. The lace-up Muiras will be more versatile, while still being aggressive. They are somewhat down-turned, but you can smear, edge well, and be more comfortable on longer routes. I hope this helps!
Emily Jenson
So I've tried on the men's version of this...
So I've tried on the men's version of this shoe but, of course, as I am a lady and have tiny feet, they didn't quite have my size yet seemed to fit me very well. I've never thought of my feet as "low volume" considering most climbing shoes I've owned have been men's shoes and they fit me perfectly (e.g. the la sportiva solutions). However, I'm interested how these LV women's shamans compare to the fit of the men's. And if I vary between a 6.5-7 (in women's street shoe sizes) should I lean towards the bigger size?
Laurensuzanne
Best Answer
Hey Lauren. I would say size 6.5 since they will break in. They are synthetic tho so they won't stretch out as much as the solutions would. If you would like, email me and we can discuss a few options we can do about getting you the right size. My email is skdavis@backcountry.com
Skylar Davis