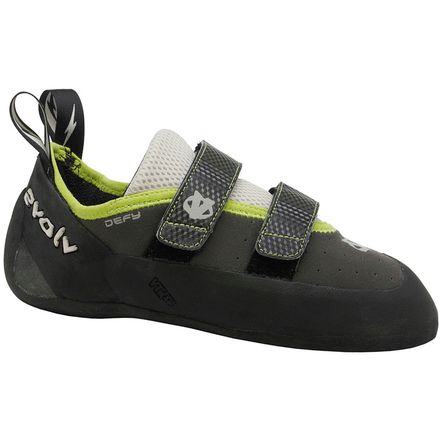 Defies gravity and the climbing-shoes-should-hurt-like-hell belief.
In a world where climbers believe that shoes are only good if they hurt like hell, the Evolv Defy Climbing Shoe stands out in the crowd with unmatched comfort in order to keep your feet nice and cozy while you learn the ways of the climber. A flat profile with a low asymmetric curvature makes this shoe an excellent starter for beginners in a gym, and it performs well when you take it to outdoor crags. Evolv made the upper out of Synthratek, which is essentially perforated synthetic leather that's sturdy and rigid yet incredibly breathable. The shoe's nylon lining offers plush comfort that you appreciate when you're hanging from a top rope for what feels like hours. And two hook-and-loop straps offer a simple yet secure closure.
Evolv added an MX-P midsole that's soft and sensitive so you can feel the rock and learn how to smear with an impeccable prowess. The Trax rubber sole features high friction that helps prevent you from slipping off the greasiest foot holds in the gym, and a VTR rand at the toe keeps you climbing in this comfortable shoe for a long time.

Perforated Synthratek upper
Two hook-and-loop straps
Flat profile
4.2mm Trax high friction rubber
Nylon lining
Standard asymmetric curvature
1mm MX-P midsole
VTR rand at toe
Good shoes - tight fit
Familiarity:

I returned this product before using it

Fit:

Runs small

Size Bought:

8.5
I was able to try these at a gym before I ordered them, and I got my street size (8.5's) - they were waaay too tight. My toes were beyond the "bent a bit for extra control" and into "ow ow ow ow" I couldn't take them off quick enough. I think 9's or 9.5's would've fit more comfortably, but not sure. I understand that some climbers like really tight shoes, but I am a casual climber, and want more comfort, theres no need for me to be in pain.

I returned them before climbing with them, but like I said I used the same model at a gym with great success, nice shoes.
Duane Schaffer
Height:
5'7"
Weight:
140lbs
Great beginner shoes!
Familiarity:

I've used it several times

Fit:

Runs small
I started going to a climbing gym about 3-4 times a week for the past month and a half, and these shoes were wonderful every time. I made the mistake of ordering my actual shoe size, even though I've been told to order a half size or full size up. However, I don't wear socks with my shoes, so even though it's a tight fit, it's not unbearably painful. Great for people starting to climb who don't want to spend a lot of money!
Daniel D.
They're good...what else can I say?
Familiarity:

I've put it through the wringer

Fit:

True to size
I was a little worried when I first got these shoes and tried them on (I got them in a 10 which is what I wear in street shoes) cause they were pretty tight. After wearing them a few times, they stretched just enough to fit me comfortably without leaving too much extra space.

I've used them probably 3-4 times a week indoor for the last 2.5 months and they seem to be holding up pretty well. I'd probably consider myself an intermediate climber. For the price I paid, so far they've been well worth the investment.

My biggest concern when shopping around for new shoes was that my second toe is a little longer than my big toe which had caused me discomfort in my last pair of shoes. After doing a ton of shopping around, I decided to just get these since there's not much out there for my specific situation. These have been totally fine on my long second toes. They scrunch up a little bit, but not enough to cause me discomfort.
Dan Jenson
Great Shoe for a New Climber
Familiarity:

I've put it through the wringer

Fit:

True to size

Size Bought:

12.5
This is my second pair of Defy's. I absolutely love them. They run true to size as I wear a 12.5 street show and wear these in a 12.5. I've only used them indoors but they do the job. They are not a very aggressive shoe making them comfortable to wear for long periods of time. They're made with both a velcro or laced option, but I prefer velcro because it's much easier to take them off between climbs. Rubber holds up extremely well and is quite sticky. Overall these are a great shoe for any climber!
Sam T
Height:
6'3"
Weight:
220lbs
Cannot seem to size this thing
Fit:

Runs small

Size Bought:

12
I first bought an 11.5 which is my street shoe size as well as the rental size I get from the gym. Barely squeezed my foot in, so returned for 12s. Just got back from Holy Boulders and am throwing this pair in the trash. Even the 12s are darn near breaking my toes. Footwork was majorly impaired as a gingerly avoided toes, opting for heel hooks just to keep my feet from dying. Wish I could return them, but they were worn for all of 30 minutes. Stinks to have to pay shipping for returns as well. Been loving Backcountry for all my gear needs over the years, but it's becoming far too difficult to swap sizes. Better to hit up a local store here to try things on.
Ken
Height:
6'0"
Weight:
176lbs
A well made climbing shoe
Familiarity:

I've used it several times

Size Bought:

10.5
I'm pleased with the performance I've gotten out of my Defys. Solid, confident grip and an easy on/off transition make earn them a four star review from me so far.
Patrick
Height:
5'10"
Weight:
180lbs
Unanswered Question
I'm in the UK, I wear a size 13 UK Defy VTR and am looking to replace them. What size should I order from this site? Thanks
Nathan
Great grip
Familiarity:

I've put it through the wringer

Fit:

True to size

Size Bought:

8
These shoes are great with sticking to the wall. Great for small stuff and they have great rubber. The only downside is that your tpes aren't as snug as I would like them to be. Otherwise this is an amazing product. They fit like a glove and weren't too insanely tight. The tighter thd better though when it comes to climbing shoes. These are great for fusion climbing, you can go from bouldering to hitting a wall to outside in a face with confidence.
Nathanael
Height:
5'7"
Weight:
135lbs
Perfect First Shoe
Familiarity:

I've put it through the wringer

Fit:

True to size
I wear a size 14 street shoe, and went for a size 14 in this climbing shoe. I have a pretty average width and profile foot and the fit was snug, not too tight and the shoes stretched a teeny bit after I broke them in. I used them primarily for climbing sport routes in Big Cottonwood as well as a little bouldering in the Gym. They are comfortable, functional shoes. They are not really great at anything in particular, but for me they were perfect first "do it all type shoe". Mine lasted about a year and a half of climbing pretty regularly (3-4 times a week) so the durability is not half bad either.
Craig L
Not Too Shabby
Familiarity:

I've used it several times

Fit:

True to size

Size Bought:

11
I'm currently coming off an ankle injury and needed a comfortable less aggressive shoe that I could wear all day at the gym. These are perfect for exactly that. I typically wear Sportiva Miura VS but couldn't get in them without some serious ankle pain. With the Defy I'm well on my way to recovery and pain free. Edging is not their strong suit but they are super soft and sticky and excel at smearing. For the price point they are a fantastic shoe if you're just starting out or coming off an injury and are in need of something more comfy.
Philip S
Height:
6'3"
Weight:
195lbs
Happy
Familiarity:

I've used it once or twice and have initial impressions

Fit:

True to size
I'm really happy with this purchase. For a simple and low cost climbing shoe for a beginner to intermediate level climber, the Defy is a great choice.
Colin Clancy
Height:
6'0"
Weight:
220lbs
Solid Entry Shoe
Familiarity:

I've put it through the wringer

Fit:

Runs large
Fit: These shoes ran large for my foot size, and I purchased them a half-size down from my street shoe size. The toes were tight at first, but were eventually stretched out enough to some of the initial edging was lost. The rest of the shoe didn't stretch that much, as they weren't that tight to begin with.



Performance: The Defys performed well for their designed purpose: a beginner's shoe. The soles are softer than other shoes, making it feel unstable at times when edging on small to micro seams. The toe of the shoe is wider than those of higher performance shoes, and it makes placing the tip of your toe in a surface pocket difficult sometimes.



However, because of the softer rubber sole, these shoes smeared very well, performing well on low angled slabs. The Velcro straps feel well placed, as their location allow you to really conform the middle of the shoe to your foot shape. The synthetic material on the top of the shoe, just behind the toe is perfect for comfort when climbing cracks, I've done a lot of crack climbing with these and have never had any complaints about the tops of my feet afterwards. The material inside the shoe is comfortable, yet another plus.



Durability: These shoes are fairly durable. The tips of my big toes on my shoes went out at about the same time, after 6 months of climbing (3-4 days a week) on them with 2 of those months having horrible footwork, which probably didn't help the situation. Everything else remained intact and functional, but not pretty.



Summary and Afterthoughts: The Evolv Defys are a great entry level shoe for a number of reasons: They are comfortable after break-in, they are fairly durable if you treat them well, and they are one of the cheaper shoes on the market.



If you are looking for a non-entry level shoe with powerful edging, or a smaller toe, look elsewhere. These shoes are perfect for the gym, which doesn't require good edging and a small toe, and intermediate climbs. You get what you pay for
mik105662949-0
Awesome beginner shoe.
Familiarity:

I've put it through the wringer

Fit:

True to size
This show is great for beginners that are just getting into climbing. It is fairly comfortable once broken in, comfortable enough to wear all day at a gym session without having to take them off every 10 minutes. They are not very aggressive and are just mediocre at edging. They are however, very good at smears. The hook and loop closure makes it super easy to take on and off when your feet do get sweaty or tired.



These shoes are synthetically lined, so they will only stretch 1/4 to 1/2 a size. I would either stick with your street shoe size or go down 1/2 size.
Clint Arnett
Stellar Shoe
Familiarity:

I gave it as a gift but have feedback to share
I gave these as a gift and forced the owner to write a review. Here it is...



As the defy are my second pair of climbing shoes, I am able to say that these shoes fit perfectly, have the right amount of structure, and offer ease of use.



Similar to any pair of climbing shoe, the defy feel awkward upon use for the first couple of times. As soon as they wear in a bit, they feel like a little bit of heaven on your foot. I have a fairly large big toe which makes for discomfort if I don't briefly remove the shoe after an hour or so of use. With this shoe, it is essential that you keep your toenails trimmed.



In addition to fitting well, the defy have just the right amount of structure which makes for a very well-rounded pair of shoes. The heel is a bit softer than most shoes I've seen, but doesn't hinder a well placed heel hook on a strenuous boulder problem. Also, the toe is perfectly structured for sticking onto those very bare footholds on harder routes.


Patrick Ross
Pretty good beginner shoes
Familiarity:

I've put it through the wringer

Fit:

True to size
I bought these as part of a starter gear set at the beginning of the year when I was just getting into climbing. I've used them a couple times a week since then and have been mostly pleased.



These feel WAY better than the rental shoes when I'm bouldering (which is what I do 90% of the time). I typically wear a size 11 or 11.5 shoe, and ended up getting these in 11.5. They are a bit uncomfortable on my toes, but that just goes with the territory, I think.



Now for the smell... they were OK for a while, but my feet definitely sweat in them and eventually they got pretty bad. I absolutely recommend spraying them with something after every use to keep them nice and rosy. I have tried cleaning them once with a vinegar solution and some scrubbing, as recommended by the internet. It helped a little, but mostly they just ended up smelling like feet AND vinegar. Oh well.



So, definitely a good starter shoe. I will be upgrading at some point.
Brent
Pretty good climbing shoes
Familiarity:

I've used it several times

Fit:

Runs small
These are pretty good beginner shoes. I got these a few months ago and have used them regularly both indoor and out. I'm still pretty new to climbing and these are my first shoes. I mostly do indoor gym climbing a couple times a week but have used them 3 days outside, one day lead climbing at New River Gorge (which was really awesome).



I only have gym rental shoes to compare these to, but they seem descent. They're comfortable to wear for hours at a time and haven't had any issues of stinkiness. My feet do sweat in them though (since I go barefoot) and my feet seem to slide a little in them. I got a size 10.5 because I tried on the 10 and seemed way to small. Usually I would wear a 9.5 or 10 so these shoes seem to run small, go a size up.



Overall I like them, but I can see needing to upgrade in the near future for more attack, but if you're just getting into climbing and want a good shoe to start with so you don't have to rent, I'd recommend these for sure.
FriedUnit