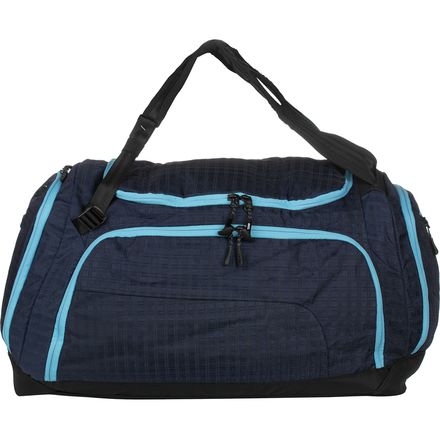 Easy transitions.
Your search for the perfect race-day duffel stops at the Evoc Transition Bag. Featuring a host of compartments designed to meet any cyclist, runner, or triathlete's needs, this duffel boasts a helmet compartment that will fit both road and TT-type helmets, as well as separate compartments for damp or wet items. No more scrounging around for a wispy plastic grocery store bag to keep your stinky race clothes away from everything else, just put them neatly in their own specific section and let go of the worries.
The Transition Bag has pockets to hold water bottles so you can swap them out quickly before start time, and even includes a changing mat so you can focus on keeping your towel up without wondering if a sharp piece of parking lot gravel is going to make its way underfoot. It can even be worn backpack-style for easy carrying on long walks to the warm-up tent or if you have to ride a few miles from the parking lot to T1 before the race.
A duffel that makes race-day a breeze
Ample compartments for stashing gadgets and gear
Helmet compartment fits road and TT helmets
Wet-specific pockets keep your other contents dry
Keep hydration at arm's reach in designated pockets
Built in changing mat for getting out of wet kit after races
Can be carried backpack or duffel style for convenience
Great Cycling Bag
Familiarity:

I've put it through the wringer
This bag works great as one stop shop for all your kit. It has a wet section on the left that is divided into two sections. I put my shoes and kit after a ride on that side. The other side is an expandable pocket for a helmet. The side pocket is advertised as a pocket for sunglasses, but it really isn't large enough for that. I put my Garmin in that pocket and keep my sunglasses inside my helmet so it doesn't matter. The main compartment has space for a small pump and several sets of dry kit. I have packed a jacket, warmers (arm/leg), gloves, two sets of bibs and jerseys, socks, hat, sunscreen, chamois cream, towel, and the list goes on--all of this with the shoes and helmet in. What I love about this bag is that the side pocket for food/bottles can take up to three 25 oz bottles. I use 21 oz Camelback bottles without any issues. The pocket essentially guarantees the bottles won't fall out. Maybe not as much access, but better for travel. There is one more side pocket that I keep electronics and knickknacks. I wish this pocket were a bit bigger, but overall it works. This bag feels a bit too big for just your casual weekend ride, and maybe too small for an epic week long bike ride, but it hits the sweet spot for being able to fit everything you would possible need. I use this for everyday riding and I never forget anything.
michael_lambert
Height:
5'6"
Weight:
140lbs